Returning from my (virtual) sojourn in the highly-stressed Texas electricity market today, this is a short article highlighting the accelerating rise in negative prices in the NEM.
For a number of years we've been focusing specifically on Q2 periods (i.e. because they have traditionally been a more 'boring' one) in order to understand changing underlying patterns of pricing – this was last done for Q2 2020 here. 
However a spike in discussions recently suggested to me that a short article covering the whole year would be widely useful.
Looking at the whole year, the picture is striking:
(A)  Trend in annual incidence
Let's start with a simple trend over time of the annual incidence across all regions (leaving off the defunct Snowy Region from earlier years):
As we can see from the chart with data extracted from NEMreview, SA trading periods were in negative territory for 10% of the time (almost exactly) through the whole of 2020.
Three other regions (QLD, VIC and TAS) were clustered around 2.5-4.5% of the time.
NSW has shifted up a little, but it's barely visible on comparative scale.
(B)  Looking by Time of Day
Where it becomes more interesting is when we look at patterns by time-of-day and see differences between regions that perhaps were not so apparent when just letting a NEMwatch dashboard run in the background:
(B1)  QLD Region
Starting at the top of the NEM, we see that there has been a sharp uptick in negative prices in QLD in sunlight hours (particularly the middle of the day) … but not at any other time: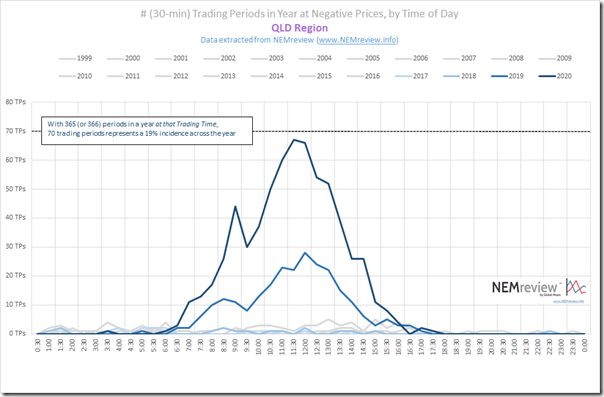 Almost 20% of all trading periods at 11:30 and 12:00 were below $0/MWh in calendar 2020 … more than double the incidence in 2019.  This is primarily because of the boom in rooftop PV in the QLD region eating away at Grid Demand in the middle of the day … but there's also a large whack of Large Solar plant operating, and (as Allan discussed here and then here) there are reasons why coal plant in QLD might also be bidding negative as well at that time.
In his article on 12th February, Nick Bartels used the GSD2020 and earlier GSD2019 to illustrate how some of the coal plant in QLD are adjusting to these new realities to provide greater flexibility to the market as a result … but that will only go so far.
(B2)  NSW Region
Across the border into NSW and we see that this region has (until the end of 2020, at least) remained someone immune from the contagion: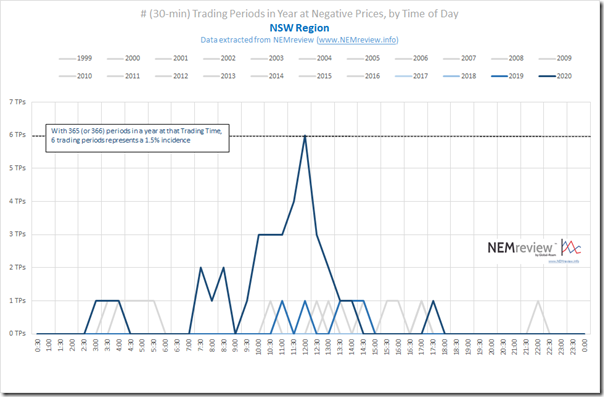 But that won't last forever.
(B3)  VIC Region
The pattern in Victoria surprised me when I saw it: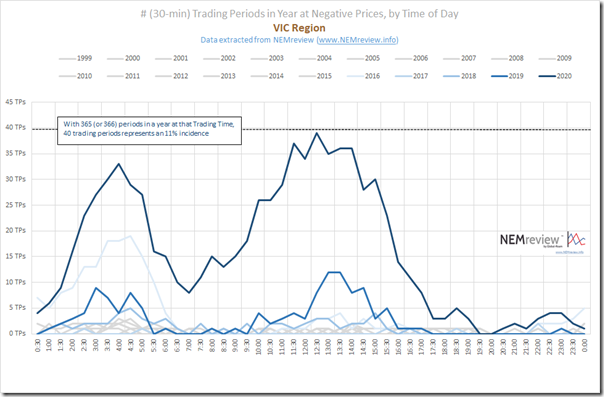 I mean, I'd obviously seen a high incidence of negative prices during the day (as had been watching the NEMwatch dashboard out of the corner of my eye whilst working on other things) – but it was the significant spike in negative prices in the early hours of the morning that I was not as aware of! For some reason I mustn't have been watching NEMwatch as closely then.
Without digging into the data, I would guess that this would be the result of a combination of more wind production in the south (compared to QLD) coupled with lower underlying consumption at those points in time (compared to the middle of the day).
It does, however, point out how it makes it increasingly challenging for any new entrant to build more capacity (wind or solar) and make a return in the VIC Region.  Without considering the seasons of the pricing patterns, there might also be questions there for the viability of energy arbitrage through storage?
(B4)  SA Region
The pattern for South Australia is like Victoria on steroids: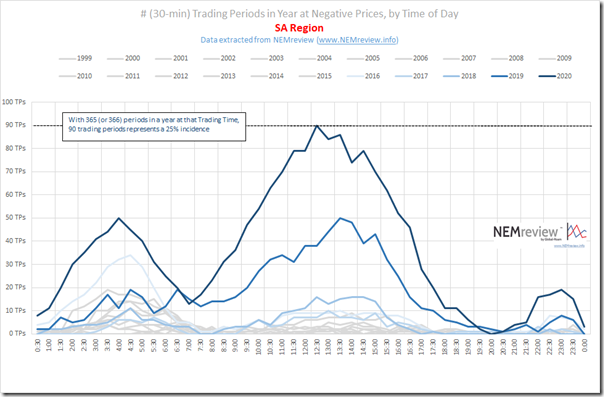 South Australia, through 2020, saw both:
1)  More negative priced trading periods in the middle of the day than Queensland, the next highest (because of 'too much' solar, primarily); but also
2)  More negative priced trading periods in the early hours of the morning than Victoria, the next highest (because of 'too much' wind)
No wonder VWA Prices for Wind Farms in South Australia are looking pretty rotten, in comparative terms.  Talk about a challenging place to build more of anything!
For those who think that the synchronous condensers are the 'magic wand' to bring back good returns – I have not done the numbers, but suspect that the benefit they will unlock (in terms of allowing more non-synchronous generation to operate) will prove very fleeting, as the juggernaut of rooftop PV will keep rolling on and mow down returns for Semi-Scheduled assets.
(B5)  TAS Region
One look at the Tassie region reinforces that it has its own unique dynamics that are a result of the size, the (relatively) flat demand curve, the mix of generation type (and largely single owner), the (relative) of Basslink and so on: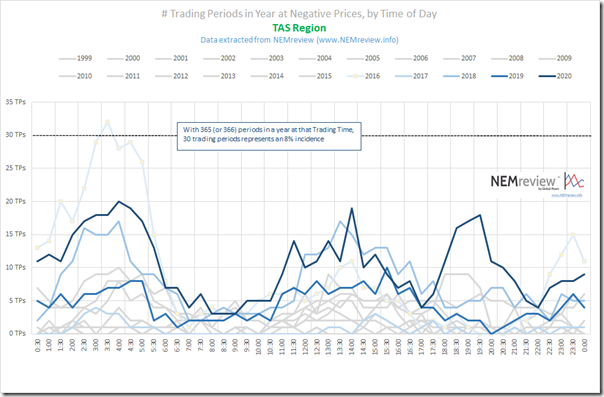 In the case of TAS we see the pattern of negative incidence in 2020 has not run away from that of prior years … however experience would still suggest 'Project Developer Beware!' in making a decision on entering the TAS Region.
The sharp escalation in the incidence of negative pricing in all regions of the NEM (but less so in NSW, for now) is one of the reasons why the trend in monthly time-weighted average prices has dropped in 2020.
Whilst others might celebrate what the reduction in wholesale prices coming down means for retail prices and so on, I have some concerns about the boom/bust element of pricing outcomes that might be being built into forward price path by the way in which this energy transition is being encouraged and managed.  Unless (or, rather, until) something changes* I expect that this trend in negative prices to accelerate further in 2021 and into 20222 … with all sorts of unintended consequences potentially resulting.
*  When we talk about 'something changing', if the objective is to reduce emissions rapidly, then the closure of coal will be the way to achieve that. 
Kerry Schott is quoted (e.g. in AFR and Australian) as saying that coal plant are hurting – but also as saying that they will just exit of their own accord. 
Whilst exits will undoubtedly happen (something we will explore, in some detail, in the GRC2020 update), without more focus placed on that as the actual objective, it is quite possible that the exits will be jarring for the market (despite attempts in the 'Notice of Closure' regime).