The GSD2019, which we released on 28th January 2020, was very well received.  This response has prompted us to make the publication of the Generator Statistical Digest an annual event.
We envisage that the Generator Statistical Digest 2020 will be released on, or around, Monday 1st February 2021 (a couple days later than initial expectations).
It will provide a 10-year review (i.e. 1st Jan 2011 to 31 Dec 2020) of the performance of all DUIDs that were operating in the NEM in at least part of calendar 2020*.
*  Older units (i.e. retired before 1st Jan 2020) are covered in the GSD2019 and GRC2018 beforehand, and we have nothing new to add there.
What follows here is information about what's to be included in the Generator Statistical Digest 2020.
(A)  Access the GSD2020 here:
Please choose which category your organisation falls into:
This is how you to Download the GSD2020
… for those who have already ordered
This is how to Order the GSD2020
… if you have not yet done so

Obviously, the GSD2020 will not be available until it has been released (expected 1st Feb 2021).

Once it has been released, clients will have their access to the electronic copy Generator Report Card here:

You'll need to set up your own unique log-in, using your organisational email address in order to access:

it'll be large (>40Mb) PDF so keep this in mind if on a low-speed link
this process works in Chrome, Edge and Safari (but not currently in Internet Explorer).

One bound hard-copy is also being supplied as well (if we have your best postal address).

Choose the right Order Form and sending back to us:

Pre-Order Form GSD2020
(save $300 exGST on the price
that will apply upon release)

Order Form GSD2020
(a different order form will apply
from the date of release)

After we receive your order, we will (after release):

(1)  Set you up with electronic access at the site above (hence be sure to specify your corporate email address); and
(2)  Deliver your bound-hard copy; and
(3)  Process your payment and provide a tax invoice.
We look forward to hearing back from you!
(B)  Structure of the GSD2020
Following discussions with clients following the GRC2018, we settled on a design for the GSD2019 that started with what we completed for Part 3 in the GRC2018 – but extended it over two pages.
This design we will copy for the GSD2020, and is illustrated as follows: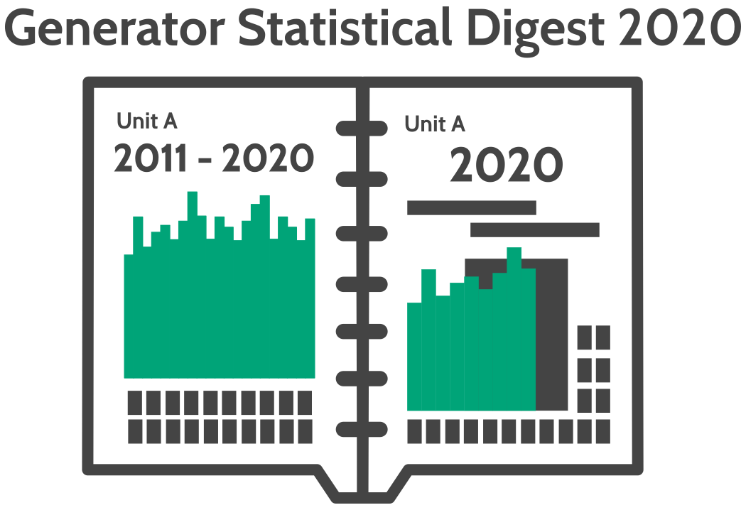 For all DUIDs that operated through some portion of CAL 2020 (i.e. for which AEMO published some non-zero InitialMW data) we will include two pages:
'A' Page
… ten years 2011 to 2020
'B' Page
… additional details for CAL2020
This page will be closely based on the 'A' page design used in the GSD2019.

This looked as follows:

This page in the GSD2019 was heavily based on the 'page per DUID' supplied in Part 3 of the GRC2018 – but had been enhanced in a number of ways, based on feedback from clients.

This page will be closely based on the 'B' page design used in the GSD2019.

This looked as follows:

This page was added into the GSD2019, to extend some of the investigations included in the Analytical Component of the GRC2018.
The advantage of this format is that it enables data to be reported, on the same basis, for all DUIDs!
(C)  Evolution of the GSD2020
The GSD2020 (envisaged release 1st Feb 2021) will build on what came before:
(a)  It will be an update of the GSD2019 (released 28 Jan 2020) which contained data to 31 Dec 2019.  We're not envisaging many changes to the format used for that digest.
We previously prepared more detail about how the GSD2019 evolved.
(b)  The GSD2019 was itself was born out of our very successful GRC2018 (released 31 May 2019) which contained data to 31 Dec 2018, and commemorated 20 years of the operation of the NEM.  We extended the statistical component of the GSD2018 based on:
i.  the insights generated in the 180-page analytical component there, and also
ii.  feedback we received after release of the GRC2018.
This is illustrated here: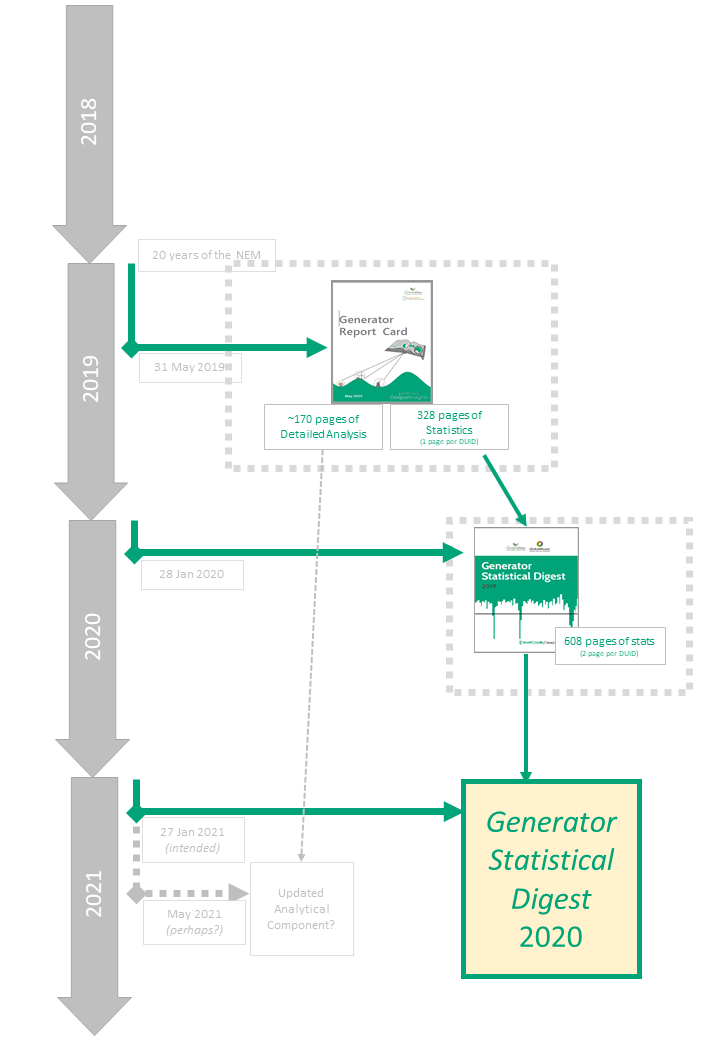 As noted at the top, we're intending to make this Generator Statistical Digest an evolving annual publication that delivers value to a wide range of stakeholders (not just the owners/operators of operational assets in the NEM).
(D)  Parties involved in the GSD2020
The GSD2019 was a collaborative effort – as discussed here.  We will be using a similar approach (i.e. utilising the skills of people inside – and some outside – our two organisations) in completion of the GSD2020 update.