This morning (Tuesday 31st August 2021), the AEMO released its Electricity Statement of Opportunities (ESOO) for 2021:
Click on the images above to link to the relevant page.
(A)  Unbundling the ESOO on WattClarity®
Each year, the publication of the ESOO is one of the significant events on the NEM calendar.
For the past couple years we have been unpacking some of the highlights of that particular issue of the ESOO for our readers here at WattClarity.  This is continued for the 2021 ESOO:
Summer 2021-22


and the ESOO 2021

The ESOO 2021 was released on Tuesday 31st August 2021 (today).

—

Given the extreme volatility seen through Q2 2021, it's entirely logical that there would be some nervousness  about what the ESOO might portend for summer 2021-22 or further afield.

—

Later on Tuesday, our valued guest author, Allan O'Neil, unpacked some of what he saw in this 'quick tour of the 2021 ESOO'.

Summer 2020-21


and the ESOO 2020

The ESOO 2020 was released on 27th August 2020.

—

Relevant to the summer 2020-21 period that was a major focus of that year's ESOO:

1)  Was Allan's article on 25th March, 'ICYMI – COAG EC flags reliability framework changes'; and

2)  On 3rd August, we also noted AEMO tendered for short-notice RERT panel for summer 2020-21.

3)  The following day (Fri 28th Aug), Allan O'Neil contributed this review of the ESOO 2020 titled 'What a difference a year makes'.

—

Summer 2019-20


and the ESOO 2019

The ESOO 2019 was released on 22nd August 2019.

—

On 23rd August 2019 Allan contributed 'ConfUSEd by the ESOO?  You're not alone'.  A couple days later (26th Aug) Allan contributed further with 'ESOO Unboxing'.

Stress levels started rising (and the claims and counter-claims abounded) leading into a stressful summer 2019-20 – as a result of which I wrote about 'Probability, consequence (and risk) as it relates to summer 2019-20 in the NEM' on 18th November.

A couple days later (21st Nov 2019) Allan wrote about 'Summer reliability back in the headlines'.

—

Most would remember that summer 2019-20 was one of the more stressful ones, especially in relation to these four headline challenges.

Summer 2018-19


and the ESOO 2018

On 20th December 2018, Allan wrote about 'NEM Summer Outlook 2018/19 – what is AEMO saying?'

—

Here's the collection of articles about what happened during summer 2018-19.

Summer 2017-18


and the ESOO 2017

Responding to the release of the ESOO 2017, on 7th September 2017, Allan contributed 'Decoding AEMO's latest ESOO–will the lights stay on this summer?'.

In conjunction with this article, Allan contributed the useful article 'What does "Unserved Energy" actually mean – a brief explainer' to address some confusion about what USE means (and what it does not).

—

Then on 16th November 2017, Allan contributed 'What's the market data saying about this Summer?'

—

There were a number of challenges encountered through summer 2017-18.
… with plenty of other articles speaking more generally about Reliability and 'keeping the lights on'.
(B)  AEMO's 2021 ESOO stays off the front page!
In a brief scan of the main media mastheads today, below are the articles that I could spot:
1)  In the AFR on page 3, Angela MacDonald-Smith wrote about 'Power grid faces test from solar boom' – pointing out one of the medium term challenges that is discussed in the ESOO: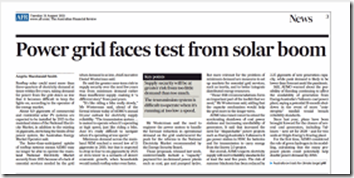 2)  In the Australian on page 2, Perry Williams wrote about 'Power more reliable, but coal still a risk'.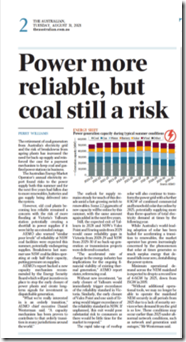 … and it's also noting that (not specifically mentioning the ESOO) Perry Williams also wrote about 'Renewable energy domination on the way: AEMO ' – which had a different title at page 13: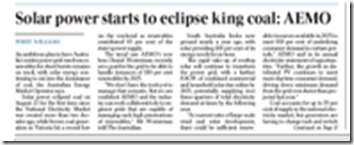 3)  In a quick scan this morning, I could not see anything in the SMH or the Age
PS – could not find this morning, but see now that Mike Foley and Nick Toscano wrote about 'Electricity grid powers on despite demise of coal as renewable surge'.
4)  In the Guardian, I found the article 'Renewables could meet 100% demand in Australia at certain times of day by 2025, report says' by Katharine Murphy.
5)  In RenewEconomy at present there are two articles:
'AEMO's new reliability forecasts give lie to Taylor's Coalkeeper campaign' by Giles Parkinson; and
'Rooftop solar could meet up to three quarters of total grid demand by 2025' by Giles Parkinson.
6)  In a quick scan this morning, I could not see anything in PV Magazine
… but perhaps the biggest story (in its absence) was no story along the lines of  'the lights are going to go out!', which we certainly have seen at times in the past.