On Tuesday 31st August 2021 (6 months ago), the AEMO released its Electricity Statement of Opportunities for 2021.  At that time, guest author Allan O'Neil put together this 'Quick tour of the 2021 ESOO'.
On 17th February 2022, Origin Energy informed the market that it might close some of all of the units at its Eraring Power Station as early as 2025 – which is substantially earlier than the prior published plans had the closure date.   AGL also adjusted its slated closure date for Bayswater … but not by such a large amount.
There's been much talk about 'the end of coal' prior to, and since, that announcement – indeed, we included Key Observation #11/22 as 'The Messy Collapse of Coal' in our recent GenInsights21 publication.
—
On Thursday 14th April 2022, the AEMO released this update to its 2021 ESOO after re-running its modelling process to account for this new data: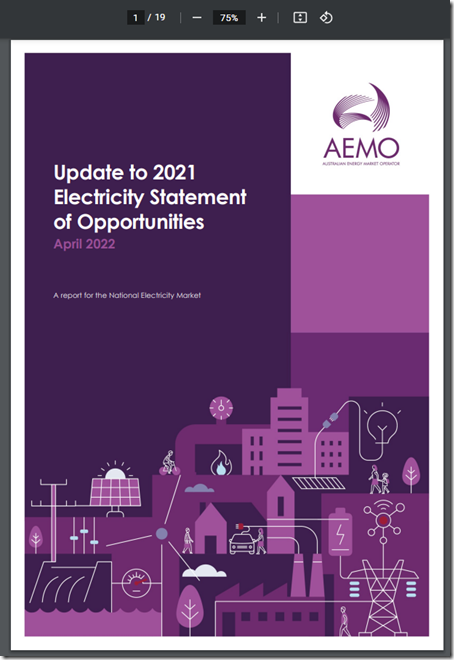 This was always going to be a contentious update, juggling more rapid decline in one form of capacity and replacement of this with a different form of new capacity (which each new project subject to its own timing risks).  This was part of the reason I suspect that (by my reading) Origin gave itself some wiggle room in terms of what its closure date might be.
(A)  AEMO commentary
To accompany this release, the AEMO noted on its website here that:
'Significant new information of relevance has become available since AEMO's release of the 2021 Electricity Statement of Opportunities (ESOO), published in August 2021, including the announcement by Origin Energy for the potential early retirement of Eraring Power Station in August 2025 and announcements by AGL Energy in respect of the Bayswater Power Station. This Update to the 2021 ESOO provides an updated reliability forecast, and information about proposed generating units and network developments for which formal commitments have not yet been made.'
The AEMO Media team have been fast off the mark this morning with this tweet: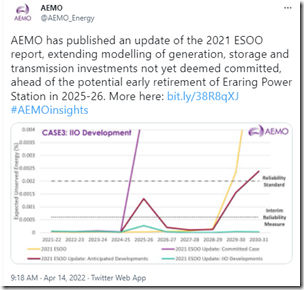 … and also on LinkedIn with this update: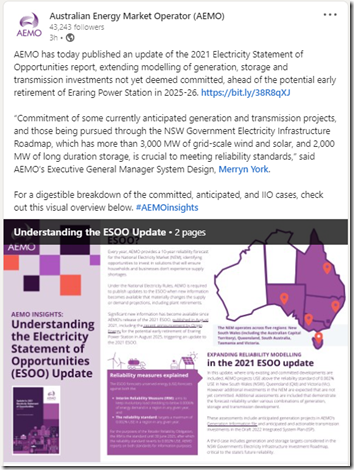 … with the LinkedIn update containing the embedded 2-page explainer which is also attached to the bottom of this Media Release.   The Media Release notes that:
'To increase transparency and inform stakeholders, AEMO has extended its reliability assessments based on various combinations of generation, storage and transmission investments not yet deemed committed under AEMO's ESOO methodology. These forecasts are based on the 'step change' scenario developed with stakeholders for the Draft 2022 Integrated System Plan (ISP).
This includes anticipated projects in AEMO's Generation Information file and anticipated and actionable transmission investments, largely in the Draft 2022 ISP. A third case includes generation and storage targets considered in the NSW Government's Electricity Infrastructure Investment Roadmap.'
… and Merryn York (new EGM System Design) is quoted as saying:
"If the pipeline of anticipated investments, as well as projects in the ISP and NSW Government's energy roadmap, proceed to expected schedule, then forecast reliability outcomes in the NEM would meet or exceed the reliability standard in 2025-26,"
You might want to keep an eye on any conversation that ensues at these locations.
(B)  A useful reminder, when reading any ESOO
Partly in anticipation of this release, on Tuesday I'd republished, in its entirety, 'What is the purpose of the ESOO?' – which we'd lifted out of Key Observation #8/22 inside of the GenInsights21 publication: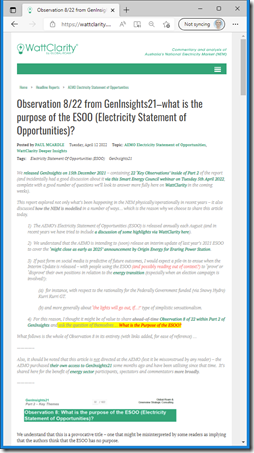 It might be worth readers here reflecting on these various purposes of the ESOO in reading what's noted in this update.
(C)  Commentary elsewhere
In other media sources, at present I have found the following:
1)  In the AFR, Angela Macdonald-Smith made quick reference to 'differing views', in relation to reliability gap, at the end of this article about AGL's deal with Neoen.  Angela also wrote about one of the differences we'd written about earlier in GenInsights21 Key Observation 8, linked above:
'The differing views also result from Mr Taylor's focus on the potential impact of the Eraring closure on power prices, while AEMO's primary consideration is reliability.
2)  In the Australian, Perry Williams writes about 'States face higher blackouts risk Eraring coal plant closure hits energy grid: AEMO' and says:
'NSW faces an increased risk of blackouts by 2025-26, with Victoria and Queensland also set to be squeezed before the end of the decade due to uncertainty whether enough generation will be on line once Australia's largest coal plant shuts down.'
… which reflects the caveat in the AEMO modelling.
3)  In the SMH,  Mike Foley wrote 'Coal plant shutdowns won't short electricity supply: market operator', reflecting the optimistic view.
4)  In RenewEconomy, Giles Parkinson wrote 'AEMO says Kean's battery plan key to keeping lights on after Eraring coal closure', highlighting the need for the NSW Government's projects to come online at the schedule published.
5)  In the Guardian, the title of Peter Hannam's article 'Early closure of Australia's largest coal-fired plant could create electricity shortages without grid upgrades' provides some balance to the see-saw challenge.
6)  In PV Magazine, I've not seen any articles in a quick scan
… and no doubt there will be more.