Our 'Generator Insights 2021′ analytical report would build on what has come beforehand – the GRC2018 (released 31st May 2019) and then the follow-on GSD2019 and GSD2020.
—-
In collaboration with the team at Greenview Strategic Consulting and with the assistance by a collection of 3rd parties, we (i.e. Global-Roam Pty Ltd) have commenced the development of our 'Generator Insights 2021′ analytical report.
We'd invite you to pre-order your copy of the report – at only $2,000 exGST if you order now, you'll save on what the release price will be when we are finished.
(A)  Background to GenInsights21
The evolution is described here: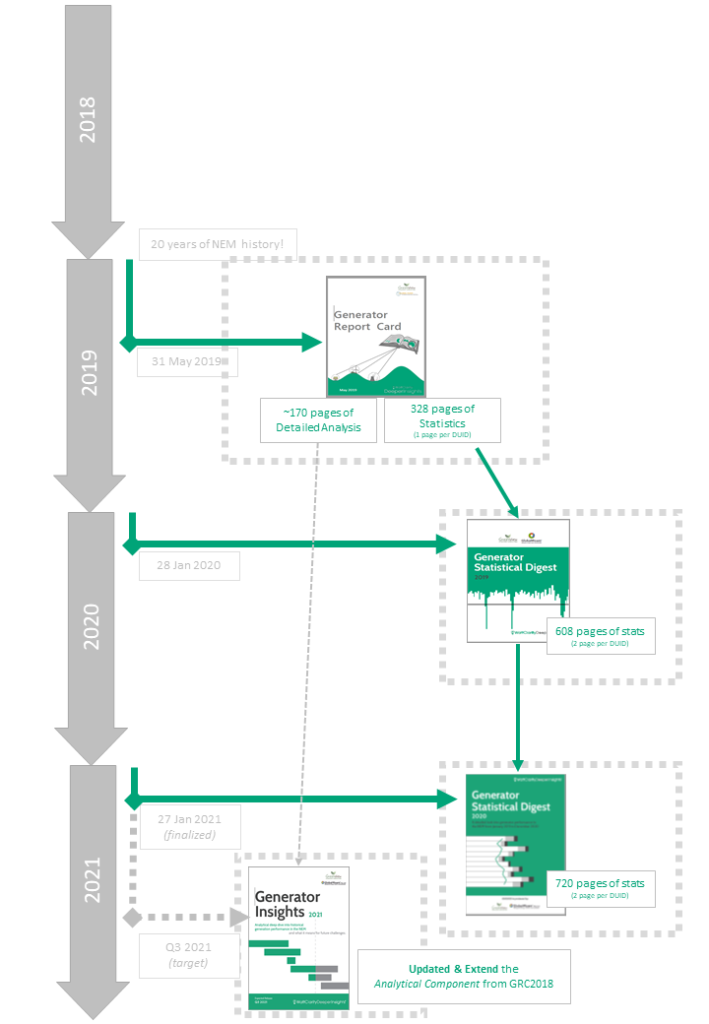 In particular, it's worth highlighting the following:
Prior to GenInsights21
Developing GenInsights21

We released the Generator Report Card 2018 (GRC2018) on 31st May 2019, and it was a very well received compilation of two main components of value:

Value Component #1 = the GRC2018 contained ~180 pages of analysis (spread across Part 1, Part 2, Part 4 and Part 5) that explored 20 years of NEM history (specifically focused on Generator Performance) to inform the ongoing energy transition.

Value Component #2 = the GRC2018 also contained a ~330 page statistical compendium of various performance statistics (one page per DUID) of all the units that had been operational in the NEM to 31st December 2018 (i.e. Part3), with statistics defined in a Part 5 Glossary

We then determined to tackle these value components separately in future instances – which would enable us to expand and enhance each:

… for Value Component #2 (the statistics):

(a)  We then took the statistical component of the GRC2018 and expanded it into an update/extension that we called the Generator Statistical Digest 2019 (released 28th Jan 2020).

(b)  This same format was updated again with a Generator Statistical Digest 2020 (released 1st Feb 2021) with data to 31st December 2020…. and later a GSD2020 Data Extract.

… which brings us to Value Component #1 (in-depth analysis of a diverse range of generator operational + commercial performance, both singularly and collectively)…

… with the statistical component of the GRC2018 now separated out into an annually produced 'Generator Statistical Digest' we can focus our attention specifically on updating the analytical component in a report we're calling the Generator Insights 2021.

(a)  This will utilise data since the start of the NEM up until Q3 2021

(b)   We envisage a release early December 2021 (i.e. a little later than we had initially been hoping).

On Tue 20th April 2021 we posted this initial article to announce the commencement of development of GenInsights21, and to extend the invitation to pre-order your copy at this point – which can offer you some benefits:

Pre-Order Benefit #1)  Given that we've not completed development, you could speak with us about particular aspects of generator performance (individual or collective) that you think we should analyse for GenInsights21.  We have a significant number of jobs to complete already – but we may be able to take your suggestions onboard.

Pre-Order Benefit #2)  You'll also save on what the release price will be, when the report is completed (have not decided what that will be – but it will be more than the (only!) $2,000exGST price to pre-order.

.

.

.
(B)  Pre-order your copy of GenInsights21 today
Please choose which category your organisation falls into:
The Product

This is how you will be able to

Download

GenInsights21
… when it is completed
This is how to

Pre-Order

the GenInsights21 Report
… and save on the release price that will apply when it is completed
GenInsights
Electronic PDF(targeted release date Q3 2021)
Clients who have already ordered will be able to download the electronic PDF of the GenInsights21 here, when it is completed:

You'll need to set up your own unique log-in, using your organisational email address in order to access:

it's a large (

HOW BIG HERE

) PDF so keep this in mind if on a low-speed link
this process works in Chrome, Edge and Safari (but not currently in Internet Explorer).

One bound hard-copy is also being supplied as well (if we have your best postal address).

.

.

.

Please complete this Order Form and send back to us:

After we receive your order and after the report has been completed, we will:

(1)  Set you up with electronic access at the site above (hence be sure to specify your corporate email address); and

(2)  Deliver your bound-hard copy (hence be sure to let us know where to deliver this); and

(3)  Process your payment and provide a tax invoice.

—-

We will not do anything (other than confirm receipt of your pre-order form) prior to completing the report and delivering you access.
We look forward to hearing back from you!
(C)  Parties involved in GenInsights21
As with those products which have come beforehand (GRC2018, GSD2019 and GSD2020) we would like to highlight that there were a number of parties who have been involved in the compilation of GenInsights21.