… by promoting an obsessive focus on Cost (not where it should increasingly be, on Value) …. just one part of a 'Schism'
Yet again (last week) I was sad to see more investor's money go up in smoke in an energy transition that is at risk of running off the rails due to a number of different Villains.  Last week there was:
1)  the news of the asset write-down by Windlab of the Kennedy project in northern Queensland – discussed on RenewEconomy and ABC and elsewhere.  in north Queensland (notably due to delays in the project – though I also note that these 'crunch' issues have not yet fully arrived either); and also
2)  news of John Laing pulling out of Australia (here on RenewEconomy) presumably after finding some way of exiting their existing assets in the NEM.
… and I expect that this will be far from the last (I am not alone in thinking this, as I understand the growing interest in investors who have a keen eye on picking up 'distressed assets' at knock-down prices).
I'll leave it to other authors, and perhaps even some commentators below, to chip in with their own thoughts on how the federal LNP government has not exactly been laying out the welcome mat for new renewables development… as this has certainly been a factor. 
Instead, I would like to draw attention to what I see is a a more important, and more insidious situation that has, in my view, been setting up these new entrants for failure even if they had fully supportive governments at all levels spreading 'helicopter money' and other aspects of support to ease the way for their new developments.
(A)  Villain no 7 – the form of support for Wind and Solar developments
This relates to the form of support that has been given to wind and solar developments at two levels:
SUPPORT MECHANISM #1)  At a more direct level, this has been through such financial support mechanisms like the MRET Scheme, and more recently through state-based renewable energy targets; but also
SUPPORT MECHANISM #2)  At a more underlying level, by the type of dialogue that has been promoted by key stakeholders in the advancement of the renewable energy sector.
This concern was so pronounced (approaching 3 years ago!) that I spoke about this as Villain number 7 at the CEC Clean Energy Summit on 18th and 19th July 2017 – but unfortunately have only just had time to expand on this here today: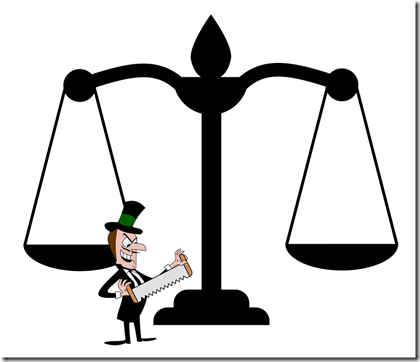 There's a long list of villains that have been progressively expanded on here as time permits, with a couple more to go!
————————————————–
Let's reiterate (to the hard-of-hearing share of readers here who gravitate to the 'Rabid Right' end of the Emotion-o-meter) that I am not speaking here about Wind and Solar itself – but moreso about the way in which they have been supported in the NEM to date.
————————————————–
I have grown increasingly concerned over many months that we are setting up these new entrants for failure …. by 'killing them with kindness'.
These concerns were part of the reason why we invested so much time (in conjunction with Greenview Strategic Consulting) in the preparation of our mammoth Generator Report Card 2018 last year – in particular including specific discussion about the development of this emerging 'schism' within Theme 5 in Part 2 of the 180-page Analytical Component within the GRC2018:

One of the dimensions where the two sides of the schism have separated … and continue to diverge (in a very worrying sign) is that:
Schism Side 1)  Those focused on supplying 'keeping the lights on services'…
…. have continued to focus on what the market has been requiring (electricity that varies in VALUE significantly by location, and by time – not even getting started on other physical parameters increasingly seen to be of importance to the NEM, such as system strength, inertia and so on).
This group has expanded slightly to include a number of newer investors who have taken 'toe in the water' steps to delivering these types of services via the growing number of battery storage developments.  That is a great thing.  It's unfortunate, though, that these seem to be viewed as secondary 'tack on' developments, rather than as the primary means to deliver value via registration as a fully hybrid facility.
Schism Side 2)  whereas those who choose only to supply 'anytime/anywhere energy'…
… have been enabled (by the form of financial support) and even encouraged (by the type of dialogue they have been fed) to develop a very insular (even myopic) focus on their internal COSTS, rather than what the market actually values now, and will increasingly value into the future.
I was so concerned that I had previously named 'too much focus on costs' as Villain number 5c back in December 2018.
Is it any surprise, then, that when 'the real world' has turned out to be different from the investor's spreadsheet model, it's meant multi-million dollar investments going up in smoke.  Sad, but almost inevitable, given the way we had lured them in…. like the dot com boom with badly thought through zany ideas like "Pets.com", except with the equivalent being that :
2a)  we now have large solar and wind farms built out west of Woop Woop…. because the solar or wind yield was good there!
2b)  even worse, we have a mindset (propagated by this focus on 'anytime/anywhere energy') where it is someone else's problem, someone else to blame, that they are being constrained down, or their MLFs are suffering, or they are suffering a VWA/TWA deficit due to the 'wind correlation penalty' or the 'solar correlation penalty', and so on.
Over the past weekend I saw this tweet by Georgios Konstantinou at University of NSW (and incidentally one of those who gained high value from the GRC2018 upon its release – from initial delivery on 5th June 2019):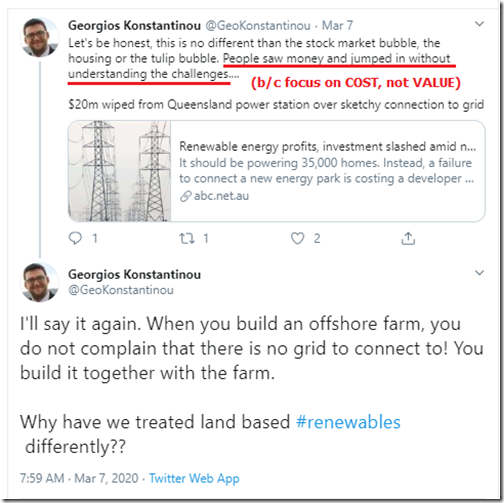 Unfortunately, I fear that there is much more to come in terms the investors getting burnt and distressed assets being snapped up for much less than had been invested to build them initially.
(B)  … but the penny does not seem to have dropped yet!
Even more concerning than the looming write-downs is that it seems that the penny has not yet dropped for those involved in providing Support Mechanism #1 and #2:
Support Mechanism #1)  The Financial Support Mechanism
There are a few machinations of this:
Mechanism #1A = Mandatory Renewable Energy Target
We're at 2020, so the final year of the escalation of the MRET Target (noting that it has another 10 years left to run, in terms of provision of support through establishing some sort of value for LGCs).
 So in a certain sort of a way it's 'too late' to really think about – though it would really be of benefit to the industry to require an expert review of the effectiveness of the MRET :
Review Aspect #1 = not just in terms of the provision of 'anywhere/anytime energy' (the explicit focus of the MRET); but also
Review Aspect #2 = how this form of structure has impacted on the ongoing provision of 'keeping the lights on services' (the forgotten sibling).
Mechanism #1B = State-based Renewable Targets
My recollection is that these kicked off in earnest with the initiation of a renewable energy target for the ACT by the ACT Government which was initiated around 2011, but then ratcheted up to a 100% target in 2016 (to be met by 2020 – so again, in a way, that horse has already bolted).
Given the geography of the ACT, and the results of the various auctions, it has been patently obvious that the way in which the incentive was provided is that it was explicitly focused on provision of 'anytime/anywhere energy' so that the ACT Government could gain the kudos and warm inner glow of being '100% renewable' with the messy bits of provision of 'keeping the lights on services' being abdicated to AEMO and 'the NEM' and essentially viewed as someone else's problem.
This was discussed in Theme 12 within Part 2 of the 180-page Analytical Component within the GRC2018: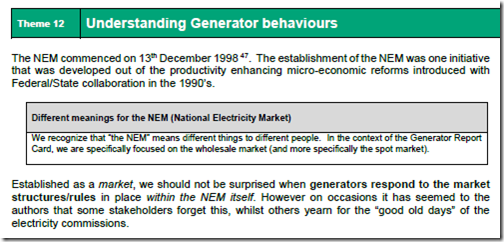 Now, whilst the ACT Government seems to have arrived at something close to 100% net renewable by virtue of its small size, and first mover advantage, it is quite clear that the form of the approach taken in ACT was not scalable.  Yet (as much as I understand from where I sit) it seems to have been exported and applied to state-based renewable targets and (importantly) support mechanisms in VIC and so on…
Again, remember my concern here is not about wind or solar as technology choices (though they do have other challenges).  My concern is here about the way in which we've chosen to support them – which has (inevitably?) led to the massive churn in investor asset lists and values that has only just begun …
Mechanism #1C = Renewable PPAs
More recently, we've also seen the rise of the 'renewable PPA' as another form of support for production from wind and solar.
Whilst this form is inherently better than either of the two mechanisms above (because it is the real customer, the energy user, that is making the purchase decision), I have had a growing concern with the approach being taken by consultants and a growing cohort of hangers-on that seem to be focusing more and more on 'anytime/anywhere energy' and not 'keeping the lights on services' … which can only end in tears.  When the tide goes out, who will we find has been swimming naked?
Support Mechanism #2)  The Vocal Support Mechanism
There have been a number of vary vocal groups and individuals, active in supporting the growth of the renewables industry in Australia … and unfortunately (in my view) these parties have also been involved in 'killing with kindness' the very industry they have been trying to promote.
There have been a number of different ways in which this has (inadvertently and unknowingly?) happened … such as with the ongoing obsession of speaking about costs (when the growing reality is that continuing decline in cost is increasingly not where we should be focused).  Yet that penny does not seem to have dropped yet, despite our prior efforts!
Whilst I can understand that sometimes a pep talk is a very necessary and useful mechanism for a football team that's been outplayed in the first few games of the year, at some point in the season questions really should be asked about the various strengths and weaknesses of the players in each of their positions – understanding that each position serves its own purpose, and that you can't just staff a team with identical players.   As for a football team, so for the assets deployed in the electricity supply sector.
Unfortunately, the fact that we have seen yet another organisation formed with yet another acronym (CEIG on LinkedIn and Twitter) could be taken as an indication that what's come before has not been adequate.
It seems likely that we will reach our (significantly reduced) target of 33,000GWh by 2020 – though not without significant blood in the water (even with the reduced target):
1)  It was totally understandable that we should have expected blood flowing from investors in coal-fired power (arguably those investors that still remain have had decades worth of warning that these losses will be rolling through);
2)  However, it seems to be generally undesirable (and surprising to some – though not to me) outcome that a growing amount of this blood is also coming from new entrant investors who've been trying to develop the 'anytime/anywhere energy' resources with little understanding of, or perhaps even explicit acknowledgement of (in some cases) the 'keeping the lights on services' that are also integral to the proper functioning of the grid.  This is coming back to bite a growing number of investors, and their advisers and operators and so on…
Surely this is a significant signal for a properly considered review of the form of support we give to further renewables development, into the future?
(C)  We'll continue to try to help with that…
As we have in the past we will continue to try to help with the process of 'that penny dropping' and a systemic shift in focus from COST to VALUE:
(C1)  We've tried to do this through freely-shared content on WattClarity for more than 10 years – and also through a number of freely accessed widgets (with the most prolific being the RenewEconomy-sponsored NEMwatch 'Supply and Demand' widget – here and here, and embedded in numerous other places); and
(C2)  In the past 24 months through the GRC2018 released 31st May 2019, and more recently the GSD2019 released 28th January 2020; and
(C3)  Specifically for a growing number of new entrant generators, through the detailed physical market focused view that is ez2view;
(C4)  Even more recently, we have invested a non-trivial amount of seed capital invested in start-up specialist renewables operations company Overwatch Energy.
…. and that is why, for instance, we freely shared some of the value that can be gleaned from the GSD2019 in terms of the value of dispatchability in this article coincidentally today.