A little over a week ago now, on Sunday 29th August 2020, the Victorian Scheduled Demand fell to a level that seemed to be the lowest daytime point during NEM years.  Whether it was or not quickly became a moot point, with the 'all hours' record minimum point being reset on Sunday 6th September 2020 (8 days later).
However Sunday 29th August was interesting for a number of other reasons, including:
1)  What happened to minimum Scheduled Demand levels on a NEM-wide basis (perhaps the lowest on a daytime basis); and
2)  The churn in output of Semi-Scheduled assets through the day, contributing to some extreme outcomes for Raw Off-Target, at least in part due to the negative prices in SA, VIC and QLD.
This article next day (part 1 analysis) prompted a question by 'Kieran' as follows:
'Was wondering if this was a minimum record for coal generation (black + brown)? even if not quite since market start, at least minimum for the last 10 years, say?'
Coincidentally, a number of others also asked about the same type of thing.
… and whilst Geoff Eldridge was quick with an answer about a few spot points in time, I was more interested in the trend – so with a short space of time this morning I've presented the following trend of monthly stats (minimum, average and maximum) for production from all coal generators – i.e. black and brown together: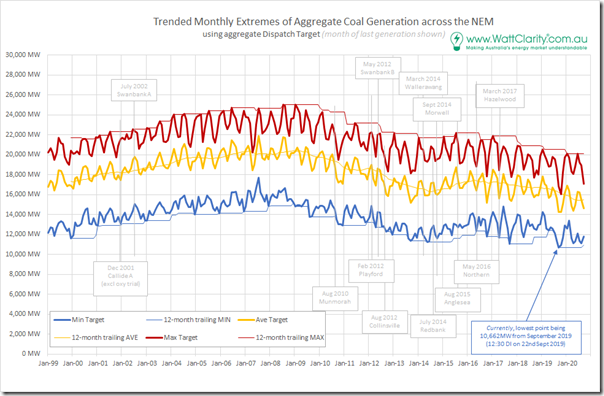 Note that in delivering this trend we chose to use aggregate Dispatch Target rather than metered output.  There's merits of each, with the merit of the above being:
1)  It shows what the 'market demand' was for output from the generator;
2)  Aggregate dispatch target won't show the effect of the reduced supply due to unscheduled trips in units that occur from time to time (i.e. for these dispatch intervals Metered Output < Dispatch Target, although note that a significant portion of the 'lost' energy will currently have been made up by other coal units supplying Contingency Raise FCAS services);
3)  It also won't take into account all the additional supply from coal provided for Regulation Raise FCAS services as a result of any collective under-performance* of other units through the normal course of the dispatch process (i.e. for these dispatch intervals, Metered Output > Dispatch Target).
*  frequent readers will remember that I've been taking a deeper look at extremes in (mostly) collective under-performance, and (less frequently) collective over-performance, of Semi-Scheduled plant as part of broader questions about the scalability and sustainability of the Semi-Scheduled category.
—–
With the all-time peak for NEM-wide demand just above 35,000MW it should be obvious just how significant the fleet of coal units (48 remaining since the closure of Hazelwood in March 2017).
As we explored with GVSC in the Generator Report Card 2018, and will look to update in the next issue, this is both:
1)  A reminder of the scale of the challenge that remains to be addressed if we are to meet our Energy Transition objectives; but also
2)  A note of caution that a 'more of the same' approach (e.g. in terms of the form of support for new entrants) is probably not the most effective way to deliver on the above.
—–
That's all for now.  Might be the shortest analytical article I have ever written?!