On Monday I nominated our present, past and prospective politicians as Villain #1 in running this energy transition off the rails.
At the end of that article I noted (as I had when I spoke at the CEC's "Clean Energy Summit" in July) a high degree of scepticism that we will achieve durable bi-partisan policy position in relation to this multi-faceted energy transition.   When I made that comment in July, (to me) it seemed at odds with a more generally optimistic mood amongst the authors of what I had been reading, and what I had heard from other speakers.
Unfortunately I could not be at the AFR's "National Energy Summit" this week in Sydney – but I am keenly interested in where the discussions have ended up.  Hence, at the end of the day on Tuesday, I logged into the AFR and was greeted with the following list of articles related to energy: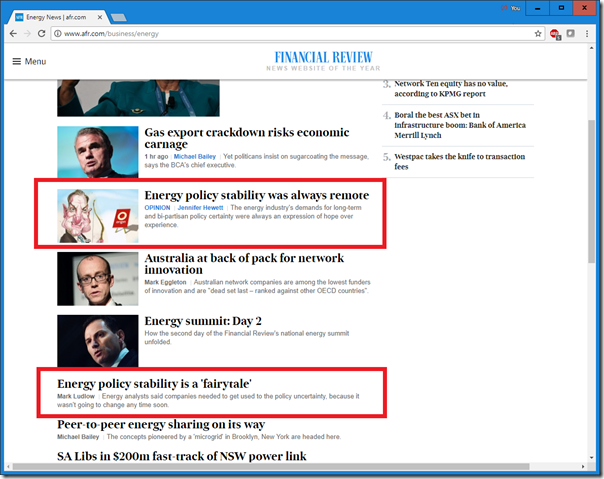 I have highlighted two, in particular, that take a distinctly more pessimistic tone than I had become accustomed to reading and hearing:
Sad that it might be, I do also think that it's a more objectively realistic perspective on the chances of a real, durable evolution arising (collectively) out of all of the Parliaments that matter around the country.
Now, "Beat up on a politician" might be a popular pastime for many – in public conversations, and in private ones.  In my post on Monday, I participated in the same pursuit.

To be clear – it is very clear to me that they leave themselves very open to these criticisms levelled at them.

However, if we are all honest with ourselves, we have to admit that we, the voting public, are collectively Villain #2 causing the energy policy train wreck.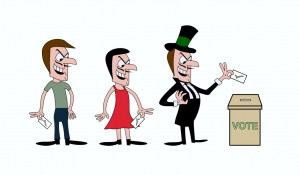 In my discussion at "Clean Energy Summit" back in July, I outlined some of why I thought that this was the case.
Not long before that talk, the following image had been posted on Twitter by an Australian who is concerned about climate change, and supports measures to tackle it: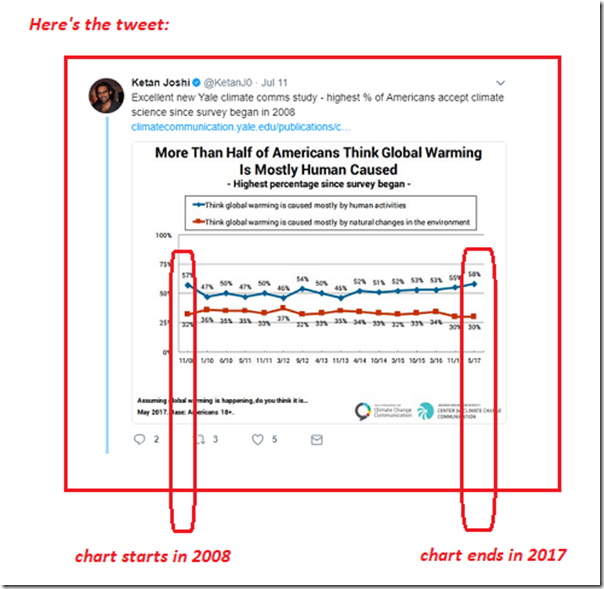 It should be noted that the data in the chart above is US data, rather than for Australia specifically – however my sense is that Australian data would be roughly similar, at least from the perspective of the following two points.
I saw this particular tweet as very neatly combining two of the realisations i had been making in relation to the emerging train wreck, and root causes of this – hence I flagged it in my talk, and do so again now:
Realisation #1 = that, taking into account  the 10 year time-range of the query, both the red and the blue lines are stubbornly stuck on about their respective levels over a decade.  Two key points about this:
1a)  This is despite the enormous volume of discussion and debate about the climate change, and the causes of it all over the airwaves and internet (and even a full length movie or two) over the intervening 10 year period.  I find that staggering, and quite explanatory.

1b)  Whilst the blue line above is slightly above 50%, and some will focus on this the more important point is there is a significant volume of people in both camps – enough, in either camp, to invoke a massive swing in an election of the day when combined with other factors.  This has contributed to the see-saw of energy policy over the past decade or more.
Realisation #2 is equally important, I believe – and that is that others will view a slight change in one measure and (in my view) read it out of proportion to its real significance (with Ketan's tweet as an example of that – with apologies to Ketan for singling him out).  Another case of (in my view) "missing the wood for the trees" [LINK TO COME].
Couple these realisations with my inference that the there seem to have been disproportionately vocal groups of people at either end of the Emotion-o-meter that have been drowning out the larger volume of people in between* the two extremes and I see that we, the voting public, have stacked the odds very heavily against any chance that our political class could come together (across all parties, at state and federal level) to craft a durable, pragmatic framework through which to ensure this multi-faceted energy transition can remain on the rails.
I put the slide up in my talk at Clean Energy Summit but have since been wondering whether the distribution of representation is not a normal distribution, but whether there are disproportionately large numbers of people at both ends.  Certainly there's a loud volume emanating from the shouting match at the extremes.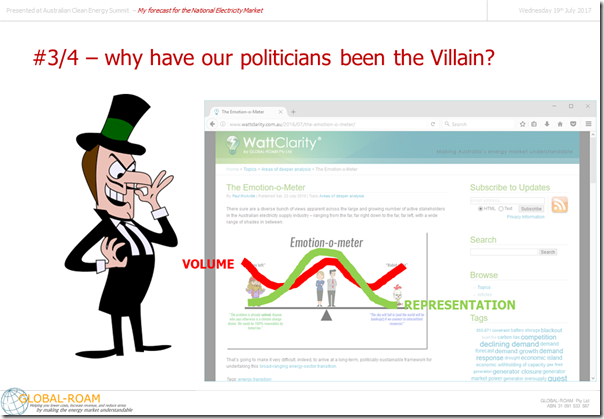 *  as an aside, it seems to me that a prominent example of the "middle" position seems to be the consensus emerging amongst most representative groups involved in the energy sector for a (pragmatic) "certainty of energy policy" – with statements like this first seen sometime after the SA Blackout of 28th September: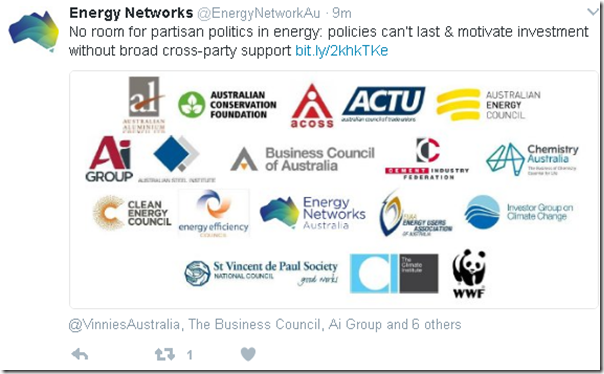 … and yet, it seems, our politicians (across all parties, state and federally) are not really hearing this message.
Its these three factors, combined together, that have led me to the perspective that we, the voting public, are Villains #2 – in that we have presented an almost intractable problem to our current crop of politicians, who have repeatedly demonstrated that they are not up to the task  (and hence are Villains #1).