A short note this afternoon (Monday 1st August 2022) about the presentation we* gave about GenInsights21, and the GenInsights Quarterly Update for Q2 2022, to the Clean Energy Council's Market & Grid Directorate:
* i.e. presentation given by the two authors of that report (myself for Global-Roam Pty Ltd and Jonathon Dyson for Greenview Strategic Consulting)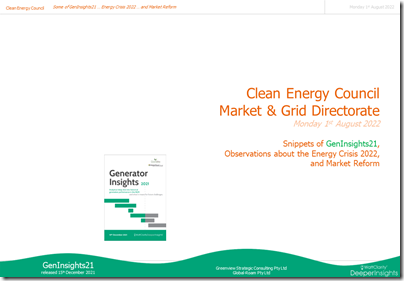 Part of the discussion revolved around what the detailed (dispatch interval level) analysis we've completed completed can help inform the ESB's proposed high-level design of the Capacity Market. The analysis covered included:
1) What's in GenInsights21 (particularly Appendix 15 – Aggregate Scheduled Target) – now updated in the Quarterly Update to 30th June 2022; and
2) A quick review of some of the factors contributing to the 2022 Energy Crisis.
—
At some point I might find some time to share some thoughts here on WattClarity….