On the 15th of December 2021, (following a major effort across a both Global-Roam and Greenview Strategic Consulting, and with assistance of others) we were pleased to officially release Generator Insights 2021.
We commonly refer to it as GenInsights21.
At 622 pages long, the report is an analytical deep dive into the historical performance of supply-side resources in the National Electricity Market (NEM):
 Looking as far back as 1999 through until late in 2021;
… but with a particular focus on the more recent years;
in order to help identify and explore the future challenges of Australia's energy transition.
(A) How can I access GenInsights21 today?
The answer to this question is different, depending on whether you submitted your pre-order already, or whether you'd like to order today:
The Product

This is how you can

Download

GenInsights21

… to gain the benefits now

This is how to

Order

the GenInsights21 Report

… to benefit from the insights we have uncovered

GenInsights21 Electronic PDF

(released today, Wednesday 15th December 2021)

Clients who have already ordered will be able to download the

electronic PDF

of the GenInsights21 here, from today:

You'll need to set up your own unique log-in, using your organisational email address in order to access:

One bound hard-copy over two volumes is also being supplied as well:

if we have your best postal address
after we've completed the printing process (which is only commencing this week).

Please complete this Order Form and send back to us:

After we receive your order, we will:

(1)  Set you up with electronic access at the site above (hence be sure to specify your corporate email address); and

(2)  Deliver your bound-hard copy over two volumes (hence be sure to let us know where to deliver this); and

(3)  Process your payment and provide a tax invoice.
We look forward to hearing back from you!
(B) What is GenInsights21?
We found it beneficial to bind the hard copy in two volumes as follows: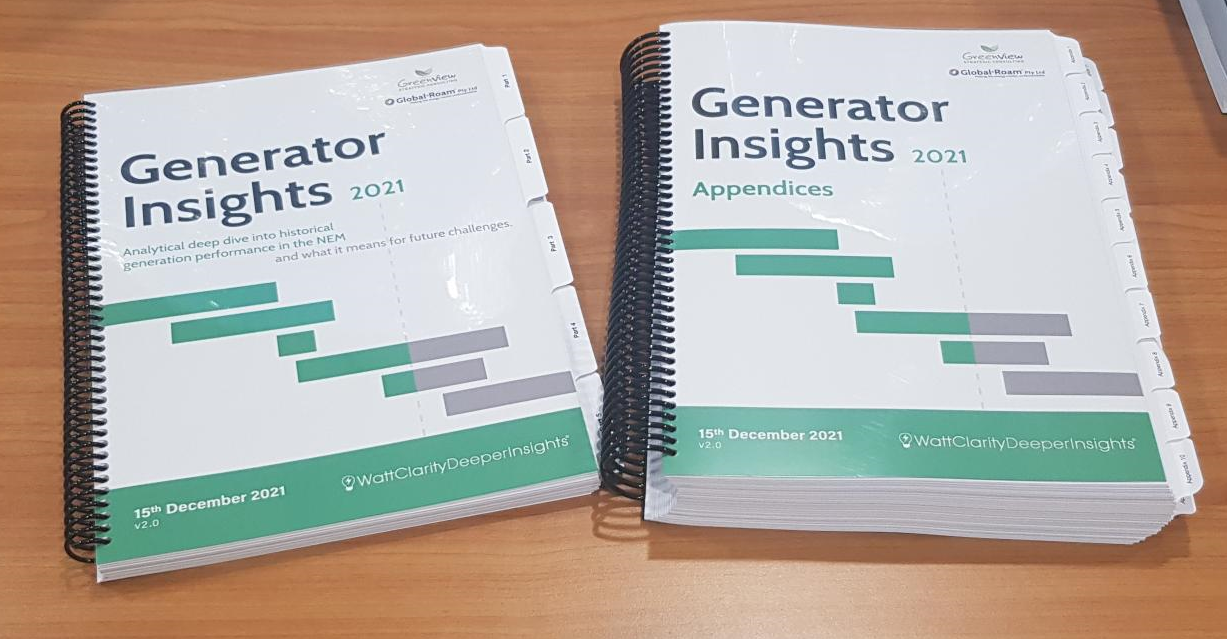 The two volumes contain three main sections, as follows:
Volume 1
Volume 2

The first volume (a smaller one, but still ~200 pages in length) contains summaries and aggregations, and includes many references to the 'Deep Dive' appendices …

… and so, for that reason, we've found it beneficial to bind the Appendices as the second volume – so you can have both open at the same time on your desk, to easily follow the conversation.

1st Section
Summaries
2nd Section
Aggregations
3rd Section
'Deep Dive' Appendices
Over ~60 pages (and in particular through 22 Key Observations) we've tried to distil what's in the other 540 pages of the report into a number of 'so what's it really mean?' answers … or deeper level questions in some cases.

Where we discuss any of these 22 Key Observations in articles on WattClarity, we'll note about them here.

Across Parts 3, 4, 5, 6 and 7 we aggregate data:

Part 3)  By commodity (Energy and each FCAS commodity)

Part 4)  Geographically (by Region, but also by Node)

Part 5)  By Fuel Type

Part 6)  Chronologically

… and in Part 7 we provide a very useful Glossary.

On Monday 6th December we began to list some of the Appendices,  and then on 21st December 2021 we posted the complete list of the 28 individual Appendices.

Since that time we have been maintaining this reference here as a more up-to-date list of the the 28 individual Appendices, including any more recent discussions about them on WattClarity.
This is shown figuratively here: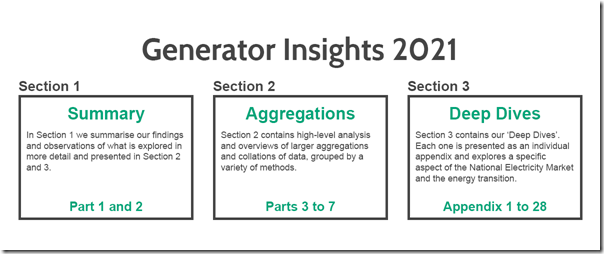 Over time additional context might be provided in articles tagged GenInsights21 on WattClarity .
(C) Who's talking about GenInsights21?
This page has been prepared to provide some examples of people who have been talking about GenInsights21, and what they have said.
(D) Who was involved, in preparing GenInsights21?
GenInsights21 was developed primarily by two parties:
Global-Roam Pty Ltd (i.e. publishers of this WattClarity site, and developers of software); and
… but it could not have been delivered at the quality it has been without the added assistance (gratefully received) from a number of different parties, described here.
Note … this linked page still needs to be updated and completed.
(E)  The history of GenInsights21 … and what came beforehand
The GenInsights21 journey starts back in 2018, or even beforehand…
(E1)  What came before GenInsights21
On 31st May 1999 the two parties above provided an additional focal point to their business with the release of the Generator Report Card 2018 (GRC2018).  The GRC2018 contained both an analytical and statistical focus – whereby from that point in time we proceeded to split the focus into separate documents:
(a)  Continuing the 10-year statistical history included in the GRC2018, we produced the GSD2019 and then the GSD2020 … and will shortly also release a GSD2021, with the intention of making this an annual publication, published early each calendar year with data to 31st December of the year just ended.
(b)  The analytical focus of the GRC2018 won't be updated annually (it's too big a job, and we want to wait until sufficient time has elapsed to deliver meaningful new insights with each publication).  In this case, it took ~30 months to follow from the release of the GRC2018 with the release of GenInsights21
The evolution is illustrated here (diagram to be updated still):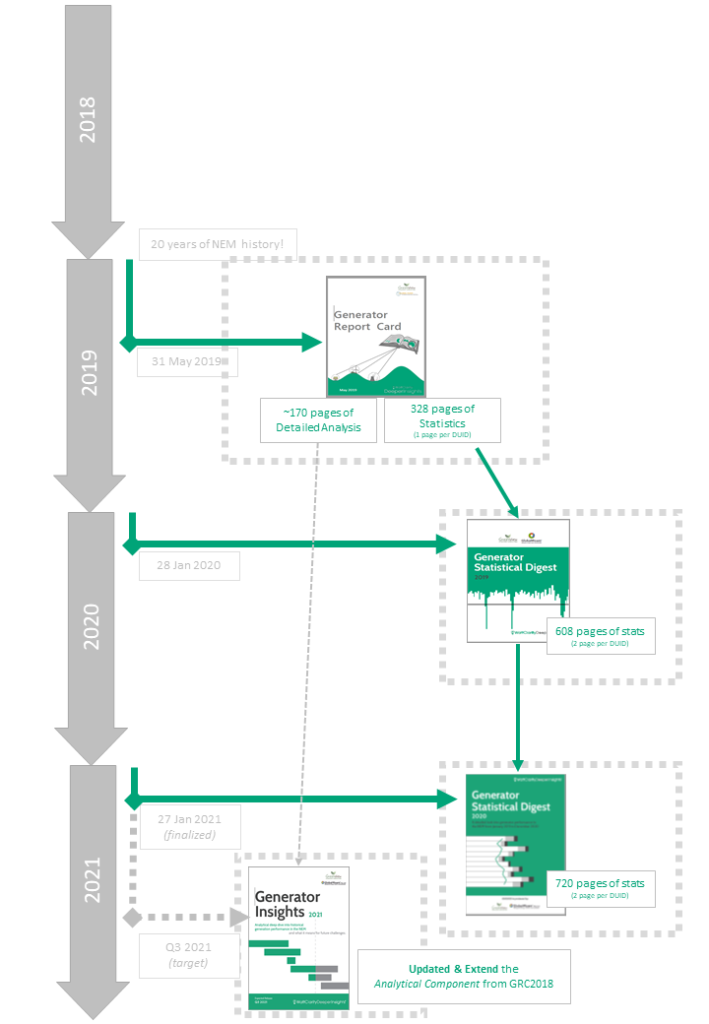 (E2)  Chronology for GenInsights21
Specifically with respect to GenInsights21, here's a couple of the status updates published through 2021:
(a)   On 20th April 2021 we  posted 'Announcing development of 'Generator Insights 2021', and inviting your pre-order' … as a successor to  the 180-page analytical component provided within the GRC2018.
(b)  On 12th October 2021 we published 'Re-starting compilation of GenInsights21, for release December 2021' following the commencement of Five Minute Settlement (which distracted our efforts on GenInsights21).
(c)  On 6th December 2021 we published 'Full steam ahead, for completion of GenInsights21' to note about the imminent release.
(d)  Then we announced that GenInsights21 has been released, on Wednesday 15th December 2021.
Further articles can be found under the GenInsights21 tag on this site, but we will particularly highlight the articles below which discuss areas of analysis within the report: