A short article this morning to mark the end of an era for Liddell unit 3 – the first unit at the four-unit station to close.  Here's a trend this morning from the ez2view online 'Trends Engine' that shows the unit almost fully offline by 08:20 this morning: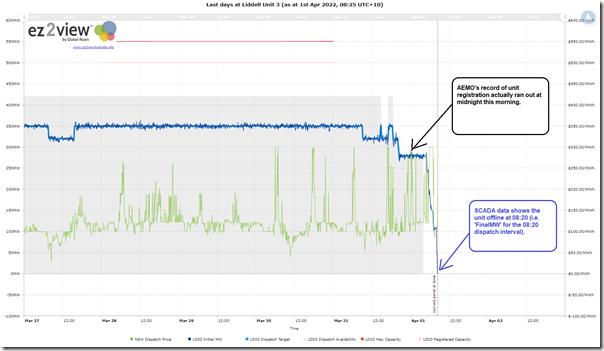 Remember that AGL switched its closure schedule in May 2021 to have unit 3 (more troublesome) coming offline now and unit 4 continuing for another 12 months.
Remember that 'The Messy Collapse of Coal' was discussed as Key Observation #11/22 and elsewhere in GenInsights21 recently.
—
As noted on the chart, we see this morning that AEMO's registration record for the unit ended at midnight this morning (i.e. earlier than it actually came offline), which has caused a few small hiccups in some ez2view widgets.  With many more of these coal units to close in the years ahead, we'll take a look at how to allow better for these kinds of data mismatches in future.