Worth a short article this afternoon to flag how both of the Gladstone units connected on the 132kV line to Boyne Smelter (units 3 and 4) tripped in the five minute period to 16:45 this afternoon.
We see this in the snapshot from ez2view: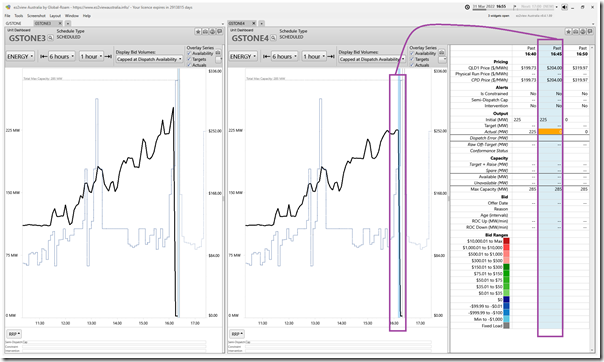 There was a bit of a price blip in response.
——————
PS1 – Market Notice 95668
The above was published 17:00 on Thursday 31st March.  At 17:11 the AEMO published Market Notice 95668 related to, and probably explaining the cause of, this incident:
__________________________________________________
Notice ID : 95668
Notice Type ID : Emergency events/conditions
Notice Type Description : MARKET
Issue Date : Thursday, 31 March 2022
External Reference : Non-credible contingency event – Qld region – 31/03/2022
__________________________________________________
AEMO ELECTRICITY MARKET NOTICE.
Non-credible contingency event – Qld region – 31/03/2022
At 1640 hrs Gladstone Unit 3 and Unit 4 and the Calliope River – Gladstone PS 132 kV feeder 7375 tripped.
AEMO did not instruct load shedding.
AEMO has not been advised of any disconnection of bulk electrical load.
The cause of this non credible contingency event is not known at this stage.
Manager NEM Real Time Operations
——————
PS2 – Price volatility
It's also worth noting the later spike to the $15,100/MWh Market Price Cap at 17:25 … and then a blip to $100.02 at 18:00 and $1,000/MWh at 22:10.