In terms of regional records today for 'minimum demand', first we saw South Australia – and then (I thought – incorrectly) the NSW region (both in terms of 'Scheduled Demand').  We did not have long to wait for the new record low point to be reached in Victoria as well…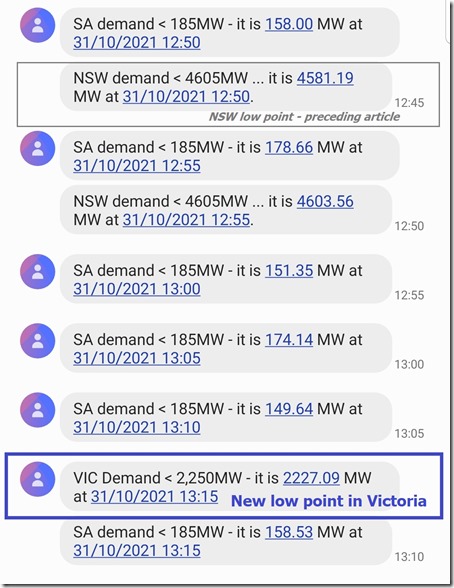 Only 25 minutes after (what I thought was) the new low point seen in the NSW we see a new low point record for Scheduled Demand in Victoria on Sunday 31st October 2021 … down at 2,227MW for the 13:15 dispatch interval (NEM time) – which eclipses the prior lowest point at 2,259MW for the 12:50 dispatch interval on Christmas Day 2020.
… note that this low point won't have been helped with some customers still without supply following Thursday evening's storms.
Here's a snapshot from NEMwatch focused on the VIC region at the 13:15 dispatch interval … showing not much other than (a significantly lower amount of) brown coal and solar operating from early morning: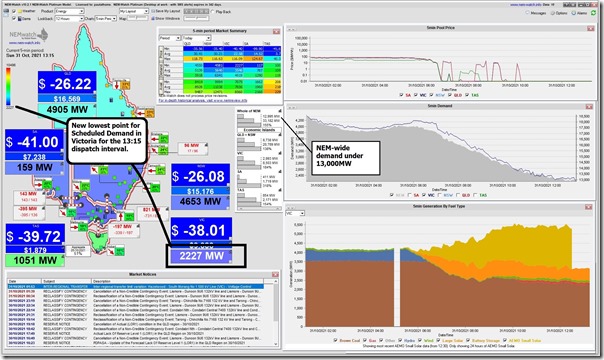 Not sure there would have ever been the case, before, when 'minimum demand' records for NSW, VIC and SA were all set on the same day? Perhaps someone else knows?
CORRECTION – given my mistake with misreading NSW records, it was only 2 regions hit new low points today … and not NEM-wide either!
—————–
PS on Tue 2nd Nov 2021
Later on Monday 1st November, the AEMO tweeted to confirm that a new low-point for 'Operational Demand' was set at 2,402MW in the half-hour ending 13:30 (NEM time) for the Victorian region: