PS correction, with my apologies – seems I could not even read my own record table here correctly (and had not updated my SMS alert levels), and overlooked this lower point for NSW down at 4,286MW on 17th October 2021!
—————–
Hot on the heels of the low-point set about an hour ago in the South Australian region, I had been expecting Victoria to be the new record point (especially with some lingering outages from Thursday evening's storms) … but the SMS alerts next added the NSW region to the list: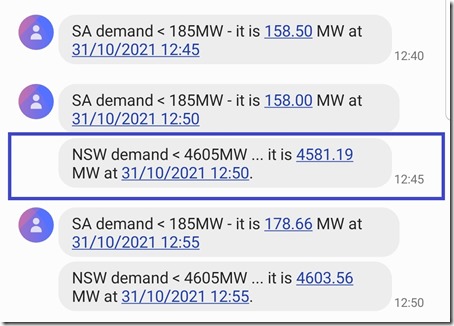 The alert trigger level was set because of the low-point record for Scheduled Demand set on Monday 4th October 2021 (with 'TotalDemand' down at 4,617MW for the 11:15 dispatch interval (NEM time))… and shows that, at least at this point in time, the new low point for NSW Scheduled Demand is down at 4,581MW for the 12:50 dispatch interval on Sunday 31st October 2021.
… i.e. the prior 'low point' record did not even last a full four weeks!
Here's a snapshot taken from NEMwatch focused on the NSW region at 12:55 (i.e. five minutes later), with the demand still below the record from Monday 4th May – but not quite as low as five minutes beforehand.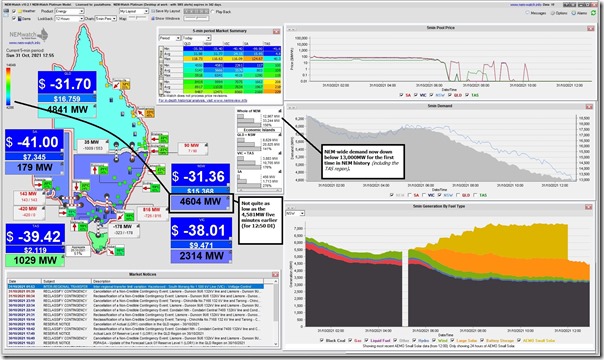 Chalk another one up for the (fast falling) 'Minimum Demand' records…