Please note that all times mentioned in this article are NEM-time. Actual times in states other than Queensland will have been different due to daylight saving adjustments. While we try to ensure that the information contained in these documents is true, we cannot be responsible for any inaccuracies or misunderstandings that may occur.
| | |
| --- | --- |
| Our story begins at 11:45 on the 16th of January, 2007. The hot temperatures, particularly in New South Wales, Victoria and South Australia had driven demand to above 30 000 MW. The RPM was down to 22%. As you can see from the picture to the right, prices around the NEM were high, but not ridiculously so. Most were between $70-$90/MWh. At this stage only Basslink was constrained. | |
---
| | |
| --- | --- |
| | One hour after NEM demand exceded 30 000 MW, the situations around the NEM had worsened. Prices were high due to the excessive heat in the southern states. The interconnectors from the Snowy and from Tasmania were both constrained and Victorian demand was greatly exceding available generation. |
---
The partial screenshot below was taken for the 2:05 dispatch. Prices were greater than $200/MWh NEM-wide and Victoria had prices in the thousands. Note how the demand on the Instantaneous Reserve Plant Margin Graph had been growing steadily since the morning. IRPM had dropped to 16%. The red on the map is the default NEM-Watch alarms triggering when price excedes $100/MWh in each region. Also note how South Australia is only barely able to supply themselves, but is still transporting 300MW to Victoria to help ease requirements there. The demand is well
in excess of both the previous all-time peak demand for the whole of the NEM and the previously forecast maximum demand.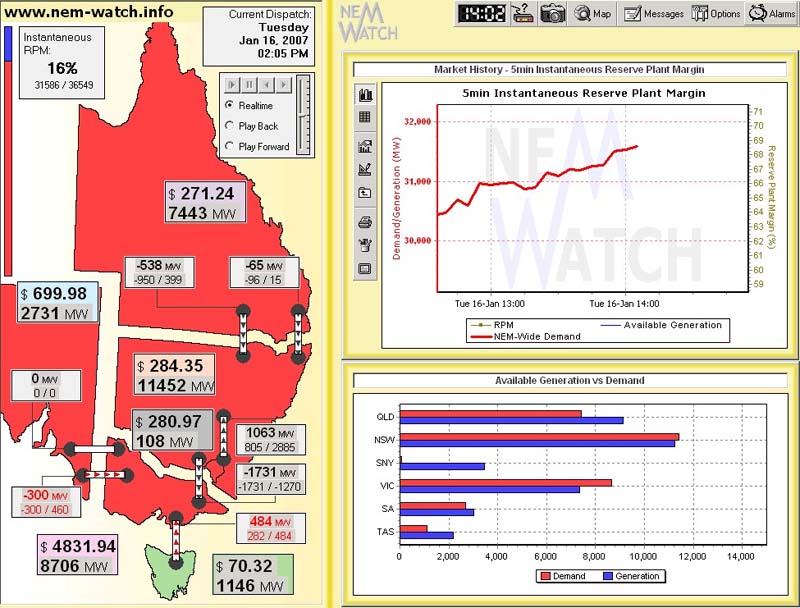 ---
What was already a hot day with extreme demand in Victoria and South Australia was about to get a whole lot worse. Bushfires raged across Victoria, with the high heat and low humidity providing no help to firefighters. At around 3:15 pm Market Notice #15840 arrived, which said "a non credible contingency occured in the VIC region with three main transmission lines tripping and SA separating" (NEM-Watch allows you to view incoming market notices with the click of a button). Bushfires had cut the Vic-SA interconnector! Ten minutes later we had a very clear picture of how this was affecting the NEM.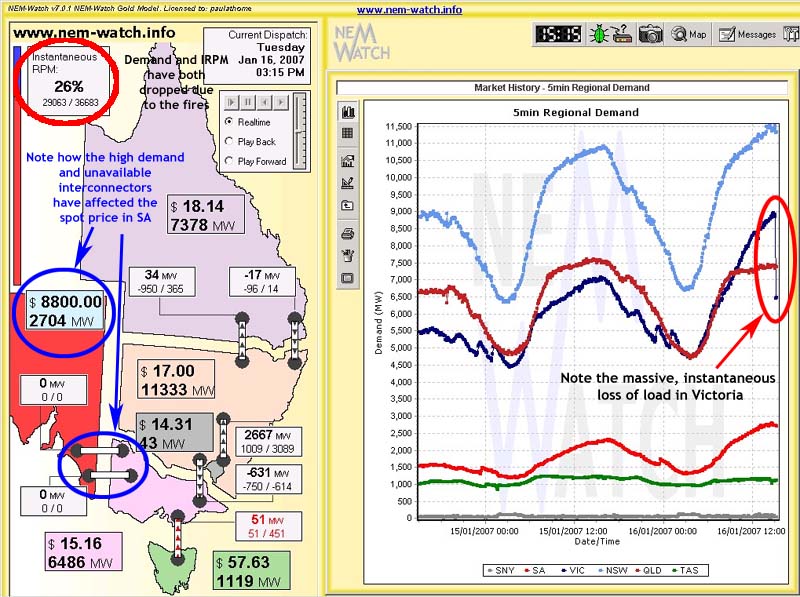 ---
| | |
| --- | --- |
| Within 15 minutes a clear picture was emerging. This partial screen capture shows how the market was responding to both the loss of load and the lost interconnectors. Note how the Tasmanian price is highly negative. As a rough calculation, we estimated that Hydro Tasmania would have paid approximately $125,000 for the responsibility of supplying load in Tasmania and some exports, just for this 5-minute interval! | |
---
| | |
| --- | --- |
| | By 4:45pm the Vic-SA interconnector had been reconnected and South Australia and Victoria had been synchronised. The Vic-SA interconnector was in this case transferring power from Victoria into South Australia (against the price differential – though note that NEMMCO had a VOLL override in place between 16:20 and 18:20. A VOLL price in Victoria, and another instance of price at negative $1,000/MWh in Tasmania. Note also that reserve plant margin had dropped to 21% (with load above 30,000MW again) as more load was brought back on-line. |
---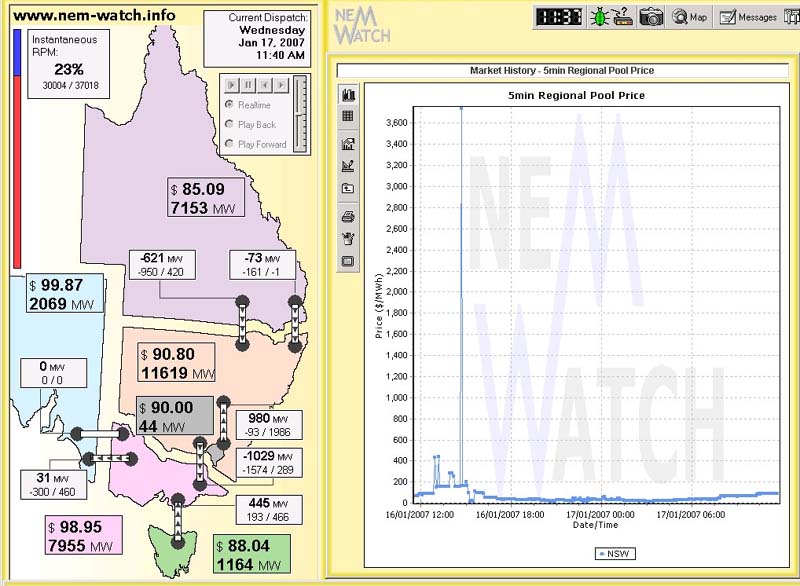 As you can see, on the whole, by the next morning it was back to business as usual in the NEM. Without NEM-Watch many customers in the NEM would have lost thousands and thousands of dollars on a day such as that on the 16th of January 2007. If you have not already, get yourself a trial today!