One month ago (on Sunday 23rd August) we saw Scheduled Demand fall to a low-point of 3,889MW at 13:15 on a sunny day across much of Queensland.  I noted then that this was the lowest point seen for demand in over 16 years, with the previous low point being
In a (disconcerting*) game of 'race to the bottom' we see that that low-point from only a month ago has been bettered today, Sunday 27th September 2020.
*  it's disconcerting, given the accelerating and unresolved challenges confronting the grid with the cannibalisation of 'keeping the lights on' services by the growth of 'anytime/anywhere' energy.
1)   At least now, compared to when we wrote the GRC2018, the challenges are at least starting to be acknowledged more broadly.
2)  These challenges are solvable, but not easy to solve (and certainly not if they are not acknowledged).
Here's a snapshot from our NEMwatch v10 entry-level dashboard highlighting the 12:35 dispatch interval, with the Scheduled Demand** being down at 3,730MW for that dispatch interval: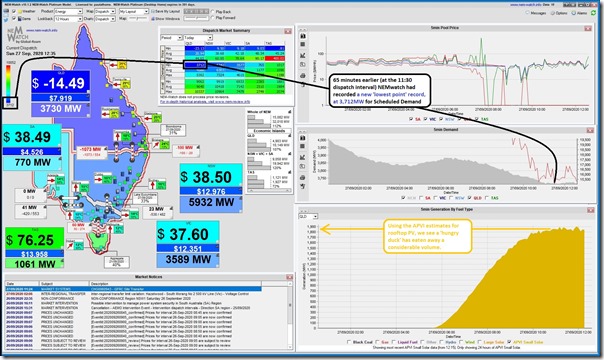 As per the annotation on the image, the lowest point for Scheduled Demand** during this day occurred at 11:30 – down at 3,712MW.
** remember that AEMO increasingly talks about 'Operational Demand' (better reflects consumption from the grid – so some talk about it as 'Grid Demand') whereas the measure above is 'Scheduled Demand' (some see it provides a better gauge of why prices are what they are – so some talk about it as 'Market Demand').   See here to review the gory details of all the different challenges in measuring demand.
Using this longer-range query from NEMreview v7, we can quickly see that the low point today is lower than last month, and approaching the low point from November 2004 (3,693MW at 06:45 on 21st Nov 2004 – which looks to be after loss of a potline or some other disruption?):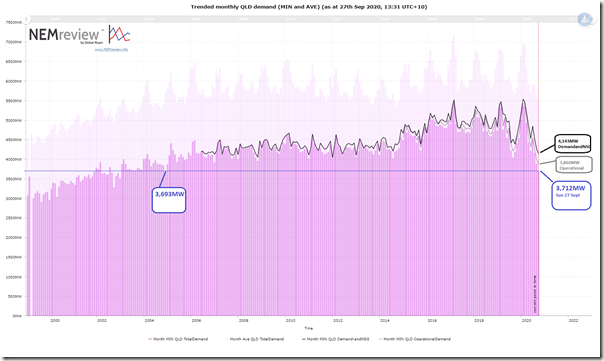 This chart also shows the monthly minimum point for AEMO's half-hourly numbers for Operational Demand (3,860MW for today's low point) , but with 'like-for-like' history only available back to the end of 2014 it's harder to make a longer-range comparison.
I've included this snapshot from 'Forecast Convergence' widget in ez2view as I was curious to see how this low point tracked against the preceding AEMO forecasts in ST PASA and P30 predispatch: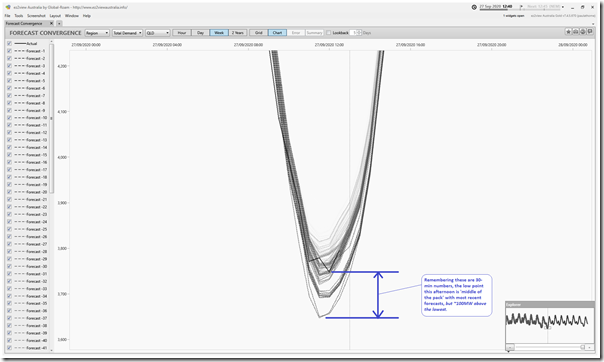 Flipping to look at how AEMO's forecasts for 'Demand and Non-Scheduled Generation' converged on reality, we see there is a much greater gap from low forecasts to actual.  No time to explore on this one now…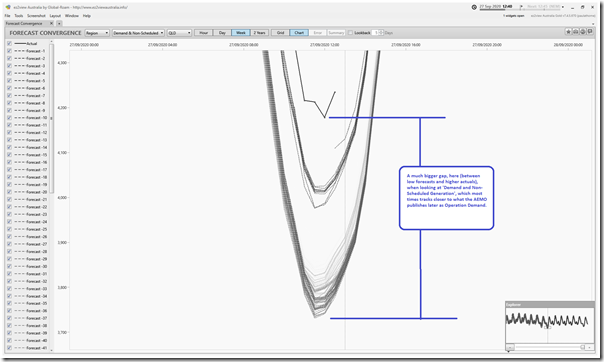 Finally, with this focused trend view via ez2view online, it's interesting to note that there was less price-based curtailment of Semi-Scheduled generation in the QLD region today compared to yesterday, as mostly dispatch prices through the 'solar peak' times were at $0/MWh or just below (meaning positive revenue for Semi-Scheduled generators, after factoring in their LGCs):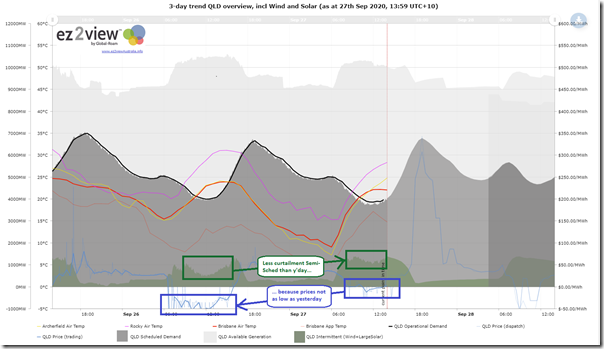 More pain to come as more, as 'anytime/anywhere' energy squeezed into an overflowing grid that still requires a share of 'keeping the lights on' services …