Every good story seems to require a gripping villain – and in the "Evolution of the NEM" storybook it appears we have found our own Voldemort, which goes by the name of Hazelwood.  Here we are, 2 years after its supposed death, and it's still making headlines.
I know I should be focused on the strategic analysis that is a core part of the work that's still incomplete on our mammoth Generator Report Card (a 20-year review of the generation sector the National Electricity Market).  However this week I've felt the pull of that black hole that's opened up where Hazelwood used to be – hence today I thought I'd try to make it constructive by offering some thoughts here.
———–
(A) Context
Let's start with some context, about 2 different things:
(A1)  Setting the scene in the who-dunnit with respect to prices post-Hazelwood
Rather than dive straight into the detail, I thought it would be useful to sum up a potted history of the path to closure at Hazelwood, and its aftermath:
DATE
EVENT
prior to Nov 2016
(prior to closure announcement)
In the months and weeks leading up to the closure announcement there had been increasing speculation that the owner of the station (Engie) was having a change of heart and mind with respect to the assets for a variety of reasons.   For instance:
1)  I found our WattClarity article from September 2016 discussing some aspects.
2)  An astute reader has pointed out "Victoria can survive Hazelwood closure" by Ben Potter in AFR on 17th October 2016, which is particularly relevant given statements about possible price impacts.Even prior to the decision, and subsequent announcement, there had been plenty of questions asked about what the price implications of closure would be – which was one of the prompts to talk about these three reasons why no-one could actually "know" in advance, how substantially prices would shift.


(a)   Perhaps a little prescient, given we're now sitting here almost 2 years

after the station has closed arguing about the extent to which different factors are to blame for how much prices have risen.


(b)   Even moreso, it should be a reminder for us to keep a lid on any ideas we might have to "know" what the price impacts might be with the closure date of Liddell fast approaching as well, as the next domino to fall in this multi-faceted energy transition.



November 2016
to March 2017
(between closure announcement and closure)
On 3rd November 2016, we noted how the closure announcement for the Hazelwood station was quickly reflected in the drop in available capacity in MT PASA.   This is as would have been expected, and should be non-controversial.

What's proving more open to subjective judgement, it seems, is understanding the flurry of activity that the closure announcement prompted – both in the physical market and in the financial/hedging market.  With the closure of Hazelwood looming, we noted on 14th March how hedge prices had started to climb, for instance.

end March 2017
(closure)
By the end of March 2017, Hazelwood had closed.
March 2017 to March 2019
(two years after closure)
In the two years after closure, it seems that Hazelwood is still having an impact on the NEM – even though it's no longer around.

Around August 2017 there were some claims made in analysis by Schneider EMS (I can't find record of it online, but if someone points me to it I will link it in here) that, by my recollection, were implying generators were using market power to raise prices higher than they should be following the closure of Hazelwood.  The claims by Schneider were echoed in various places, including "AGL, Origin bidding up power spot price, says Schneider" by Matt Chambers in the Australian on 30th August 2017.

Following from these claims, on 3rd November 2016 the AER was asked to investigate, as a result of which they published "AER electricity wholesale performance monitoring: Hazelwood advice" in March 2018, after a 17-month investigation (PDF report is here).

In parallel with this specific AER review (and not specifically related to Hazelwood but certainly with that as one factor), the ACCC had been directed (on 27th March 2017) to hold an inquiry into the supply of retail electricity and the competitiveness of retail electricity prices.
(a)   A preliminary report was published on 16th October 2017; and
(b)   The final report was published on 11th July 2018.

—–

The volume of chatter about Hazelwood seemed to wane somewhat since that time, until the publication of "The exercise of market power in Australia's National Electricity Market following the closure of the Hazelwood Power Station " by the Victorian Energy Policy Centre this week on Monday 25th March, as a result of which the dial's gone up to 11 again.   Amongst other coverage, there was this coverage on the 7:30 Report on Monday night.

We noted "Coal constraints in NSW and energy prices following the sudden closure of Hazelwood" in response from AGL Energy on Tuesday 26th March.

Finally, also yesterday I received a call from Cole Latimer at SMH asking questions about the report.   Given our focus has been on the longer-term context of our 20-year review of the generation sector NEM-wide (i.e. our Generator Report Card) I spoke with this broader perspective in mind.   However in the article "'10 years late': Calls mount for greater watchdog bite in power sector" that was published at the end of the day, I note the following passage:

"Energy expert Paul McArdle agreed AGL and other companies had worked within the rules. However, to avoid the jump in wholesale prices since 2017, it required either a change of the rules or the market's structure, he said."

This has pushed me a little further into the rabbit hole today, as a result of which I have invested some time today (27th March 2019) to piece this together.

—–

PS..  After posting this article I noted that Danny Price at Frontier Economics posted this article "Market Power Misdiagnosed" on 12th April 2019:
(a)  The short (5-page) paper is here.
(b)  The synopsis is here.

Following from this, Bruce Mountain posted this short rebuttal of the Frontier claims on RenewEconomy in an article Hazelwood market analysis stacks up – consumers were well and truly "done over" on 16th April 2019.

Voldemort is alive and well, it seems…
If there are further developments (and I remember) I might update the table above.
(A2)  Some phrases that I don't use
This week (and also on prior occasions) I have noted that a number of people are keen to use a number of phrases to give some colour to claims that essentially amount to a view that generators have made too much profit as a result of some particular action.
I note this use, but also want to make it clear that I try not to use these terms, as I don't find them particularly helpful in assisting rational discussion (good for evoking an emotional response, if that is what you want to extract, though).  Terms such as:
"gaming the market" – this has been used in the past by others, but not sure I have heard it on this occasion.
"price gouging" – pretty sure I have heard lots of this in the past couple days.
"market manipulation" – I am especially keen to stay away from this one, as (my understanding is) it has a specific legal definition.  I did note that Matthew Stevens wrote about "price manipulation" on Tuesday for instance.
Also, as an aside, I note that Cole Latimer has referred to me as "energy expert" and I would like to note that I'm not an "energy expert", and don't like to be referred to as such:
1)   My own sense is that it is an increasingly abused term, and that the quality of logic in any person's contribute should determine the extent of consideration it is given.
2)  Personally, I'm just someone driven to always understand more, so I continue asking questions (some of which might turn out to be useful).
(B)  What can I say, about prices after Hazelwood
In my conversation with Cole (and in questions fielded from others this week) I did try to explain a number of things – though perhaps I was not as clear and concise as I would have hoped to have been.  Today I hope the following will help with the clarity (I know I have not had enough time to make it concise).
(B1)  About following the rules
In the SMH article it states that I "agreed AGL and other companies had worked within the rules".  To try to avoid any reader launching off in the wrong direction on this one, let me try to explain more clearly:
1)  It is not our role to systematically investigate whether any particular generator is following the market rules in how they operate in the market.
2)  In pursuing our broader mission of striving to understand complexity, to help others also understand we certainly invest a fair amount of time in watching the market, and in post-event analysis.
2a)  On occasions where we see things that don't make sense, we sometimes flag them with questions (more often direct to the parties involved – but sometimes in posts online, like this odd example here where actions seem mismatched to stated intention in the bid).
2b)  For the Generator Report Card, we have systematically reviewed portfolios which seem to have submitted bids "Not Well Formed" as one part of the AER's latest Rebidding Guidelines.
As time permits, we are trying to alert the portfolios flagged in the Report Card where they are highlighted in relation to metrics used
For the avoidance of doubt, bids from AGL Energy seem to generally fit in the "Well Formed, if we use a looser interpretation" category – or, in plainer English, nothing to suggest not following the rules there.
With that in mind, understand that what I said was something along the lines of "I've not seen anything to suggest that AGL was not following the NEM Rules in terms of how it bids in the market".   However what was lost in the translation was that this should not be taken to imply we'd done anything specific in reviewing outcomes post-Hazelwood, nor comprehensively reviewed bidding practices.  We just don't have the time.
Hence we're not in any real position to be definitive in "agreeing" that (AGL or) any generator follows the rules.
(B2)  About prices having increased
Yes, wholesale prices have increased in the past 4-5 years in the NEM (retail prices are a whole other can of worms, and generally out of scope of what invest time in analysis).
1)  I have already called b*llsh*t on claims by others that would seem to attribute this broader increase in pricing to [Insert Hobby Horse Here].  Astute readers will note that this almost 20-year trend included in that article shows that the kick in prices began around the start of 2015 – i.e. before the closure announcement for Hazelwood.
2)  I have already also noted (reviewing Q2 2016 and then Q2 2017) that the pattern of prices has been changing in the NEM, due to a number of different factors.  In July 2017 I posted about my own forecast of sorts about our energy transition train running off the rails as a result of the actions of a number of different villains.
With this broader context, we see that the closure of Hazelwood was one step in a journey that has seen prices continue to rise.  Any action taken (by AGL Energy or others) in response to the closure will only be one factor in these rises.  Given the complexities inherent in the NEM (including challenges with understanding what would have otherwise been) isolating cause-and-effect is more difficult than it might initially seem.
(B3)  Are prices (and profits) too high?
Ask any shopper if they wanted the price for [INSERT PRODUCT] to be lower, then the answer will almost always be "YES!".  Electricity as a product/service is not really any different.
(B3a)  Concerns of Energy Users
I have written numerous times how we're particularly concerned that the recent escalation in wholesale pricing is bringing many additional challenges to the business of large energy users in the NEM (a growing number of whom are clients of ours).  That's why I can understand Andrew's sentiment when he is quoted in that SMH article as follows:
Andrew Richards, chief executive of the Energy Users Association of Australia, said the recommendations by the Australian Competition and Consumer Commission to curb any firm's market share to 20 per cent were "10 years too late."

"There's a pincer movement underway for energy users and we've exhausted every escape hatch," Mr Richards said, referring to soaring gas and electricity prices.
However I do read this and remember examples where energy users have not exactly used "every escape hatch" – like the time I suggested to the EUAA that they help organise a group of energy users to buy one of the NSW generation assets, which just happened to be on the sale block at the time (i.e. for the GenTrader contracts).
1)  As it turned out, the Sunset Power business demonstrated how that might have happened….
2)  It was a different EUAA management team at the time, but my sense is that it is useful to keep these things in context.
I also am personally aware of residential energy users who do find it quite difficult to meet their general cost of living (including cost of power), which was one of the reasons why we were initially very hesitant to sign up the very over-generous long-lasting 44c FIT for our residential rooftop system.  At least there sanity has prevailed and the costs have been paid for by the QLD State Government, rather than smeared inequitably as a cost on all energy users.  I did not the broader recommendations in the ACCC report with respect to rooftop solar.
(B3b)  Looking at the right numbers?
More generally, though, I am also aware that there is an element of this concern in the broader group of energy sector observers and commentators that stems from a broader misunderstanding of the difference between "Pay as bid" model and "Marginal Price Setter" model for dispatch and market operations.
These concerns manifest themselves in questions about why generation might be priced at $X/MWh in one dispatch interval and yet priced at $Y/MWh in another dispatch interval – with concern particularly noted if Y >> X.
For the avoidance of doubt, readers should note that I am certainly not implying that the authors at the Victorian Energy Policy Centre suffer from this.
(B3c)  How much profit is "too much"?
Leaving aside the challenge that profit and revenue are confused far too often in the broader society (including  by prominent journalists sometimes) we eventually end up at the ultimate question about determining how much profit is "too much".
That's a challenging question that I don't really know how to answer – or even if an objective answer is actually possible.  I'm far more confident that there would be a broad cross-section of different views amongst readers of this article, some with arguments more compelling than others.
With the sudden increase tightness in the supply/demand balance arising from the closure announcement, it makes sense to me that both input costs and risks for the generation sector would have increased.  What's a "fair" price, revenue and profit outcome in a situation like this for all of the generators involved?
(B4)  If you wanted prices to be lower
In the discussion this week, it does seem that the general view is that price outcomes are too high – and that they need to come down.  Hence the way the conversation with Cole progressed, where it is noted that I said something along the lines of:
However, to avoid the jump in wholesale prices since 2017, it required either a change of the rules or the market's structure, he said."
The point I was trying to make here is that, if we assume that the generators were operating within the market rules (again, not my role to confirm this), then we would need to consider other options in order to reduce prices.  Two of those options were mentioned there.
Here's some elaboration:
Approach #1) Introduce more competition – by changing market structure
In my conversation with Cole, I do remember noting that I'd seen that the ACCC had opposed both:
Merger #1)  The purchase by AGL Energy of Macquarie Generation:
I saw Rod Sims' comments in this coverage on the 7:30 Report on Monday night
Merger #2)  The 3-into-2 merger of QLD Government generators:
In July 2017 I had identified this as one of the three factors contributing to the rise in wholesale prices in Queensland seen to that point.  The effect of having a uniform shareholder across the combined Stanwell and CS portfolios was discussed here the month before.
That's also essentially the point that Angus Taylor was making in the interview tonight on 7:30 report with respect to Queensland GenCos.
I'd made the point to Cole that one of the justifications given by renegade MPs for supporting a move to build a new coal-fired power station in northern Queensland was because the 2 remaining GenCos were achieving higher prices by [GOUGING, or other EMOTIVE PHRASE HERE].  I'd also noted that the move to create CleanCo as a third GenCo was being made, at least in part, to assuage those concerns.
In general terms, having more competitors in the market will lead to more vigorous competition.  What's less immediately clear to me is the extent to which the bidding behaviour at Bayswater and Liddell would have been different in this specific case if the stations had been owned by an entity independent of AGL Energy all else being equal (i.e. faced with the same fuel supply constraints and so on).
 It might have been, as a portfolio with less capacity options, that they ended up being more conservative – knowing that they were faced with a conflict:
1)  Knowing that the market would being relying on their capacity more, with the withdrawal of a large volume of current supply; but
2)  Also knowing that they had limited stock of fuel and risks and increased costs of obtaining more.
Perhaps we need to wind the clock back earlier, to wonder whether an independent generator would have been more risk averse and hence maintained a more robust coal stockpile, and more supply options (if that was possible).
… though of course these sorts of thought exercises are in the impossible space of determining what would have otherwise been.
These sorts of examples should be remembered as Case Studies (i.e. times when the market is under stress) to understand potential implications of future structural changes in the NEM.  My recollection of the little that I saw at the time is that this sort of approach was not really used at the Competition Tribunal when the AGL merger with MacGen was passed through several years ago.
Approach #2) Introduce more competition – by building more capacity
Additional supply capacity would also deliver competition benefits – especially if operated by independent parties.
The added value of independence is one reason I was pleased to see this note in the Government's announcement of its 12 (+1 dark horse* ) project shortlist under FUNGI program:
…and the Government decided not to pursue proposals submitted by generators/retailers that currently hold significant market share, in line with the recommendation by the ACCC
Again it's the times when the market's under stress that the value of the additional capacity might be more apparent – but this comes hand-in-hand with the related question about how much is enough insurance, as that capacity comes at a cost?
*  About the Dark Horse, possibly the Dhalgan Energy Park
For reasons discussed here, northern Queensland would not be the location I would be choosing to build my own large generator if I wanted to achieve either (or both):
(a)  Help to lower wholesale prices for energy users; and
(b)  To earn a reasonable return.
That's the point I was hoping to make in this exchange here today about the feasibility study into proposed generation capacity in northern Queensland: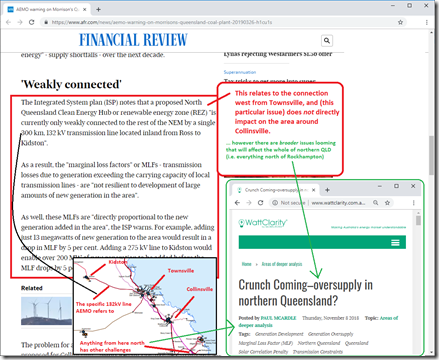 It doesn't matter whether the plant is fired by coal or powered by the sun (or even a mix of solar, wind and hydro).  If it's going to be located north of Rockhampton, it would be bumping into the same general limitations.
More generally, we continue to reflect in our Generator Report Card process (as part of the new capacity we see that's entered the NEM over its 20 year history and the reasoning behind that) on the reasons why we seem to have arrived at a situation where we have a tight supply/demand balance arising as a result of an unscripted departure of a large contributor to the energy mix – hence Approach #4 below.
My sense in reading some commentary about Hazelwood is that some view its former contribution as "only" 5% of the energy NEM-wide as if:
(a)  That percentage was small; and
(b)  That the exit of such a volume should not have caused any major digestion issues.
If that's the case, then I have a contrary view – given that averages mask and lot of very important nuances at the extremes in what's a very volatile electricity market.
Approach #3) Change the rules?
Of course, it would be possible to change the rules to achieve lower prices – there are a broad number of changes that could be made to achieve this (a fair number canvassed by people over the years).  Unfortunately there are many fewer options that would be "in the long term interests of energy users, with respect to …" (i.e. fulfilling the NEO).
To take it to the (comical) extreme to make the point clear, it would be theoretically possible to change the rules to say that the wholesale price outcomes should always be set at $0/MWh.  Such an approach inevitably just ends up with:
(a)  The supply side exiting the market (or looking for some form of subsidy to prop up their business – be that capacity payment, or other form of support); and
(b)  On the demand side we see poor choices made that end up coming to bite us later when prices are reset to (perhaps) "more realistic" levels (e.g. poor energy efficiency embedded structurally into our economy at many different levels).
Whilst it might be easy for readers to see that such a hypothetical approach would not be sustainable (in the long-term interests of energy users) some of the rule changes that have been proposed in the past, and are probably being dreamed up in response to the latest concerns, would (though more subtle) also raise similar questions.
Leaving aside the (very valid and necessary) questions about how effectively they do their job (I've already provided my constructive feedback in the AEMC's survey), that's one reason why I am a keen supporter of having an independent body assess rule change proposals and determine if they are (in their considered view) in the long term interests of energy users.
Approach #4) Governments set durable policy, and stop tripping over its clumsy feet!
A couple months ago, all we seemed to hear about was the Federal Government taking their own "big stick" to the "price gouging" energy companies (their own form of magic wand, perhaps).
However the more they spoke about "big stick" the more I pictured the current Federal Government as the clumsy dancing partner on the dance floor trampling over every else with two left feet and oversized shoes.  Clearly earning their status as Villain no1 in our energy transition train-wreck.
With this as our starting point, I am forever hopeful that we can find a way for governments to assume their role as direction setters for the broader energy sector transition, whilst resisting the (irresistible?) urge to meddle in the details.  One glimmer of hope, then, in the COAG Energy Council direction to the ESB to be a bit more strategic in implementing NEM 2.0 by 2025.
This would surely help to achieve Approach #2 (more capacity, of the right sort) and might even help the AEMC take a more strategic view with Approach #3 (evolving the rules in parallel with the transition).  Who knows, we might see more rational market structures evolve as well (Approach #1).
———————-
… and on that note, it's back to the Generator Report Card.
A big thanks for the patience shown by the growing number of clients who have pre-ordered the report at early-bird pricing whilst we do all that's necessary to complete the report (information about the status is here).