A quick note today to highlight how, with just over 2 weeks remaining till the end of the month (and the closure of Hazelwood power station), Victorian hedge contract price levels have risen significantly.
With an in-development early beta of NEM-Review v7, we're able to generate the following trend, which sums up some of the outcomes created in this ongoing energy crisis: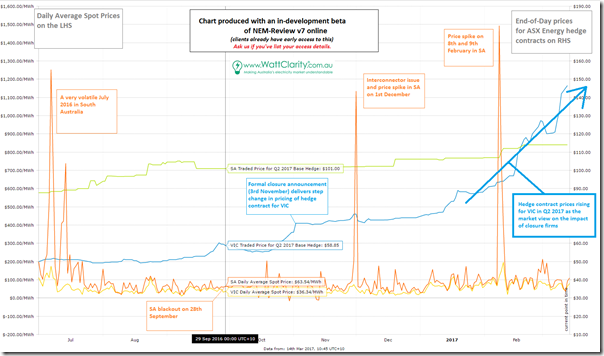 The chart, which spans (14 days into March) a little short of 9 months of history for both Victoria and South Australia and spans many events including:
1)  In July 2016 I posted this analysis of some remarkable pricing patterns we'd observed occurring through Q2 2016 (not shown on the chart) – followed by this listing of possible contributory factors.  "Remarkability" seems to have become the new norm.
2)  In July 2016 we saw a very volatile price period in South Australia, which contributed to the rise in the hedge contract level up above $100/MWh for Q2 2017 as seen on the chart (green line).
3)  I've marked the timing of the SA state-wide blackout on 28th September 2016.  No price impact, there, as there was no power supplied.
4)  I've marked the timing of the Hazelwood closure announcement.  Back at that time I posted these comments following a series of claim and counter-claim about what the price impacts might be.  We can see clearly in the chart above what the market consensus is about how Q2 will turn out in the physical market – and it's not pretty.  Please note, however, that physical market outcomes do not always reflect traded positions beforehand – however it is an ominous warning.
5)  Also marked is the transmission disruption and load shedding on 1st December 2016 in South Australia; and
6)  I've marked the load shedding event during the heatwave of 8th, 9th and 10th of February only a month ago.
"Interesting times" – to quote that old Chinese blessing/curse.
---
Note that I have deliberately left NSW, QLD and TAS off the chart as they have their own stories to tell…