Back on 4th July 2016, I posted this review of Q2 (2016) prices and posed the question – whether there was a short-term excursion, or more systemic change in pricing patterns?
Well, we have just seen the end of Q2 2017 and, based on the results we've seen in similar analysis (posted below) it seems more likely that the changes seen in Q2 are both more systemic, and actually increasing over time.
(a)  It's clear that there are a number of factors behind these changes, and that these factors play different weights in different regions;
(b)  This will have huge implications all the way through the electricity supply chain – for generators, retailers, traders, and for energy users (small and large).
For context, I have used the same analytical framework presented a year ago, and just added the results for trading prices across all regions through Q2 at the end.  For most regions, they stick out a mile:
1)  Average prices in Q2 up across all regions
One of the interesting points to keep in mind, with respect to Q2 prices, is that this has (traditionally) been one of the "boring" quarters – with low demand-induced pricing volatility.
Last year we saw how time-weighted average prices for Q2 2016 were significantly higher than all prior years, with the exception of the drought-affected Q2 2007.
1a)  Queensland trended stats
Again, we're starting at the top of the NEM to work our way around: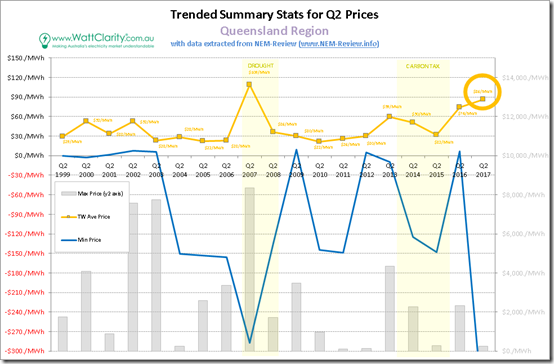 In these charts, we're showing Minimum, Maximum and Average Prices over the quarter – and for ease of readability, we've moved the quarterly maximum trading (i.e. 1/2 hourly) prices to the Y2-axis and shown this data series as a bar chart.
1.  We can see that, for Queensland in Q2 2017, the peak price was well below $1000/MWh (only $256.70/MWh), but this did not stop the time-weighted average climbing above the high level of a year before to reach $85.83/MWh.
2.  This has been the second highest result seen across all 19 years of NEM operation, with the only year that was higher was the drought year of 2007 (which took a heavy toll on Queensland's power generation fleet, along with threatening water supplies to the south-east corner of the state).
3.  For those who view high prices as a challenge, Q2 2017 was a worse result than seen in Q2 2016.  A result double what was held to be a long-run marginal cost position for power stations what seems like a lifetime ago.
Moving south to NSW …
1b)  NSW trended price stats
Moving into NSW, we see the average price for the Quarter ($93.62/MWh) higher than seen in Queensland, and at $17/MWh higher than the prior year also a higher step upwards: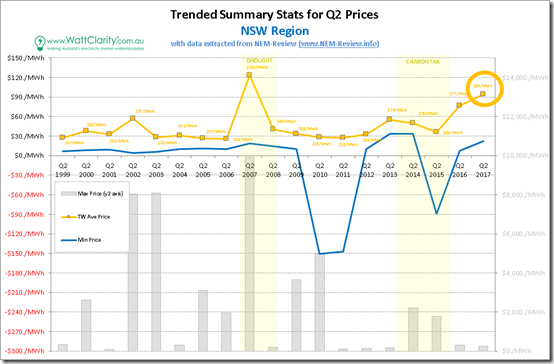 As was the case for Queensland:
1.  This high average price was delivered despite a peak price across the whole quarter being only $255.14/MWh (slightly lower than in QLD and in the same trading period – 07:00 on 3rd May 2017, a period in which prices were at similar levels also in VIC, TAS and SA).
2.  It was also the second highest result in NSW, exceeded only in the drought-affected Q2 2007.  Whilst that year suffered from transient issues, it is looking like what's affecting prices in the NEM is now more deep-seated, multi-faceted, and systemic.
Continuing south to Victoria…
1c)  Victoria trended price stats
In Victoria, we see , we see the average price for the Quarter break $100/MWh (up at $104.92/MWh) – a gut-wrenching level for the vast majority of energy users in what has traditionally been one of the more "boring" quarters: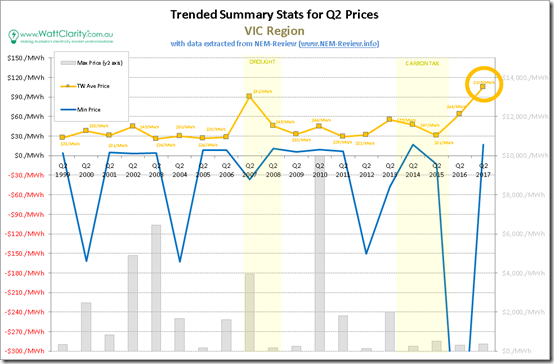 In Victoria, we see that average Q2 prices have never been higher, across all 19 years of NEM history.
We can clearly see in the chart that average wholesale prices in Q2 2017 are up 64% compared to the prior yearwhich was already historically high.  This just happens to straddle the closure of Hazelwood – and makes a mockery of both:
(i)  the roll call of "energy experts" who produced precise forecasts of what the impact of the closure would be; and
(ii)  the greater number of people who believed one particular batch of forecasts from their favourite consultant.
… though please note, to be pedantic, that:
(i)  it is more than the Hazelwood closure that's produced this extreme outcome.
(ii)  most forecasts were focused on retail, and domestic, which means the percent change is lower than the above because of other (non-wholesale) costs loaded in.
In March I posted this quick review of how the Q1 2017 Base futures contract for VIC was trading up towards $150/MWh – so from this we can say:
(i)  thankfully the spot settled somewhat lower than that level (though $104/MWh is still extreme); but
(ii)  it did show that even "the market", collectively, did not have a perfect view.
It's also , and is the reason why I  have repeatedly noted that forecasting is a mug's game, and
Over the water to Tasmania …
1d)  Tasmania trended stats
Remembering that Tasmania was faced with massive supply challenges in Q2 2016 (with perilously low hydro reserves coupled with a long-term outage on Basslink) that garnered plenty of media and political attention, it is mind-numbing to see that Q2 2017 was very nearly as bad (despite reasonable hydro reserves and working interconnection, and a fraction of the media attention):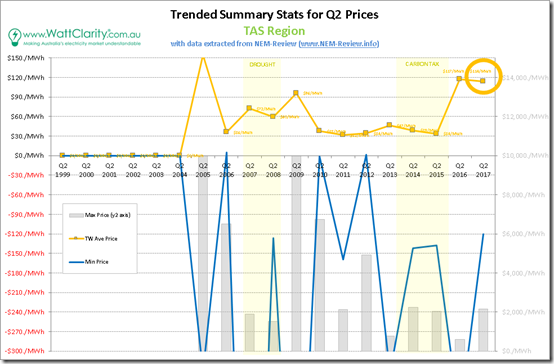 The average price seen in Tasmania for Q2 2017 was $114.27/MWh, which was both:
1.  Only $3.20/MWh lower than the crisis levels of Q2 2016; and
2.  Almost $10.00/MWh higher than those seen in neighbouring Victoria.
Finally west to South Australia …
1e)  South Australia trended price stats
Saving (in this case) the worst for last, we then step over to South Australia where the time-weighted average price for the quarter reached a staggering $115.93/MWh: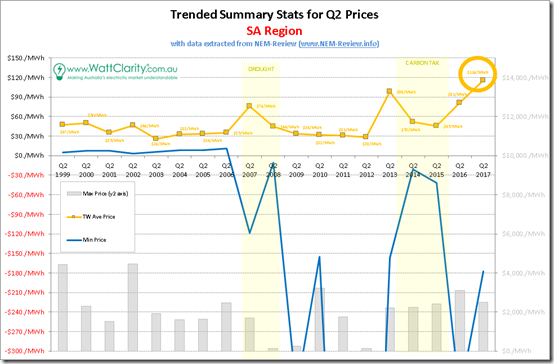 Here, the situation really does look extreme.
1.  The price for Q2 2017 was fully $34.92/MWh higher than the level seen in Q2 2016; and
2.  Is clearly the highest Q2 average price South Australia has seen over the 19 year history of the NEM.
3.  Was incidentally pretty much spot on the money in terms of where the Q2 2017 Base futures contract was (thinly) traded in South Australia just prior to the start of the quarter (highlighted in my post here on Hazelwood in March 2017).
1f)  Summing up average Q2 prices all regions
In the following chart, we sum up the sorry state of NEM pricing seen across all regions of the NEM, but particularly in VIC, TAS and SA: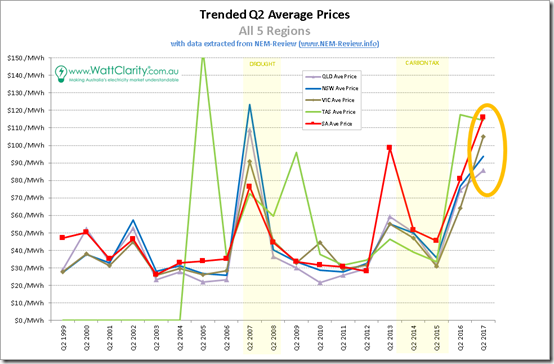 In the same vein as last year, the most important take-aways from this analysis should be:
1.  That the outcome for Q2 2017 was even more remarkable than Q2 2016; and
2.  That it appears that we're entering a new environment that's distinctly different from the years that preceded; and
3.  That this affects everyone, right across the NEM ; and finally that
4.  Those pre-disposed to draw overly simplistic "it was due to … [this one factor]" conclusion are unlikely to be correct, and could be dangerously misleading.
With respect to the [this one factor], I have seen a number, including the following:
Over-simplification #1 = it's all due to Hazelwood closure (and Northern before it, and so on)
Over-simplification #2 = it's all due to high gas prices
Over-simplification #3 = it's all due to intermittency
Over-simplification #4 = it's all due to those greedy incumbent gentailers
Over-simplification #5 = it's all due to the wind drought in May/June 2017
Over-simplification #6 = it's all the outcome of uncertainty and change created in the privatisation of NSW generators, in relation to coal supply re-pricing
… and the list goes on…
As I noted late last week, our need to rapidly increase the capacity of our thinking, to deal with a greatly increased number of wildly changing variables, currently seems to have far outstripped our collective willingness, or ability, to do this (or, in most cases, even an awareness that this intelligence gap has opened).
That's most likely to end in tears.
---
2)  A majority (in some regions) of prices in the $100's
Once again, if Q2 2016 pricing was unusual, then the pattern of pricing seen in Q2 2017 was mind-blowing.
As I did last year, I've taken all 4,368 half-hour periods through the quarter (through each of the 19 quarters of the NEM-to-date) and apportioned prices into buckets, depending on the level at which they fell.  This delivers 19 discrete curves have then been overlaid on a chart for each region, with particular years of interest highlighted.
2a)  Distribution of prices in QLD
Starting again at the top of the NEM, here's the chart for Queensland: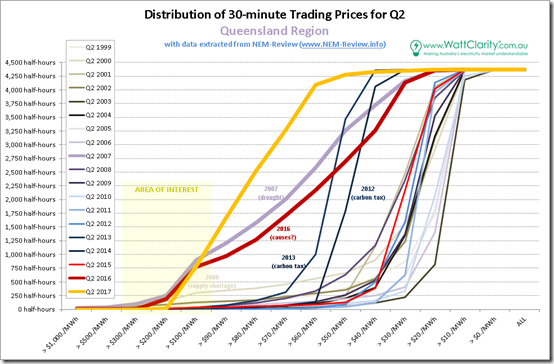 I highlighted, last year when I posted the chart above, what were the outlier years at the time:
1.  The supply-constrained early years in QLD;
2.  The drought year of 2007;
3.  The two years of carbon tax; and
4.  The massive result for Q2 2016 just passed.
However the results for Q1 2017 are even more extreme.  Instead of the median price being in the $20/MWh to $30/MWh range, the median price is seen to be up at $83.94/MWh.  That's a staggering increase and is just $2/MWh lower than the all-hours average for the quarter!
To sum up, compounding the staggering rise in prices above $100/MWh we saw occur in Q2 2016 (with the incidence for Q1 2017 being much the same), practically all other prices have shifted up by something like $50/MWh.
There were less than 100 half-hours with prices experienced below $50/MWh.
2b)  Distribution of prices in NSW
Progressing further south, it should probably not surprise readers (by now) that we see a similar pattern: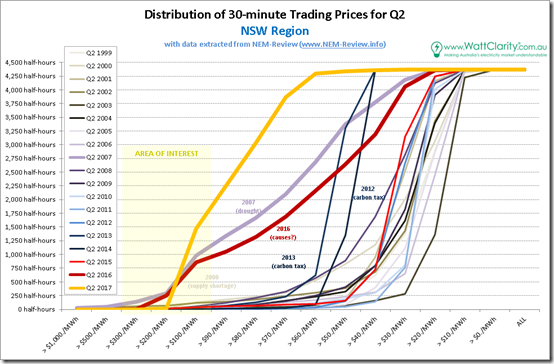 Again we see the distribution for Q2 2017 far exceed the (already extreme) results for Q2 2007 and Q2 2016 (which I noted, last year, were "standing out like sore thumbs").
Prices seen in the carbon tax years, with the uplift of $23/tonne or so factored in, are meagre by comparison.
2c)  Distribution of prices in VIC
Moving into Victoria, we see the same picture: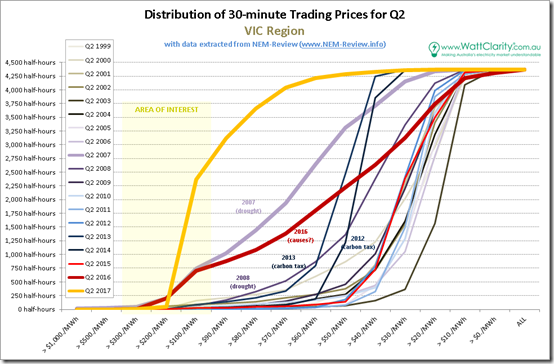 Last year I highlighted "2007 and 2016 as the standouts" – however those years pale into insignificance to the onslaught of Q2 2017.  More than half of all half-hours through the quarter saw spot prices greater than $100/MWh.
2d)  Distribution of prices in TAS
Down in Tasmania, we see a somewhat different picture – though still with similarities: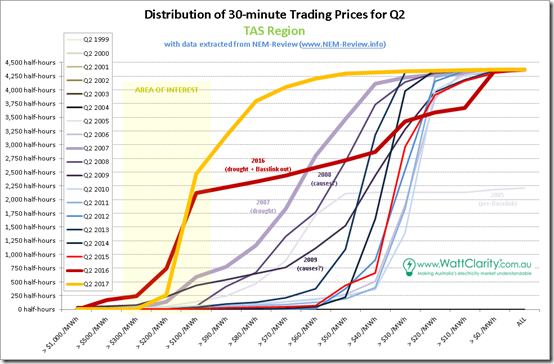 Remembering that the local issues of 2016 pushed Tasmanian electricity supplies to crisis levels, the distribution curve for prices seen in Q2 2017 is deeply disturbing – with prices under $50/MWh having completely evaporated, and an even higher incidence of prices over $100/MWh (though the reduced instance of "very high" prices, compared with Q2 2016, being the obvious reason why the average in 2017 turned out slightly lower).
2e)  Distribution of prices in SA
Finally, we land at South Australia and see a truly horrendous picture, with way more than half of all half-hourly prices being more than $100/MWh (i.e. 2,945 half-hours in 4,368 in total – or 67% of the time – almost triple the incidence in Q2 2016):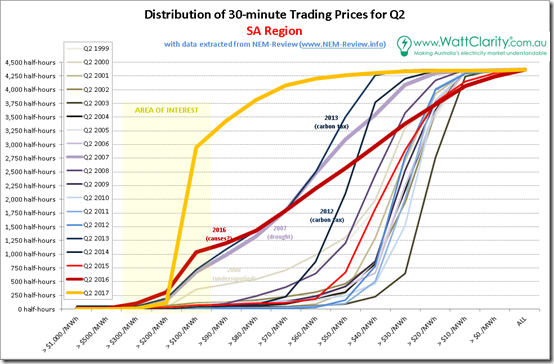 Is it any wonder that large energy users are closing their doors, permanently.
2f)  Summing up, for all regions
Selecting just the incidence of prices above $100/MWh for each region and trending over time, we see the following summary: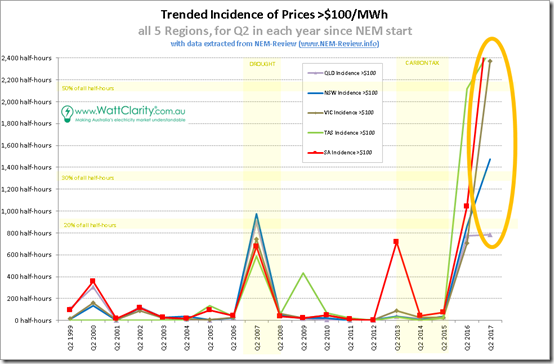 Quite literally, the incidence for South Australia and Tasmania are both off the chart, with Victoria just scraping in below 2,400 half hours (still more than 50% of the time).
This is a far more excessive outcome than either Q2 2016 and Q2 2007 (the drought year), and there seems to be worrying signs that:
1.  This is a continued pattern; whilst, all the while
2.  Our political leaders fiddle whilst Rome burns….
In a complex system (such as the NEM) it's almost certain that, with most events, there are always multiple contributing factors.
When I have a bit more time, I will return to analysing the various contributing factors – including those identified above…