As frequent WattClarity readers will know, we've been investing thousands of hours in an extensive review of 20 years of a wide variety of generation performance data in order to prepare our Generator Report Card (with data generally to 31st December 2018).
Over the past couple weeks as part of a broader combined team, my role has been to delve into considerable detail with respect to what we can see evolving with respect to production from Large Solar plant across the NEM (whilst others are applying similar levels of analysis for the other fuel types*).
*  note that Fuel Types are just one of the dimensions we're using to determine what can be seen in the data.
Given the recent after-effects of Tropical Cyclone Trevor last week, I thought it might be useful sharing this particular (preliminary!) trend more generally with WattClarity readers here: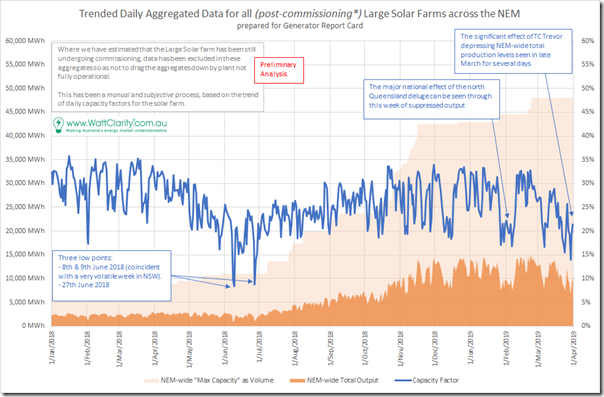 You'll note in this case we have extended data beyond 31st December 2018 because of the more recent growth in large solar and lack of insufficient history beforehand.
For all generators across the NEM, we're particularly interested in varying aspects of dependability (as we define it in the Report Card).
We'll explain all of this in more detail in the Report Card (and still have to correct some of the foibles in the data set) but am particularly interested to note that, despite the growth of large solar capacity (even after commissioning) we see some significant reductions in output NEM-wide over multiple consecutive days as a result of major weather events.
A couple are flagged in the chart about, with brief discussion below:
We will be drilling into these types of results in more detail in the Report Card.
———————–
Given the current toxic political climate leading into the Federal Election, we've elected to delay the release of the Report Card until after the election has been completed so to reduce the risk that our Report Card ends up a political football, and increase the likelihood it might help to achieve something constructive in this challenging energy transition.
I've already notified those clients who have already chosen to pre-order their copy (at early-bird rates), but thought it worth noting more broadly here.  We'll try to keep this page updated with project status.  The upside of that is it keeps the early bird pricing open for a little longer…