On Saturday 11th December we'd noted how AEMO had released its draft of the 2022 Integrated System Plan – and that it had caused quite a stir with projections of a (more rapid than previously modelled) collapse of installed capacity of coal.
(A)  Exploring 'The Messy Collapse of Coal' in GenInsights21
The Draft ISP was released on Friday 10th December 2021 – and we followed this only days later with the release of our GenInsights21 publication on Wednesday 15th December 2021.
In Part 2 of GenInsights21, we included 22 discrete observations gleaned from what followed through the document, including these 28 discrete 'Deep Dive' Appendices.  Quite relevant to the buzz created with the release of the Draft ISP was 'Observation 11:  The Messy collapse of coal?' that discussed a number of risks, including this one: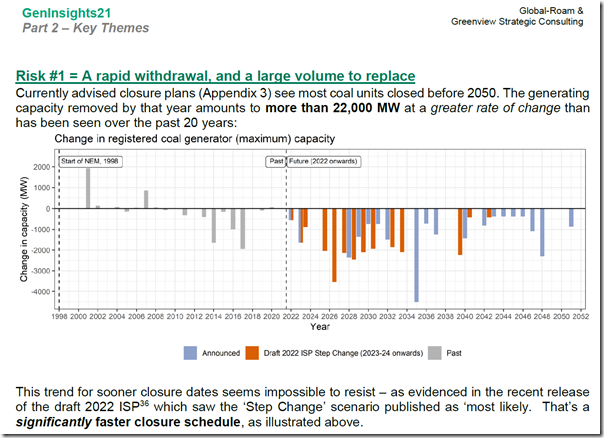 Using a representation like this, it's clear to see how the scenario now presented as 'most likely' by the stakeholder group surveyed by AEMO in preparation of the draft is both:
1)  More rapid than the currently announced plans; and perhaps more importantly
2)  Significantly larger (in aggregate) and faster (on a year-on-year basis) than has been seen through the history of the NEM, or even in more recent history. Such a start contrast!
Remembering that AEMO's scenario modelling in the Draft ISP is just that (i.e. modelled scenarios based on various input assumptions) it's worth utilising that 'before and after' contrast to understand what the implications might be if such a future should start to unfold.
1)  Of course, emissions would fall significantly (and rapidly) … which is the whole point of closing lots of coal generation in a compressed timeframe.
2)  But what other implications would there be?
That's part of what has been done through other parts of GenInsights21.
(B)  In the AFR this morning
So you can understand my interest was spiked this morning in picking up the print edition of today's AFR to see a front page article noting 'AEMO told to reassess death of coal' :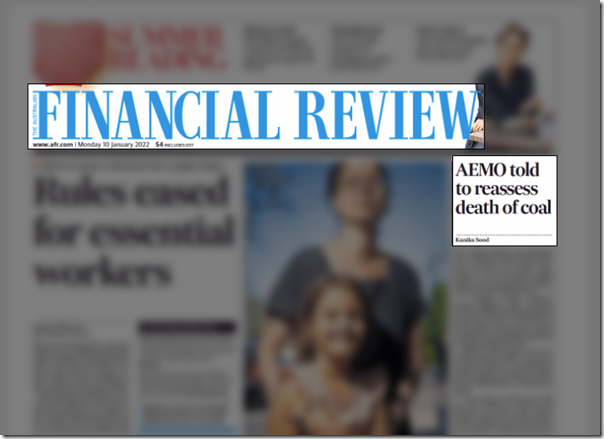 The article's written by Kanika Sood (not one of the AFR's normal energy-focused journalists) and starts by saying:
"The energy regulator has challenged the Australian Energy Market Operator's prediction of the rapid retirement of coal power plants, asking AEMO if it had considered whether plants could be operated more flexibly, which may extend their life span.

A strongly worded Australian Energy Regulator (AER) statement reviewed AEMO's draft energy markets road map, released on December 10, which projects that nearly two-thirds of Australia's coal generation capacity is likely to be gone by 2030, with the last such plants to close by 2043."
The AFR article is only a couple hours old, and already has prompted considerable discussion in various quarters.  Prompted by article (including the choice of wording, such as that highlighted) I jumped online to try to the AER communications back to the AEMO in order to interpret for myself.
(C)  What the AER's note says
Whilst the AEMO has called for written submissions on its draft ISP, there's nothing yet published on the AEMO website there … so next stop was the AER website where I found this 4-page 'Review Report' of the Draft 2022 ISP: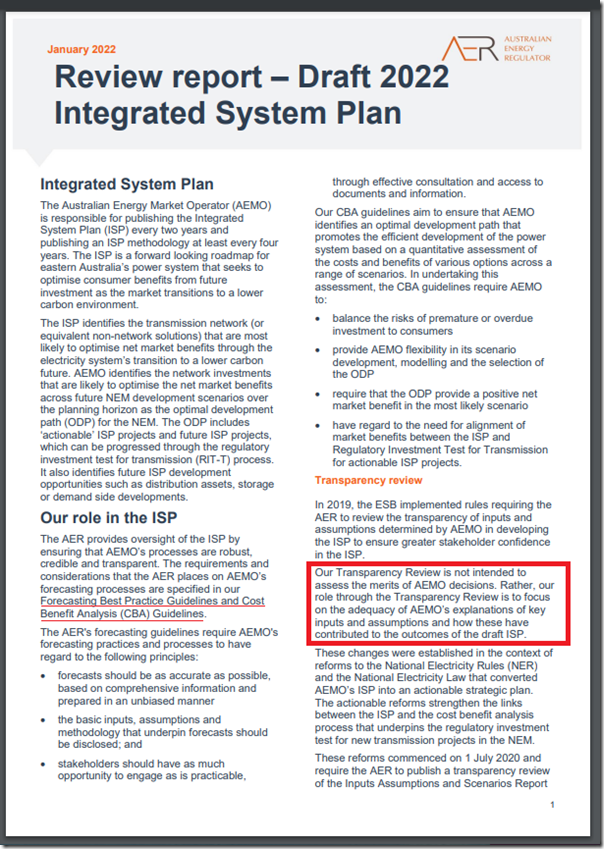 The key point (highlighted) is that the AER's Transparency Review …
"… is not intended to assess the merits of AEMO decisions. Rather, our role through the Transparency Review is to focus on the adequacy of AEMO's explanations of key inputs and assumptions and how these have contributed to the outcomes of the draft ISP."
On the third page (under heading 'Thermal coal plant retirements') the AER writes:
"The AER has determined that AEMO has not adequately explained: 

>  how it has derived the large negative profits and whether these are consistent with the revenue adequacy assumption used in the first 10 years of the progressive change scenario; and 

>  the profit/revenue adequacy threshold at which the model determines the retirement of plant.

Further, as we discussed in our IASR review report, AEMO should provide more explanation as to why thermal coal plants are not assumed to operate more flexibly. "
We'll watch with interest as this conversation unfolds…