For a number of reasons*, we're taking an increasing interest in system frequency.
I thought it might be worthwhile to highlight several things that have already popped out of the number crunching we've been doing:
(A)  Much tighter distribution of frequency
This will not be a surprise to a number of our readers, as it has been reported in a number of other locations: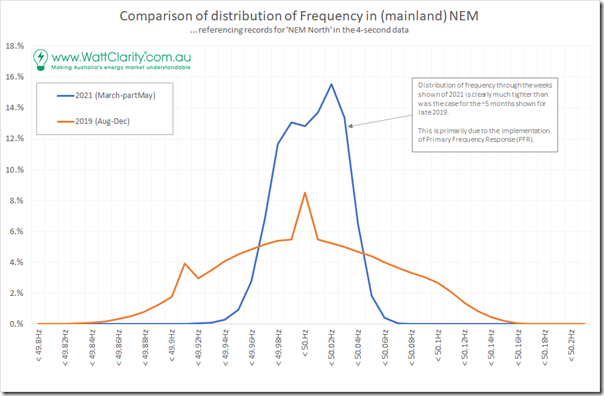 As noted on the image, the prime reason for the tightening of distribution of frequency around 50Hz was the adoption of Primary Frequency Response (PFR) by the AEMC as an interim measure on 26th March 2020 following a campaign by a number of people, including Kate Summers who contributed articles on WattClarity as follows:
1)  On 23rd March 2017 Kate wondered about 'Fast Frequency Service – treating the symptom not the cause?'
2)  Almost 18 months later, Kate delivered a presentation on 'Power system control or market control of a power system?'
3)  Skip forward to October 2019 (now 19 months ago) and Kate wrote about '… reflections on Frequency Control in the NEM'.
—
On 6th November 2020 (i.e. following the AEMC's rule change, and the implementation of PFR by many generators), Allan O'Neil contributed a great article about 'What's PFR and why does it matter anyway?' that includes similar charts to the above, and provides a lot more context.
—
Incidentally, when we were compiling the Generator Statistical Digest 2020 earlier this year, to highlight derived Conformance Status performance of all DUIDs through 2020, we needed to add another which we marked 'Suppressed' to mimic the way in which AEMO switched off their Conformance Status checks on some units as they switched on their PFR:
(Allan's article above provides a good illustration of how Loy Yang A1 provided a valued service to system stability by intentionally deviating from their targets on 29th and 30th October 2020 to support system frequency – a markedly different approach from the independent running shown on 15th October 2019).
(B)  The skew has shifted, towards higher system frequencies?
In the blue distribution above (for ~8 weeks in 2021) we see that there is a noticeably different shape of curve above 50Hz than there is below 50Hz, and we wondered why not just the mirror image? 
In the image above the difference looks pronounced for 2021 (i.e. significantly more time over frequency than under) – however the reality is a little more subtle, due to the different widths of the curve on either side of 50Hz.  Allowing for a 0.2Hz (narrow) band across 50Hz we sum all the other instances as either high or low and see the following: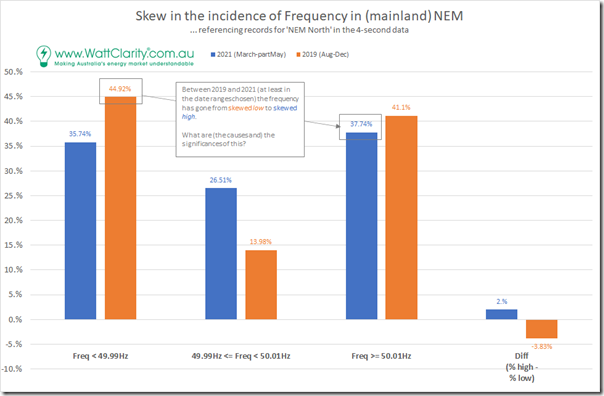 Based on the date ranges chosen (perhaps it would have been different if different date ranges were chosen) we see that there has been a change in the skew:
1)  Skewed low in 2019; to
2)  Skewed high in 2021.
One possible hypothesis is that this change in skew is not specifically due to PFR, but rather due to changes in the underlying technologies used in the energy supply mix over that two year period, and the idiosyncrasies of these.  I'm interested in hearing more from those who can help extend my understanding in this area.
Might be a good time to remind readers of our question:  Do you know of people who can help us?
(C)  The skew has is decidedly different at different hours of the day!
Interested in delving further, I split the frequency distribution for those weeks of 2021 out by hour of the day (i.e. NEM time) and redrew the distribution curve, with 24 curves for the different hours of the day: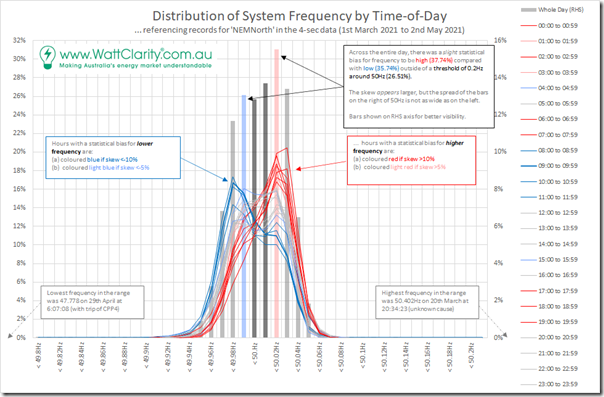 The hours of the day are coloured with three different colours:
1)  If the skew was towards higher frequency in the hour, then the line is coloured red:
(a)  A bright red is used if the skew is >10% (i.e. calculated as  'Incidence >= 50.01Hz' – 'Incidence <-49.9Hz')
(b)  A softer red is used if the skew is >5% (i.e. not so extreme)
2)  If the skew was towards lower frequency in the hour, then the line is coloured blue:
(a)  A bright blue is used if the skew is <-10%
(b)  A softer blue is used if the skew is <-5% (i.e. not so extreme)
3)  Skews that are more even than (less extreme than red or blue) are left as grey.
(C1)  Frequency challenges different, at different times of the day
Evidently, from the above, the frequency challenges are different at different times of the day.
This intuitively seems to make sense.  I was able to quickly expand on the hypothesis above in the table below:
Time Range
… in 'NEM Time'
Skew of Frequency
… 1st March to 2nd May 2021
Possible Contributing Factors
… i.e. this is a speculative hypothesis
00:00 to 03:59
Frequency is skewed high
Between this time (early hours of the morning) demand is typically trending down to a low point around 04:00 every morning.
04:00 to 04:59
Frequency is skewed low
Just at the start of the increased ramp in demand
05:00 to 05:59
Frequency has neutral skew
No comment
06:00 to 07:59
Frequency is strongly skewed high
At this time of year (i.e. autumn), this is when production from solar PV is starting to ramp up.

Significantly, this is a combination of both:
(a)  the largely invisible (rooftop PV) and;
(b)  the visible – but still difficult to forecast – (Large Solar) elements.

08:00 to 11:59
Frequency is strongly skewed low
Whilst solar is continuing to grow, the greater uncertainty takes over in the form of growth in Underlying Demand for this particular day (given how significant the weather dependence).
12:00 to 14:59
Frequency has neutral skew
No comment
15:00 to 15:59
Frequency is skewed low
Uncertain what factors are significant here?
16:00 to 16:59
Frequency has neutral skew
No comment
17:00 to 19:59
Frequency is strongly skewed high
In the early part of this period, the last of the solar PV is still fading out – but so also is demand declining into the evening.

Perhaps the combination of two quite significant uncertainties magnifies to a general tendency to oversupply?

20:00 to 23:59
Frequency has neutral skew
No comment
Very happy to hear from more learned readers who can help me understand why the difference in the skew at different points in time …
(C2)  How this 'pattern of skew' has changed from 2019
… but, in hearing from you, I'd like to understand why there seems to be such a significant difference in the 'pattern of skew' between 2019 and 2021!
For ease of comparison, I have published them in the following pair of tables: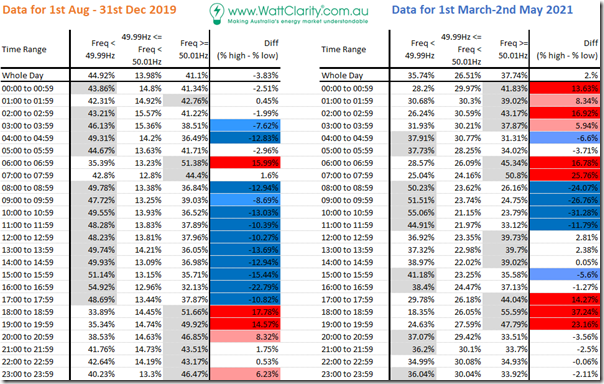 Apart from noting that the pattern of skew has changed between the two periods, I don't have much more to say at this point.
(D)  Some reasons (*) why we're analysing frequency
Here are two of the reasons are as follows:
Reason 1 = because we're all (collectively) grappling with new challenges to system frequency as part of this energy transition, we're exploring what's happening in order to understand what our software products (like ez2view) need to be able to deliver into the future.
On Wednesday Marcelle posted a concise article about how AEMC proposes that 'FCAS goes from fast to very fast' which:
1a)  Summarised what the recent AEMC draft rule change on Fast Frequency Response (FFR) is all about.
1b)  The purpose of the proposed FFR would be to support (and respond to) system frequency in a lighter inertia system we're evolving into.
1c)  The brevity of Marcelle's summary resonated with readers.
Reason 2 = as part of our exploration, for the development of 'GenInsights21', we are having a look at changing patterns of system frequency.