Here's a short note about the Fast Frequency Response (FFR) rule change draft determination that the AEMC released at the end of April. This is in response to a rule change request from Infigen which outlines the need to address power system risks due to falling levels of inertia, and suggests a mechanism to procure a faster contingency response than is currently procured in the spot market.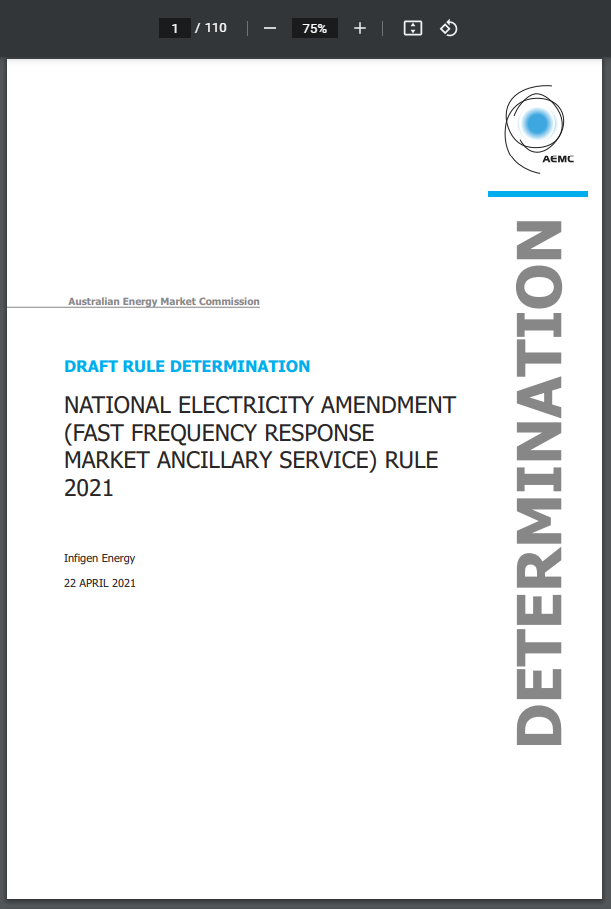 The AEMC's draft determination proposes adding new contingency FCAS services for FFR to the NEM, named in the rules as the "Very Fast" Raise and Lower services, to go with the current "Fast" (6 second), "Slow" (60 second) and "Delayed" (5 minute) contingency FCAS services. (Here's an explainer on the existing FCAS services).
The proposed drafting of the rule change is very simple – just inserting "very fast raise/lower service" in a few places.  The fine detail of exactly what the service would look like will be defined by AEMO in the Market Ancillary Services Specification (the MASS). The MASS is currently in a consultation process (for matters other than this rule change, including simplifying and clarifying the document) that started prior to this rule change draft determination.
The AEMC's proposed timeline is to have the MASS updated in 18 months and the market system changes done in at most 3 years.
So what is FFR / the Very Fast service? Here's a summary quoted from the draft determination:
FFR generally refers to the delivery of a rapid active power increase or decrease by generation or load in a time frame of two seconds or less, to correct a supply-demand imbalance and assist in managing power system frequency. FFR is a relatively new service that can be offered by inverter-based technologies such as wind, solar photovoltaics (PV), batteries and demand-side resources.
And my summary of what this new very fast raise / lower service is not – though AEMO will need to consider the interactions between these:
Very Fast Raise/Lower isn't "inertia". Inertia is the physical resistance to power system frequency change that comes from synchronous spinning machines such as steam, gas or hydro turbines, which instantaneously speed up or slow down if there's a supply/demand imbalance on the power system.

This AEMC paper is pretty clear that it isn't trying to solve the problem of falling synchronous inertia in this rule change, and isn't trying to substitute FFR for inertia as these are different physical commodities.
While it's not addressed by this rule change, there's considerable discussion in the paper about how to value inertia.

Very Fast Raise/Lower isn't Primary Frequency Response (PFR), which is currently being rolled out as mandatory for most large generators.

PFR is a response to small frequency deviations while this rule change addresses larger contingency events.
Power system security itself isn't the reason for the rule change right now – it's minimising the cost to consumers, a key objective in AEMC rule-making.
Following a contingency event power system frequency can change rapidly, especially in low inertia conditions, and limiting how far it falls (the "nadir") is critical to maintaining power system security. The AEMC explains that AEMO could currently limit this nadir by sourcing increasingly large (and potentially expensive) quantities of the existing Fast (6 second) services during low inertia conditions. The AEMC finds that the alternative of an optimal dispatch of a combination of Fast (6 second) and the new Very Fast services would deliver a more economically efficient (lower cost) outcome.