The forecast for Friday (3 February 2023) evening's demand was that a new all-time maximum would occur and a lack of reserve was expected.
To maintain the grid in a reliable operating state AEMO signaled to the market that the Reliability an Emergency Reserve Trader (RERT) would be triggered on Friday 3 February 2023. This would provide capability to lower demand to a satisfactory level.
Across Queensland TNSP zonal demand had been climbing throughout the day. In aggregate the region was on track to meet the forecast levels.
Yet by 16:30 demand had begun to decline sooner than anticipated in load zones with large residential populations in the south-east of the state (Moreton, which includes Brisbane, and Gold Coast). Some rain and cloud cover was observed to be contributing. The resulting demand level reached was well under the current maximum.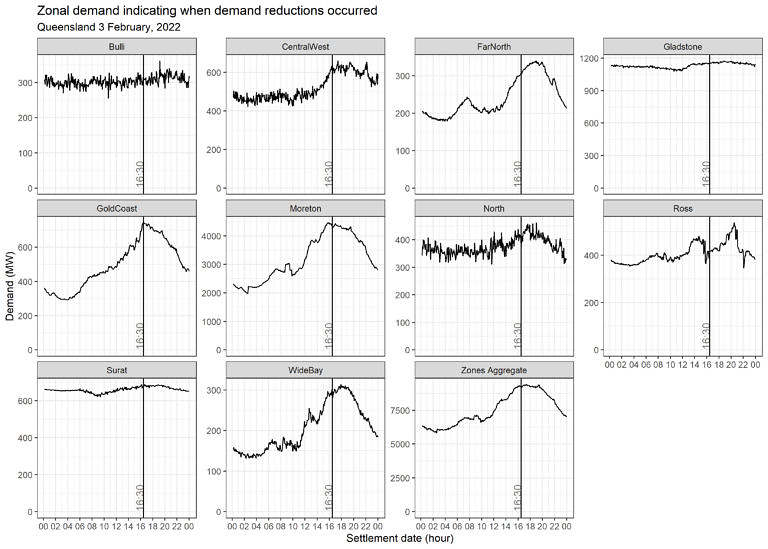 When it came to dispatch targets, RERT was dispatched across intervals 17:05 to 19:30 (2 and a half hours).
Wholesale demand response was dispatched for three 5-minute intervals at a maximum of 1 MW.
Initially RERT dispatch was set at 11 MW (to 17:30) then increased to 21 MW (for 30 minutes), then reduced again to 10 MW from 18:05 to 19:30.
The following chart captures the dispatch of RERT in the context of total (market) demand.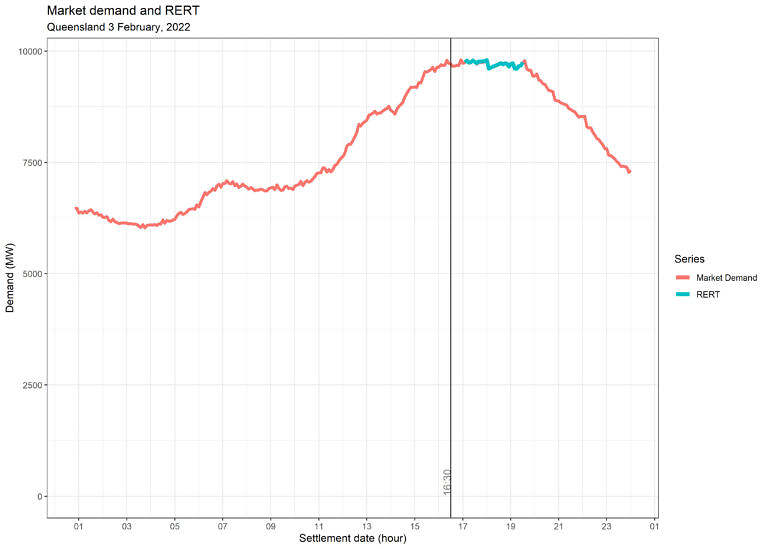 All up RERT was dispatched for 30 dispatch intervals. Based on the targets we can estimate this equated to a total of 31 MWh.
For context, 10 MWh was activated on 5 July 2022. The cost to activate those reserves was $71,161. Additionally, there was also pre-activation of reserves that were subsequently not activated, taking the total to $639,016 for the 5 July event.
We'll have to wait for AEMO's quarterly RERT report to understand the costs of this 3 February 2023 event.