Dan's already noted here about how (on Thursday 1st December) the AEMO released its 'Engineering Roadmap to 100% Renewables' report.
In my current process of catching up on all that's been happening in the past couple weeks, I've seen a number of references to it externally … but no time to note them.
Lesser noted (at least from what I have seen) is the series of 3 x Reports the AEMO also released on 1st December 2022 relating to System Security Planning.   There's further details on this page on the AEMO website here, but I thought it useful to lift out the map AEMO included in this infographic: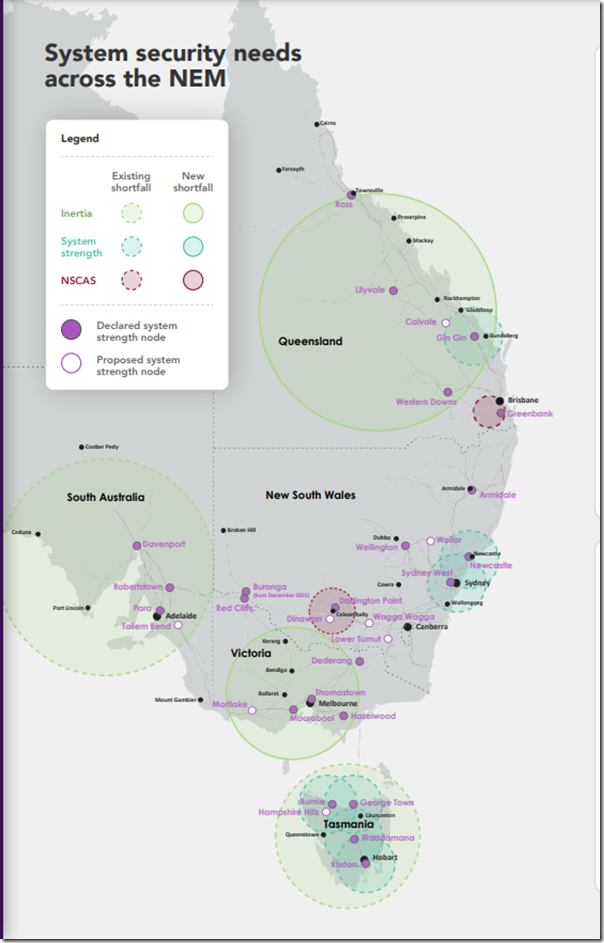 … and I also wanted to provide a direct reference to these three reports that speak with the different coloured circles on the map above:
2022 System Strength Report
2022 Inertia Report
2022 NSCAS Report

In his speech at MEI's Annual Symposium on 9th December, Daniel Westerman noted:

'… system strength is the ability of the power system to maintain a stable voltage waveform at any given location, both during steady state operation and following a disturbance.'

The report is here:

Daniel then went on to note:

'It's a bit like securing a beach towel on the sand on a windy day by anchoring it with a number of rocks in various places. The challenge is where to put those rocks, and how heavy they need to be to stop the beach towel flapping too much.'

In the same speech, Daniel Westerman also noted:

'Most people will know that inertia is the power systems ability to maintain steady electrical frequency, at 50 hertz, even during disturbances.'

The report is here:

The third report is here:
These three services were some of the services we had in mind when we coined the term 'Keeping the Lights on Services' as a layperson's umbrella name used to describe all of the services a functioning grid requires but is not being supplied by the 'Anytime/Anywhere Energy' that's emerged as its own category as a result of 'The Schism':
1)  Which we introduced in the GRC2018; and
2)  Which was further expanded on in GenInsights21 several years later.
As such, we'll review these reports with interest.
For others who are interested, the AEMO's running a webinar about these reports this Thursday 15th December 13:00-14:30 AEST via Teams.  Interested parties can register their interest in attending with the AEMO here.