This is a very short article (with relatively scant detail, compared to most other articles at WattClarity) aimed:
1)  To briefly flag to readers that some things are changing today in relation to the 'Available Generation' forecasts for Semi-Scheduled units, published for the current* dispatch interval by AEMO in the NEMDE dispatch process; and
2)  To provide a contemporaneous record of the change that we can refer back to later.
I don't have much time to add a whole lot of detail at this point …
(A)  Prior Notice of the change
In the Intermittent Generation Session on 29th July 2022 the AEMO spoke about this change – see slides 17/37 and 18/37 below: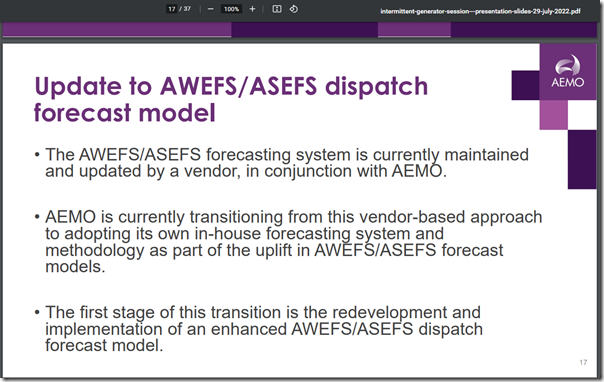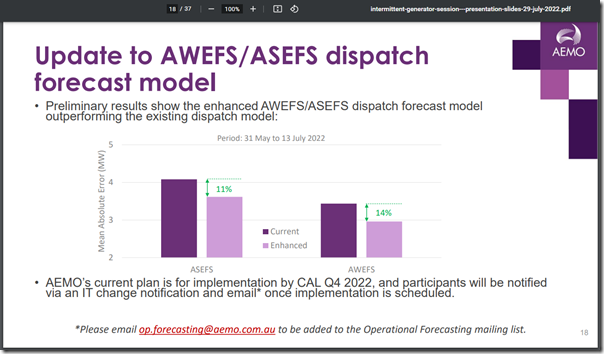 So, in summary, the AEMO realised that they could do a lot better by building a better model themselves than outsourcing to a 3rd party vendor located in a different part of the world.
(B)  Implementation
The change has been running in pre-prod for a short period of time.
The change on Wednesday 23rd November (i.e. moving to 'prod') has been noted a number of times – including in AEMO change notice CHG0076286 yesterday (i.e. which has to do with Production systems and was titled 'Enhanced AWEFS/ASEFS dispatch forecast (VREFS) Implementation – unsuppressed mode'.
In simple terms, it 'goes live' today.
(C)  Implications
There are a number of possible implications of this change that we will be keen to explore in various ways … such as:
1)  In upcoming updates to the GenInsights Quarterly Updates … and
2)  In the more statistically based and granular, down-at-a-unit-level, Generator Statistical Digest 2022 (GSD2022).
Let's see how it does in reducing Aggregate Raw Off-Target for Semi-Scheduled plant (something analysed in GenInsights21 and discussed in this presentation for Smart Energy Council, for instance)….