For the first time ever on Saturday evening the NEM saw more than 7,000MW of generation powered by the wind.
As shown in this snapshot (a zoomed-in view from the ez2view Trends Engine online), the aggregate 'InitialMW' reached 7,111MW for the 21:50 dispatch interval (i.e. so metered at 21:45):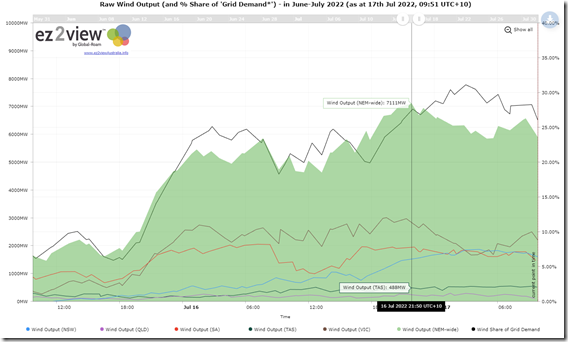 For those with a licence to the software, you can access your copy of the live updating trend covering 31st May to the end of July here.
At this point, the share of total 'Grid Demand' supplied by wind was a fraction above 27% … and we can see it trended higher in the hours that followed as 'Grid Demand' declined through the night.
1)  The reason why the trend above started on 31st May was because that's when the previous record was set (reaching at 6,853MW metered at 16:40).
2)  For more context, here's the longer-range trend published on 4th June looking back to the start of wind generation in the NEM.