Following on from this quick review of some contributing factors in instance 2 of the yo-yo-ing of Available Generation, we'll proceed with instance 3.
Remember that I've previously tabulated these 7 instances and will progressively have a look at each of them.
(A)  Overview of the yo-yo (Instance #3)
Let's start with this overview: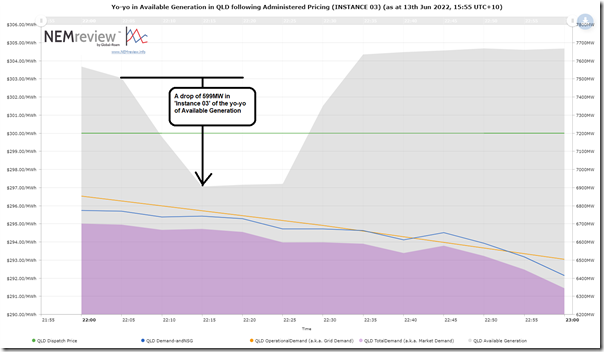 Again, those with their own licence to NEMreview v7  can open their own copy of this query here.
As noted on the chart, we're looking at an aggregate drop in Available Generation of 599MW from 22:05 to 22:15 on Sunday 12th June 2022.
(B)  Reviewing bids
With similar reference to the 'Bids & Offers' widget in ez2view I've time-travelled back to around that time and had a bit of a look and would like to highlight two particular images from around that time: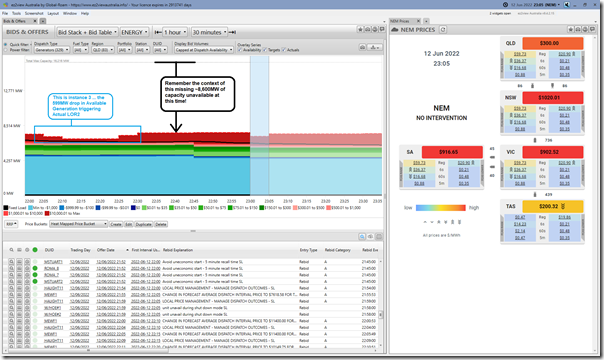 Remember the context set in this first article about the massive amount of capacity missing (over 8,500MW) through Sunday night!
(B1)  Wivenhoe Pumped Hydro
Here's a similar snapshot of Wivenhoe, but in this case showing both units: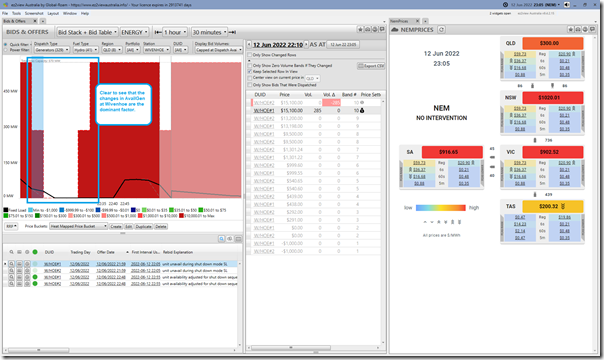 We can see here that first unit 2 and then unit 1 withdrew from the market … but were both back shortly afterwards … totalling 570MW over 22:10 and 22:15.
(B2)  Yarwun … and the Alumina Refinery
In the interests of fullness of analysis, worth also noting here this 40MW drop in Availability at YARWUN_1: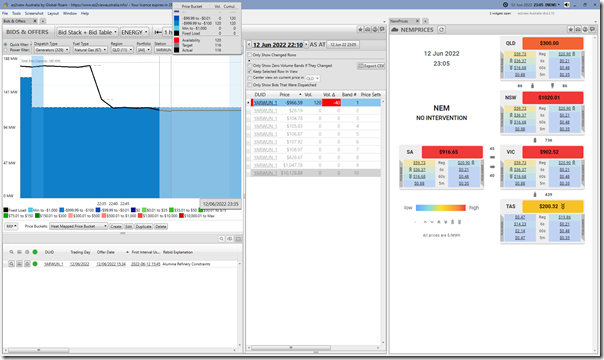 (B3)  Coopers Gap Wind Farm
Readers should not clearly that I'm not including the snapshot here as it did not relate to a drop in Availability … but some readers might also be interested to check out this review of Coopers Gap Wind Farm which rebid for 22:50.