Yesterday afternoon, Allan O'Neil posted 'An Appetiser' to kick off his broader review of what's been happening this quarter … but it's important for readers to note that 'the elephant' is still growing and evolving.
Here's two events today to add to the list:
(A)  Disruptions in the gas market
This afternoon I noted that Josh Stabler at Energy Edge had shared via LinkedIn about … and it was important to circulate Josh's insights further: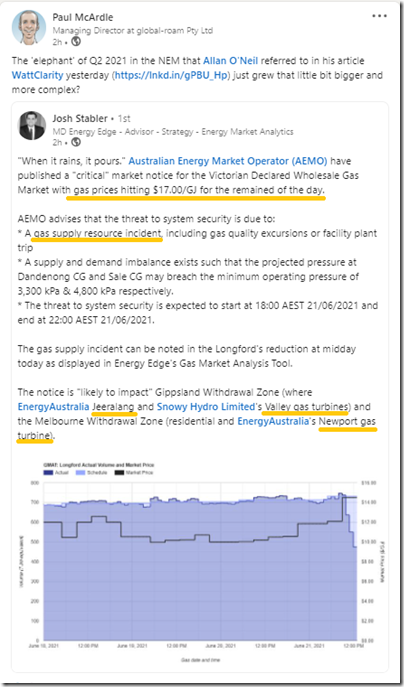 Note the potential impact flagged on several gas-fired units in Victoria:
1)  Newport Power Station (which we noted before has been running strongly); and
2)  Jeeralang A and B; and
3)  Valley Power.
We'll look to see how long this impacts on gas supply (and price), and how this flows through to electricity market prices.
(B)  Low IRPM NEM-wide Monday evening, 21st June 2021
This evening my phone has been buzzing again with SMS alerts – here's a snapshot of the 'Low IRPM' alerts that I have received to date: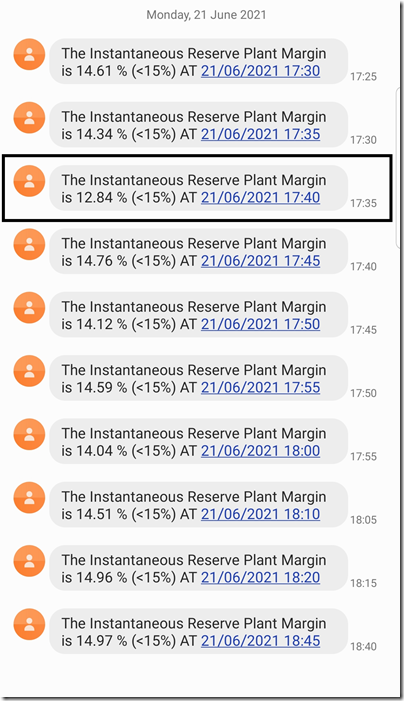 With reference to this discussion about low IRPM from earlier in the quarter, we note the level dropped to 12.84% for the 17:40 dispatch interval.
>>> This is something we'll be seeking to explore more systematically through GenInsights21
With such a low level of surplus capacity at any price across the whole of the NEM, was it any surprise to see prices spike this the 17:40 dispatch interval captured in a display copy of NEMwatch v10: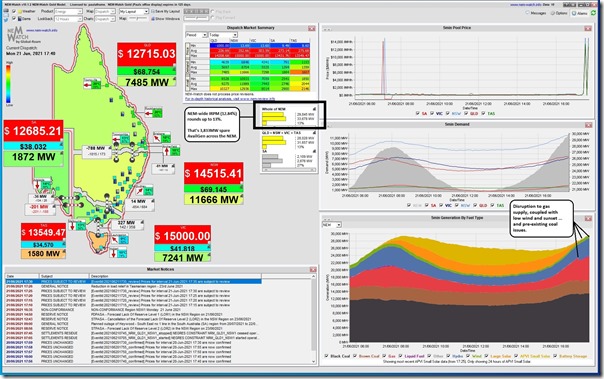 As Josh says in his article on LinkedIn above 'when it rains it pours'.
I've annotated in the NEMwatch snapshot how this evening we're grappling with coincident:
1)   gas issues and
2)  low wind generation,
3)  along with sunset and
4)  the pre-existing issues with coal plant.
No wonder prices are high!