An eagle eyed spotter helped me notice a new record low point in demand for South Australia today.
Here's a snapshot from of the 12:20 dispatch interval from our NEMwatch v10 (entry-level dashboard) that shows the broader market situation: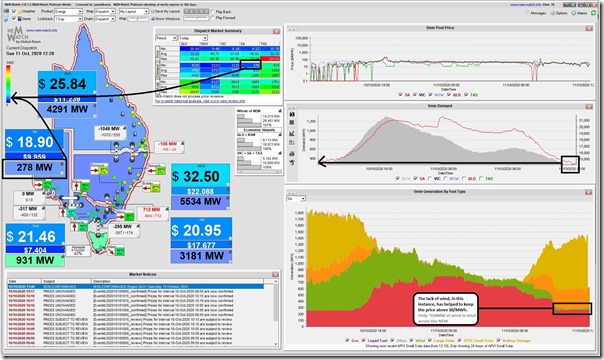 Interestingly:
1)  Scheduled Demand is in the well in the blue zone (i.e. down at the bottom of their respective historical ranges) in each of the mainland regions;
2)  For each region:
(a)  The South Australian region (with AEMO's TOTALDEMAND figure at 278MW) is the lower than the (prior record) point of 315MW set on Sunday 13th September 2020.
(b)  In Victoria, the point shown here (3,181MW) was still about 500MW above the low point of 2,690MW set on Sunday 6th September 2020.
(c)  In NSW, the point here (5,534MW) is just under 500MW above the lowest point (5,050MW) stored inside NEMwatch and used to set the colours (which came at 03:35 on 26th December 2012 – so not yet superseded by the rise of rooftop PV in that region).
(d)  In Queensland, the point shown here (4,291MW) was a little over 400MW above the low point of 3,889MW set on Sunday 27th September 2020.
… so three of four mainland regions have seen new record lows in the past 30 days or so.  Is it any wonder that an increasing number of journalists are asking about the growing challenges of the rise of rooftop PV (and the AEMO devoted the largest chapter of the ESOO 2020 to it, as Allan noted).
3)  It also means the Whole-of-NEM Scheduled Demand is also quite low.  It is 14,215MW shown here – but dropped further to 14,120MW at 12:30, which is (using this trend query in NEMreview v7) seen to be a new lowest point for 'whole of NEM' … remembering that the early years of the NEM were before Tassie joined the NEM so are not 'apples to apples':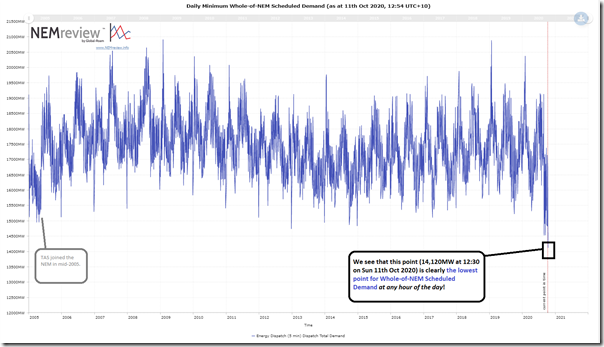 4)  Finally, it's interesting to also note that prices are actually positive this weekend … which would be due in large part to there being little wind output across the whole of the NEM (~550MW or so), with as low as only 11MW seen in South Australia.  Because there's little Non-Scheduled wind, it also means that 'Operational Demand' is down quite close to 'Scheduled Demand' (i.e. 300MW in the half-hour period ending 12:30 – and also very much a low-point record).
The escalating challenges of 'minimum demand' are fast approaching!