Yesterday, much of the media attention has been focused on the Q3 2020 release of AEMO's Quarterly Energy Dynamics publication – which is an increasingly useful addition to helping to make the energy market/system more understandable.
However it should also be noted that the AEMO also released a short document titled 'Operational management of low demand in South Australia ' on Thursday 22nd October: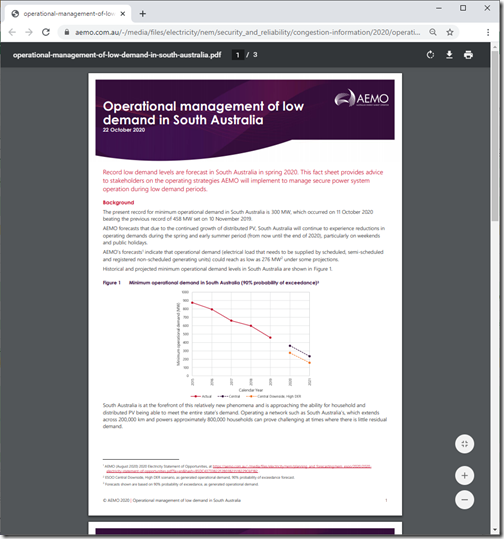 Please note with respect to the above:
1)  On its release we tagged it into our expanding 'Asset Catalog' reference of publications relevant to assets operating in the NEM, for those who have a licence.
2)  However I'm pretty sure that I am not alone in finding it increasingly painful trying to find particular documents buried in the AEMO website, so thought it would be useful more broadly to link it in above.
3)  On WattClarity back on Sunday 11th October we recorded how South Australian demand had superseded the prior low point in plunging ever lower (the 300MW low point of 'Operational Demand' noted there was on the same day as the 'all solar' achievement AEMO discussed).