Only a week ago (on Sat 29th Aug 2020) we saw VIC demand drop to what I thought was a new day-time record low in NEM times.  The level then (2,992MW at 13:05) was just above two other previous 'all hours' low points:
1)  at 05:55 on 12th June 2000 where the Scheduled Demand* dropped to 2,941MW; and
2)  at 04:00 on 2nd January 2017 where the Scheduled Demand* dropped to 2,940MW:
*  For those who forget the many different ways in which electricity demand is measured, here's the detailed explanation.
Well, in the 'slowly, than suddenly' nature of this energy transition, barely 8 days later and we see that all 3 of these 'low point' marks have been shattered, with the Scheduled Demand dropping to a significantly lower mark of 2,690MW at 13:35 today.  That's 250MW lower than the prior low marks!
This was captured in the SMS alert delivered to me as one of many through the afternoon: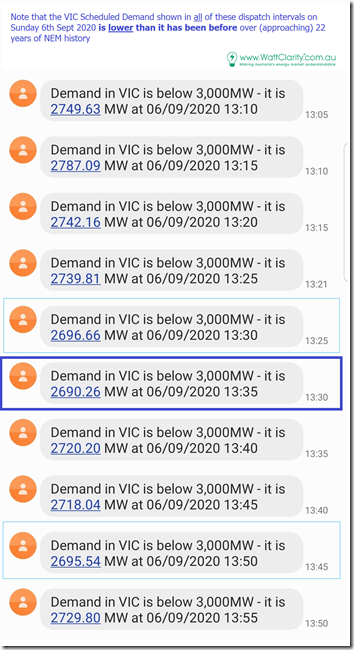 … and here's that mark visible in the 13:50 dispatch interval in this snapshot from the NEMwatch v10 foyer dashboard: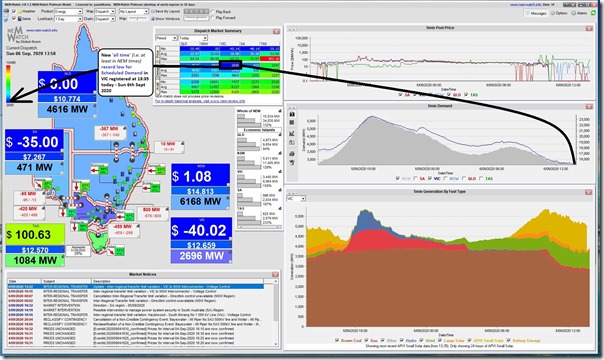 We see a continuation of the low, and negative prices which are been experienced increasingly frequently across all regions of the NEM.  Like a large industrial game of 'chicken' with billions of dollars of assets…
For those who think moreso in terms of Operational Demand (i.e. grid demand, as distinct from market demand) here's a trend of the past 8 days showing the trend in a proxy for Operational Demand at a dispatch interval level: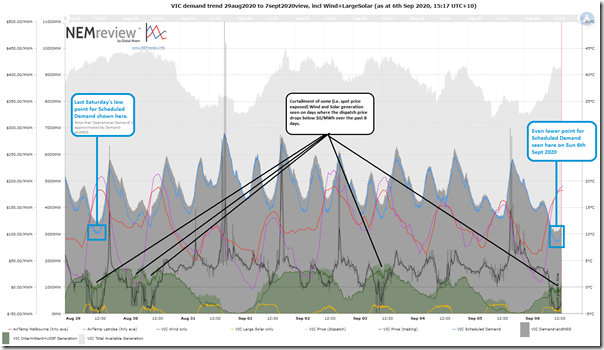 This was generated from this trend query in NEMreview v7.
————–
Note that I followed up last Saturday's low point with this 'Part 1' of a deeper exploration last Sunday.  Barring other distractions, I should have 'Part 2' up before too much longer – lots to explore on that day (and would expect the same for today, as well).