It's not even officially winter yet, but it is cold in various parts of the NEM – and that's driving Market Demand higher (though still well below 30,000MW).  Coupled with some thermal unit outages and low wind harvest this evening, the combination is producing a tight supply-demand balance.
Shown in the NEMwatch snapshot from 18:35 this evening we see:
1)  Spot prices elevated above the $300/MWh cap trigger price in all four mainland regions; and
2)  IRPM (i.e. 'Instantaneous Reserve Plant Margin' for the market) right across the NEM down at 14.35%; and
3)  IRPM for the QLD+NSW+VIC 'Economic Island' down lower at 11.88% … by virtue of 28,315MW aggregate Available Generation supplying net Market Demand of 25,308MW (i.e. including the 382MW exported to SA but reduced by the 447MW imported from TAS).
4)  In the Market Notice window we see Actual LOR1  reserve level warnings for NSW.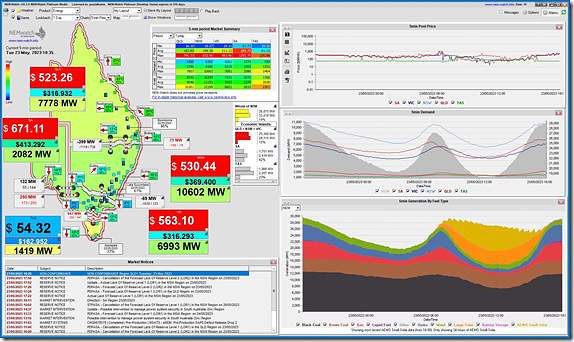 Via SMS alerts this evening, we see that the IRPM has been trending below 15% as follows: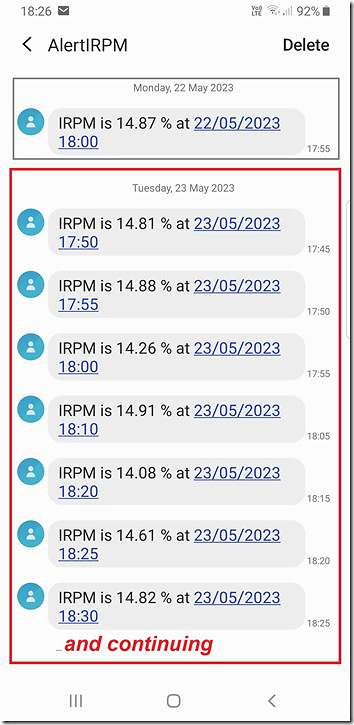 Readers might like to refer to the long-range trend of IRPM (which was lifted out of of GenInsights Quarterly Update for Q3 2022 and shared more broadly in that article).  In summary, in the history of the NEM this has not happened every winter – in fact there was a lull for a number of oversupplied years where it did not happen at all:
1)  But increasing in recent times;
2)  The closure of Liddell will obviously have been another factor here.
3)  A timely reminder that we've not been building enough replacement dispatchable capacity (and we should expect to see tight situations like this increase in frequency until we turn that around).
Nothing further at this point.