Following the last few days, it's beginning to feel like more of a 'normal' Brisbane summer – with hot, humid weather and the promise of afternoon storms.  The outlook this week appears to be for more of the same: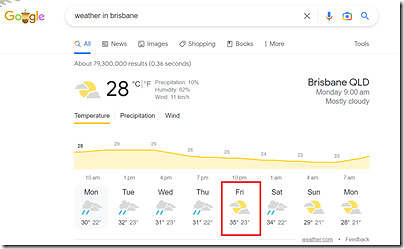 With schools and industry back from holidays, we might start to expect this to flow through into levels of demand, and hence into price volatility (as noted earlier, it's been a bit of a flat start to summer … at least in terms of demand and spot prices).
(A)  Forecast for the week ahead, NEM-wide
So I took a quick look at the forecast for the week using the 14-day trend of NEMwide demand that's published for broader consumption in our 'Dashboards' application: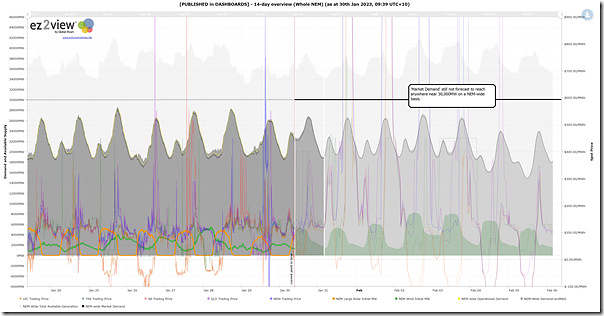 As highlighted in the note, we're still not seeing any forecast for 'Market Demand' to reach 30,000MW … remembering that:
1)  this was almost an everyday occurrence in summer days of 10 years ago.
2)  … and that it would be beyond this point (e.g. 33,000MW or 34,000MW or 35,000MW) that 'peak demand' would get really hairy from a supply-demand perspective and we'd see sustained multi-regional volatility.
(B)  Forecast for the week ahead, in QLD
Flipping just to look at the QLD region we see that the coming week is probably going to be a bit more interesting from a regional perspective – with Market Demand on Friday currently forecast to be up towards 10,000MW.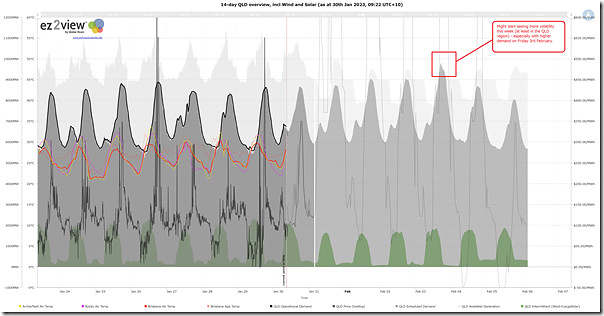 Clients with a licence to our ez2view software can open their own copy of this trend here.
Will see what the week unfolds…
PS1 … at ~10:40 on Monday 30th January
Not long after I posted this, the AEMO released Market Notice 105379 pertaining to high temperatures forecast for Dalby (southern QLD) on Friday 3rd February:
——————————————————————
MARKET NOTICE
——————————————————————-
From : AEMO
To : NEMITWEB1
Creation Date : 30/01/2023 10:35:04
——————————————————————-
Notice ID : 105379
Notice Type ID : GENERAL NOTICE
Notice Type Description : Subjects not covered in specific notices
Issue Date : 30/01/2023
External Reference : NEM Local Temperature Alerts for QLD from 30 Jan 2023 to 03 Feb 2023
——————————————————————-
Reason :
AEMO ELECTRICITY MARKET NOTICE
AEMO's weather service provider has issued forecast temperatures equal to or greater than the NEM Local Temperature Alert Levels for listed weather stations below.
QLD
Dalby Ap (37+ Deg C): 3rd Feb
The NEM Local Temperature Alert Levels are:
Launceston Ti Tree Bend: 33 Deg C, Dalby Airport: 37 Deg C, for all other selected weather stations: 39 Deg C.
AEMO requests Market Participants to:
1. review the weather forecast in the local area where their generating units / MNSP converter stations are located and,
2. if required, update the available capacity in their dispatch offers or availability submissions consistent with the forecast temperatures.
Further information is available at:
https://aemo.com.au/energy-systems/electricity/national-electricity-market-nem/nem-forecasting-and-planning/forecasting-and-reliability/projected-assessment-of-system-adequacy/nem-local-temperature-alerts
AEMO Operations Planning
——————————————————————-
END OF REPORT
——————————————————————-
Remember that pretty much all generation technology types (old, and new) are adversely affected by high temperatures in various ways.