Schools are back today (at least in Queensland), which gave me pause to reflect that my SMS (spot price) alerts have been strangely subdued through summer 2022-23, at least to this point.
A quick look at this trend of daily extremes for price and NEM-wide demand from NEMreview v7 illustrates this clearly: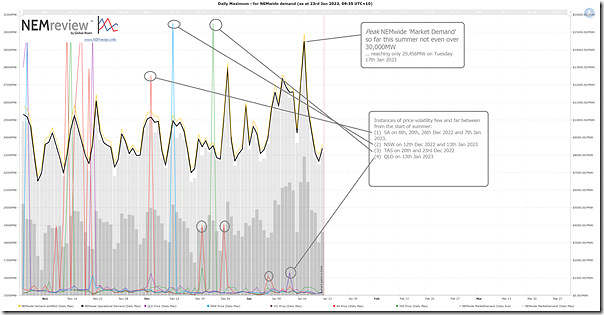 We see that:
1)  There's not been a single day where the NEMwide 'Market Demand' as peaked above 30,000MW (at least thus far) …
… it's been many years since we've given away a BBQ for the 'Best Demand Forecaster in the NEM', but (when we compare to the demand profiles of yesteryear) this is remarkable in its own right.
2)  This would be one of the reasons why prices have been subdued (only 3 days when any spot price has spiked above $10,000/MWh, and even on those days not for long).
Let's see what unfolds for the rest of summer