Those clients of ours who purchased GenInsights21 when it was released (about 11 months ago now) will recall that, in Appendix 27 we included a study of Wind Diversity (and the phenomenon known as 'dunkelflaute'), given that it is such an important determinant of the costs and challenges of the energy transition.
 This was one of the components we spoke about in this (recorded) briefing for the Smart Energy Council audience on 5th April 2022.
So readers here will understand our interest in the article from Giles Parkinson on RenewEconomy earlier this week titled 'A 42-year study shows wind and solar droughts in 100% renewable grid not as bad as thought'.
Leaving aside the first question that popped into my head (being 'as bad as who thought?') in clicking through on the article, I was very interested to learn more of the details – so asked the authors if I could have a read of the paper, and they sent it to me.
But now the report is generally available on the Griffith University website here, I thought it might be of value to publicise this to our WattClarity readers: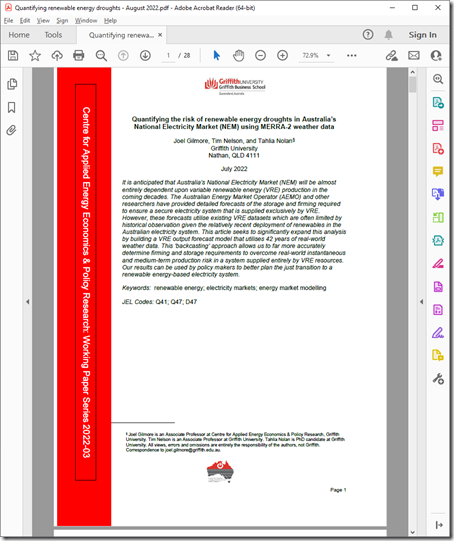 We'll be reviewing with interest and might (time permitting, etc) post a follow-on article with thoughts…