A short (and probably only first) article on Monday morning 13th June 2022 to highlight a couple of things from this NEMwatch snapshot at 07:30: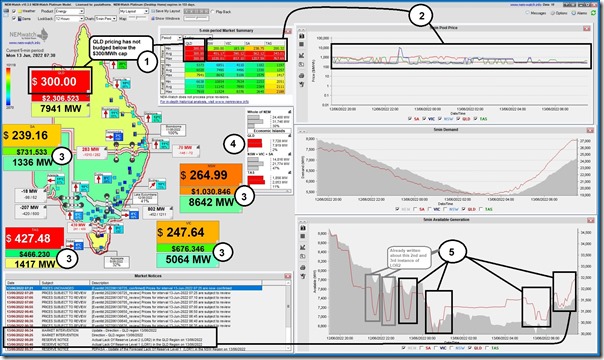 With respect to the numbered annotations:
1)  The QLD spot price has not dropped below $300/MWh overnight;
2)  The other Regions, however, have shown a continuation of the volatility mentioned last night … all through the night, particularly in South Australia.
3)  This has driven the Cumulative Price for those regions significantly higher than they were prior to Administered Pricing being set.  If you compare to images here you will see:
(a)  NSW is now above $1,000,000 … :
i.  up over $120,000 compared to early Sunday evening;
ii.  and something we'll need to watch, to see if NSW is going to join QLD under Administered Pricing.
(b)  VIC is now above $670,000 … up over $140,000
(c)  SA is now over $730,000 … up over $90,000 (remembering some prior volatility has rolled off the rolling aggregate)
(d)  TAS is now above $460,00 … up just less than $50,000.
4)  The IRPM in the QLD-only 'Economic Island' is a measly 2%…
(a)  Only 191MW spare capacity in this dispatch interval;
(b)  With Available Generation 7,919MW and net 'Market Demand'  of 7,728MW.
5)  Highlighted on the trended Available Generation chart for QLD are what appears to be the 4th, 5th, 6th and 7th cycles (i.e. I have not checked the detail of each of them) of what we saw in the 2nd and 3rd cycles last night:
(a)  Withdrawal of capacity (have not checked, but presume because it's not economic to offer and be paid only $300/MWh);
(b)  Triggers low IRPM and an 'Actual LOR2' warning;
(c)  Triggering a Direction
(d)  And the reinstatement of some capacity.
—
We really have fallen down the rabbit hole…