Well, there were 3 of 22 coal units in QLD offline when I posted this article earlier  … and that's notwithstanding Allan's comment on that article about how it's aggregate MW capacity that's more important than number of units from a supply/demand point of view.
However the broader picture is that there are now 4 units offline, with the trip of Tarong unit 2 in the 5-minute period to 15:15 this afternoon.  We can see this in this snapshot of the 'Unit Dashboard' widget in ez2view: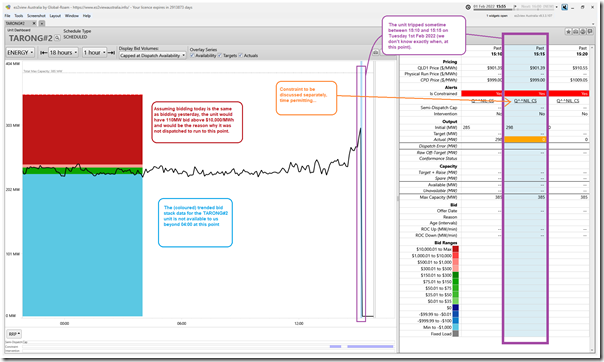 Some other comments have been added on the image that I won't repeat in the text here.
—
For ez2view clients, the best way to find this type of widget (i.e. specific to an individual unit) is to search for the DUID in the ez2view explorer.