As noted this morning, AEMO's flagged that the Market Suspension might be lifted as early as Friday morning this week.
 Like many others, we'll be watching with keen interest to see what unfolds.
(A)  Low IRPM seen on Wednesday evening
Remembering that the caveats noted on Friday 17th June still apply, with respect to IRPM (which is somewhat artificially low at present) it's an interesting coincidence to note that the IRPM has dropped as low as 7.27% NEM-wide at the 17:40 dispatch interval this evening.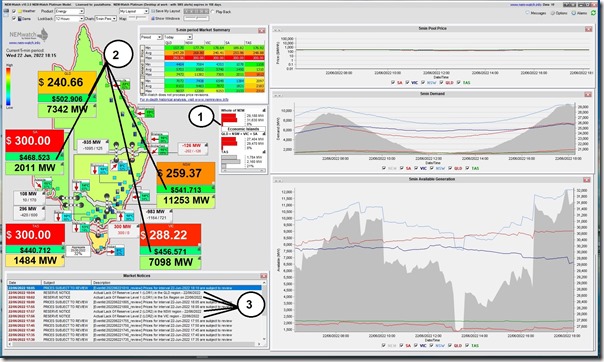 With respect to the numbering in the NEMwatch snapshot from 18:15 this evening:
1)  The IRPM at this point is sitting at 8.37%; and
2)  The Cumulative Price in all four mainland regions has dropped down to under half of the CPT
… as (my understanding is that) pricing caps will be allowed to lift from Thursday 04:05 we'll be interested to see what happens to the Cumulative Price beyond that point:
(a)  Will it start rising again sharply
(b)  Remember you can keep an eye on it in the Dashboard here.
3)  You'll see in the listing of Market Notices shown that there are a number of 'Actual LOR2' alerts flagged…
… but keep in mind the caveat noted earlier here, and the added visibility we're now providing in ez2view (alas not yet on this page freely accessible).
—
With respect to the 'where might prices head?' question, remember that there's volume not bid into the pricing run at present but which is available for AEMO to direct as required (for reasons including the conservation of scarce energy, as discussed here for batteries and also in Allan's article … and also by Ben Kefford here on LinkedIn).
Keeping that in mind, and also remembering this earlier note about what we've done to upgrade the 'NEM Prices' widget inside of ez2view to deal with these sorts of rare market scenarios.  Here's a view of how the market was looking at the dispatch interval five minutes later (i.e. 18:20 this evening):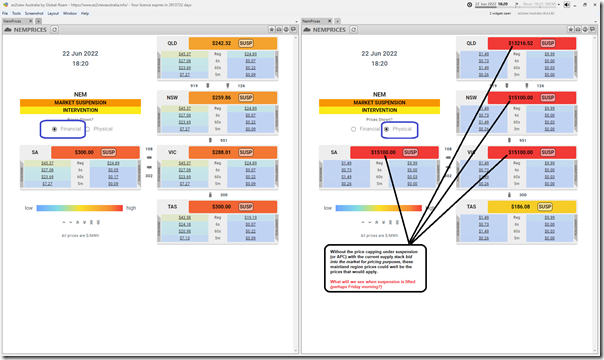 The 'physical' prices (on the mainland up around the Market Price Cap) do reflect what NEMDE says what the pricing would be with the current supply stack but without Administered or Suspension Pricing … but then it's important to understand that without either of those it's likely that more capacity would be added to the NEMDE dispatch run.
1)   What would the 'actual' price be … impossible to know with the incomplete information at hand (or that would even be available 'Next Day Public').
2)  However, if price capping is lifted tomorrow morning from 04:05 we might find out soon enough…
An interesting few days ahead…