On Monday this week, I noted that we had re-started the compilation process for GenInsights21 with a view to having it released on Monday 6th December 2021.
For those who'd like to save a bit of money by pre-ordering now, you can do so here.
As part of the compilation of GenInsights21, we'll be including (as one of a number of Appendices) some 'Early insights from the operation of Five Minute Settlement'.  I've also alluded to a presentation and discussion I will be involved with on Thursday 2nd December 2021 … all continuing to go well with Brisbane's COVID avoidance and so on.
1)  Earlier today I took this second look at some 'before' and 'after' bundles of bids (for QLD coal generators, and for VIC solar+wind generators) to see what what was readily apparent about how people are changing their bidding.
2)  Today's look (with yesterday's incremental release of ez2view) followed on from this earlier look backwards from Saturday 2nd October 2021.
—
Obviously there are a number of things that could be assessed in relation to 'before' and 'after' Five Minute Settlement.    These might loosely fall into:
Bucket #1 = Inputs (such as bid volumes, such as in the two quick views already posted, but also in terms of other behaviours we'll be seeking to resolve).
Bucket #2 = Dispatch process (e.g. I am particularly interested to explore what is visible of the effect of tripwire #1 and tripwire #2)
Bucket #3 = Outputs (including patterns of dispatch, and price outcomes).
For those interested in reading about what we observe, and if you have suggestions for things to look at, please contact us directly … or drop a comment below if you don't mind it being for public consumption.
—
Here's a link to the details of this event, organised by the Australian Institute of Energy: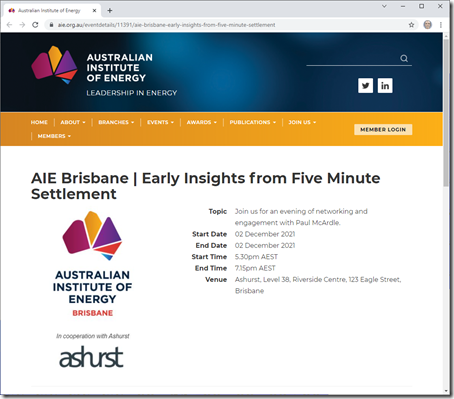 For those who can be there (seeing as it will be slightly before the envisaged release of GenInsights21) you'll have first access to some of what we've been observing!
Looking forward to it, and hope to see you there …