Frequent readers here will understand that we're well underway with the compilation of GenInsights21 … with target release date of Monday 6th December 2021 only 2 weeks away now.
If you've not done so already – don't forget that you're also able to submit your pre-order for GenInsights21 now, in order to have first access to the report when it is released and save on what the cost will be at the time of release (only valid until the time of release).
I've noted before that there will be 28 Appendices in total – exploring a wide range of aspects of this energy transition.
(A)  GenInsights21 Appendix 28 = Early Insights on Five Minute Settlement
Lucky last in the list of appendices will be Appendix 28, sharing some 'Early Insights on Five Minute Settlement'.
A few days prior to the release (on Thu 2nd December), I'm also booked in to participate in this discussion, organised by Australian Institute of Energy, about the same topic: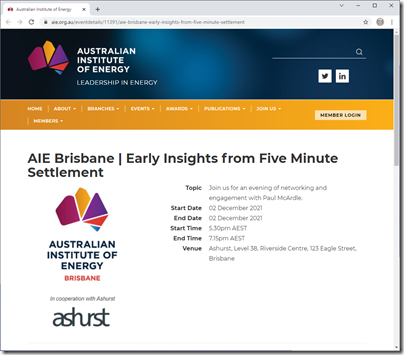 (B)  How much did it cost to implement?
This is one appendix that's still to be fully fleshed out (one of a number of jobs for this 2-week period) … but this short article is to flag that one thing I would like to do is to tie together actual costs of implementation of 5MS.
I have heard a number of different numbers thrown around, but would like to understand where these numbers have come from (and what they are purported to cover – e.g. are they AEMO-specific costs, or industry wide?)
Can any of our readers here point me at any written documentation or reporting on how much it actually cost to implement, please?