As noted recently, we're full steam ahead now in pulling together a broad range of disparate pieces of analysis for the upcoming release of GenInsights21 (expected to released* on be on Monday 6th December 2021).
* don't forget that you're also able to submit your pre-order for GenInsights21 now, in order to have first access to the report when it is released and save on what the cost will be at the time of release (only valid until the time of release).
In prior articles I have alluded to our interest in getting into the details of bidding behaviours in various ways – and this jumped out at me just now as a summary-level indication of how things have changed: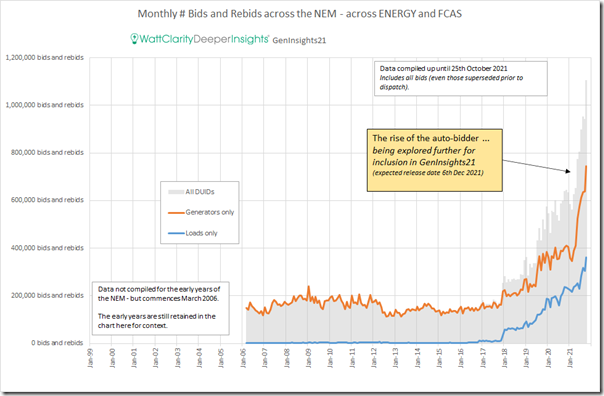 At the time we cut off the counting for October 2021 (Monday 25th October) we'd added up 1,105,650 bids and rebids for the month to date – across all DUIDs, and across ENERGY and FCAS.
—
Leaving aside the fact that it's not even a full month and (as a simplification) working with 8,928 dispatch intervals for the month of October, that equates to an average of 124 bids for every single dispatch interval in the month.  Given that there have been 336 DUIDs submit at least one bid in the month of October 2021, a very rough calculation suggests that there are something like 35% of all DUIDs in the NEM are using auto-bidders at this point in time.
One illustration of 'The Rise of the Auto-Bidder' … we'll have the actual stats included in GenInsights21.
—
There are obviously many questions that we are seeking to explore in this particular piece of analysis – and how far we get will be dictated somewhat by time constraints and distractions – but there are obvious ones like which DUIDs, and what tools are they using?
Back to the analysis…