When I last had a look at the expected return-to-service date for the Callide units (on Wednesday morning 16th June) I saw:
1)  the most recent 'MT PASA DUID Availability' run was from 18:00 on Tuesday 15th; and
2)  in that run, the intention was that Callide B2 unit would be back online tomorrow (Sunday 20th June) if not beforehand (i.e. that run did not show the plan for earlier days).
3)  Also at that time I wondered where Callide B1 was … though it did return that afternoon (a little later than earlier plans).
Today (Saturday 19th June) I've had a quick look and see that the scheduled return to service for Callide B2 has slipped a couple days since Tuesday evening … now expected back sometime Tuesday 22nd June 2021.
Here's the 'MT PASA DUID Availability' widget in ez2view using the most recent AEMO data – being published for 12:00 today: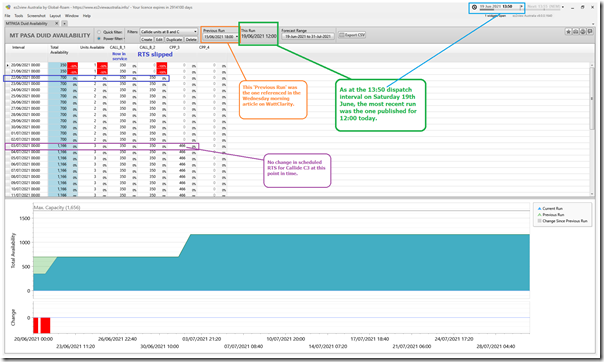 I've not specifically looked to see when these plans were changed (i.e. in between Wednesday morning and now).
Also noted is that Callide C3 remains scheduled to be available again (and presumably online) on Saturday 3rd July 2021.
Client Note:  those who see this widget and try to find it in their copy of ez2view, it is not in version 7 and you'll need to be running version 8, the first of which was released on 22nd February 2021 (there have been 7 incremental upgrades released since that time, with the most recent being v8.0.0.1440 on 18th June – release notes for that coming next week).
Note that my copy shown above is a pre-release v9.0.0.1640 for Five Minute Settlement (but the widget shown will be identical in v8 at this point).