Another short article (Part 4) to follow Part 1 and Part 2.and Part 3 yesterday about what went on with the fire/explosion at Callide C power station.
Here's the newish 'MT PASA DUID Availability' widget this morning from ez2view, highlighting the view AEMO has (provided by the Market Participants) for the scheduled availability each day over the coming year for the 4 x units at Callide B and Callide C: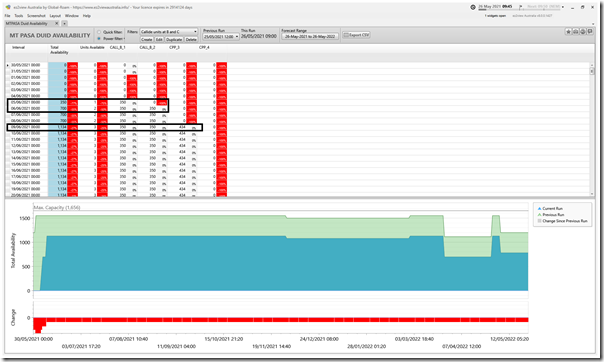 This is compared to what the prognosis was at 12:00 yesterday (i.e. before the event).  Two key points:
1)  With the time-range selected (i.e. 12 months forward) we see that Callide C4 is not currently forecast to be back at all through that period.
2)  We have 700MW (i.e. Callide B1 and then B2) coming back for Saturday 5th June and then Sunday 6th June 2021;
3)  We have Callide C3 (i.e. in the same turbine hall, but hopefully suffering minimal damage) coming back for Wednesday 9th June 2021.
Readers are cautioned that the prognosis for Callide C4 would be highly uncertain at this point (i.e. given that teams would only just being able to return to the site this morning to inspect the damage).
1)  Given that situation, the prudent thing would be for the participant to give a very far distant 'return to service' date for the unit whilst they sort through what the real situation is on the ground…
2)  However, suffice to say that anything involving the generator and/or turbine may take many weeks (or months) to fix.
——————-
PS1 … in this update from CS Energy at 09:45 this morning that they note:
"Based on an initial inspection overnight, Unit C4 has experienced major damage and failure of the turbine. It will take some time to fully understand the cause of the failure and the steps that will need to take to repair the unit."
… so it seems likely it will be offline for many months!