Looks like Tuesday 22nd June 2021 might be a busy day for focal point coal units returning to service … not only is Callide B2 now scheduled to return to service then, but so is Yallourn unit 3.
On Wednesday 16th June we noted how Yallourn unit 3 slipped back offline as the mine flood risk situation turned out more complex than had been first thought … due to  to 'further instability in the Morwell River Diversion wall'.
Flipping the 'MT PASA DUID Availability' widget in ez2view to now look at the 4 x Yallourn units we see that:
1)  Yallourn unit 3 is currently scheduled (most recent data from 12:00 today) to return to service for Tuesday 22nd June 2021; whilst
2)  Yallourn units 2 and 4 are not scheduled to return until Monday 28th June 2021.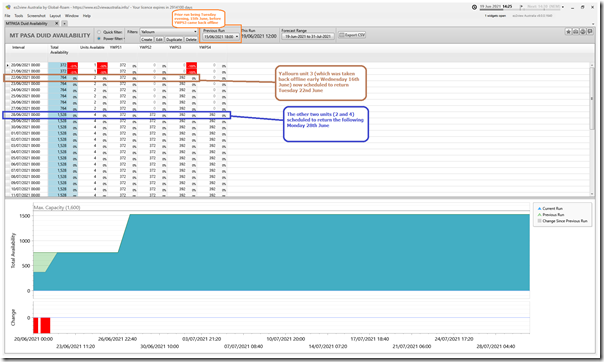 Client Note:  those who see this widget and try to find it in their copy of ez2view, it is not in version 7 and you'll need to be running version 8, the first of which was released on 22nd February 2021 (there have been 7 incremental upgrades released since that time, with the most recent being v8.0.0.1440 on 18th June – release notes for that coming next week).
Note that my copy shown above is a pre-release v9.0.0.1640 for Five Minute Settlement (but the widget shown will be identical in v8 at this point).