It was volatile this morning well past that's become 'normal' and the volatility has returned (as I expected it would) this evening.
Here's the snapshot of the 17:20 dispatch interval from one of our NEMwatch v10 dashboards: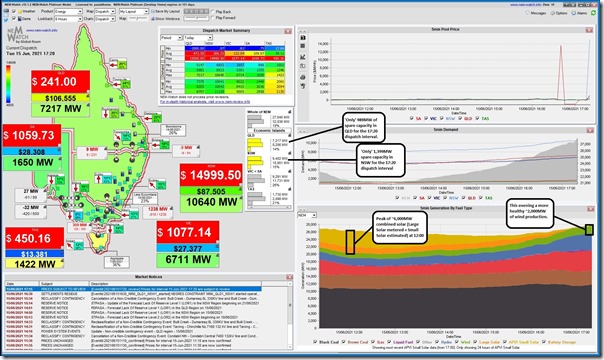 As highlighted:
1)  The low IRPM warning alerts are coloured yellow because of low spare capacity (in percentage terms) for the QLD and NSW 'Economic Islands' … which are separate for this dispatch interval because of constraints on QNI.
2)  I've also highlighted the solid block of wind production (approximately 2,000MW at this point right across the NEM), but the pricing difference from earlier can be explained in part when we compare with the ~6,000MW of solar harvested around 12:00 (i.e. today's peak) … when prices were lower.
3)  I also noted on Twitter here that this was one of the rare instances where the price in NSW, VIC and SA were all higher than in QLD (at least in terms of what we have become useful in Q2 2021, and more about that later!)
Nothing more to add currently, but the ez2view SMS alerts for price spikes keep buzzing!