Ketan beat me to it in providing this chart highlighting a new all-time record for wind production this week across the NEM (peaking at 3,378MW at 20:10 on 25th July according to the chart), eclipsing the 3,200MW level noted here on 10th May.
Here's the same data with the colours a little more understandable, from our full NEM-Watch Gold/Platinum application: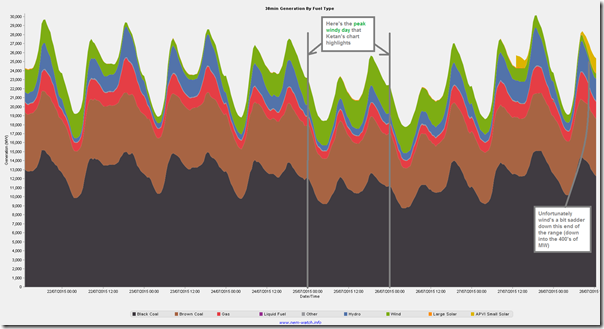 Quick notes:
(a)  Wind is a more understandable green colour in the chart above (why the oxymoronic brown, Ketan?).

(b)  Unfortunately we still only have permission from APVI to include 24 hours of history of the small-scale solar data ☹ so it does look a bit odd on this chart stretched out over a longer-term history (and still no possibility of adding into NEM-Review either).
In a strange parallel to the very polarised debate about renewables (and broader climate) policy we've been "served with" (though one does wonder in whose service) in Australia over the past few years, we've seen almost the two extremes of wind production just a few days apart.
Yesterday I only had time to tweet this image (juxtaposing GasWatch and NEM-Watch snapshots) to highlight how high gas prices – $10/GJ – at the Adelaide hub of the STTM were combining with almost non-existent wind production in South Australia to deliver sustained high prices over the day yesterday (and also today – averaging $250/MWh through the day today to 13:00):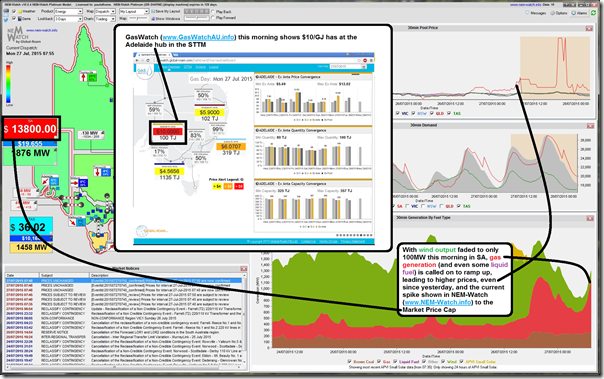 It was no surprise, really, that we also fielded a number of calls from clients of ours who are large energy users in South Australia, concerned about the ongoing viability of their businesses in state where the influx of renewables has been one factor (NOTE – there have been others) already noticeably, for some, having an impact on the prices they pay for their energy through:
1)  Accelerating closure of Northern (though was this more just due to dwindling quality coal supplies?); and
2)  The stated "perhaps" closure policy at Torrens A, not B (or were they foxing for capacity payments?).
This has also been compounded by the ongoing unavailability of the large Pelican Point combined cycle gas turbine in the state (shown in the trend below from NEM-Review) which would, were it available, be going a long way to alleviating the tight supply/demand balance and so some way to alleviating higher prices: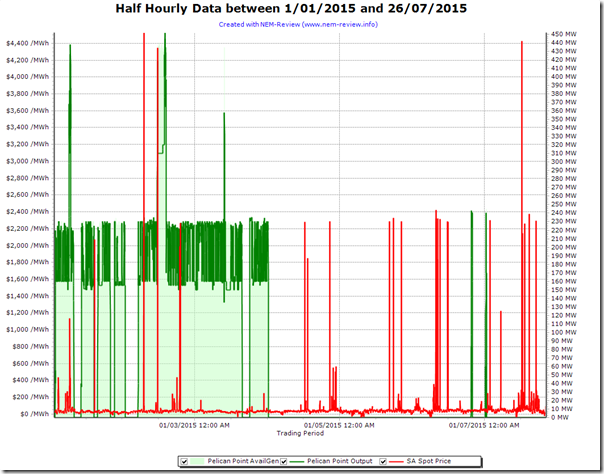 (yes, I realise that I should probably have coloured Pelican Point as something other than green!)
The NEM does have some big challenges ahead, from the point today where the industry transition is poised to accelerate – especially if an aspirational (i.e. vote-buying?) Labor 50% by 2030 brain-wave does evolve into considered & serious policy (i.e. built in a way that it does not make a 50% level "easier" to reach by virtue of the exit of significant slabs of large-scale industrial energy use from the country).
Who was it who called this a "diabolical problem"?
---
One organisation that might help us all wade our way through the swamp of climate/renewables/energy policy is the AEMO, which coincidentally has scheduled some sessions in all capital cities in the next 2 weeks titled "Renewable Energy and the NEM".
Given that the note I received stated "Please feel free to extend this invitation to any colleagues that have an interest in Renewable Energy and might like to attend", I hope they won't mind if I provide the dates as follows:
| | | | |
| --- | --- | --- | --- |
| State | Date | Venue | Address |
| Melbourne | Monday 3 August | Intercontinental Melbourne Rialto | 495 Collins St |
| Brisbane | Wednesday 5 August | Brisbane Marriott | 515 Queen St |
| Canberra | Tuesday 11 August | Crowne Plaza | 1 Binara St |
| Sydney | Wednesday 12 August | Pullman Quay Grand Sydney Harbour | 61 Macquarie St |
| Adelaide | Wednesday 19 August | Crowne Plaza | 16 Hindmarsh Square |
| Hobart | Tuesday 25 August | The Old Woolstore | 1 Macquarie St |
If you would like to know more (i.e. so I don't list their contact details openly on the web) just contact me direct or leave a comment below.