After noting this here on Twitter closer to the spike in the 17:05 dispatch interval, I thought it would be useful for subsequent reference to also publish this snapshot from NEMwatch v10 here: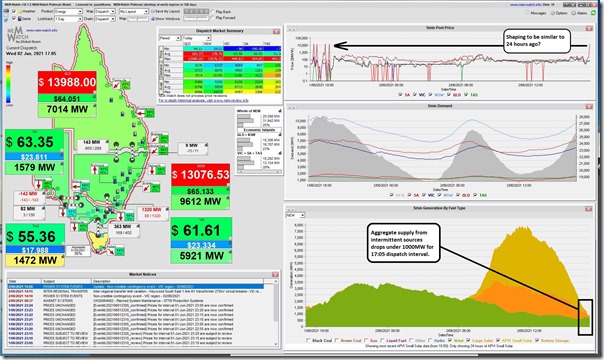 Annotated on the image was the afternoon decline in aggregate production from intermittent sources right across the NEM down below 1,000MW at the time – and also a comparison to the volatility that happened yesterday (Tuesday 1st June).
At least tonight it seems that we've escaped the barrage of SMS that come from Low IRPM alerts across the NEM!
For the avoidance of doubt, there are other factors contributing the volatility, not least of which are the absence of 4 x Callide units – which will collectively remain offline until B1 returns on Friday 11th June.