Another quarter has come and gone (i.e. 2023 Q2) and we have already seen two of the triptych of Quarterly Reports that each have different perspectives of a particular quarter just passed, and are best when appreciated together:
1)  On Thursday 19th October 2023, the AER published its Wholesale Market Quarterly publication for 2023 Q3 … which we noted here.
2)  On Monday 23rd October 2023, the AEMO's Quarterly Energy Dynamics for 2023 Q3 was published, as noted here at the time.
3)  In between other projects, we've* been compiling our GenInsights Quarterly Updates (for 2023 Q3)
* as with prior iterations of this report, these are a collaborative effort between us at Global-Roam Pty Ltd and the team at Greenview Strategic Consulting.  That's what we mean here by 'we'.
… are we are looking forward to providing this (with the Executive Briefing) to our subscribing clients when it's released later in November.
(A)  Tracking Aggregate Raw Off-Target
As part of this report, we continue to track the metric of 'Aggregate Raw Off-Target' – both:
1)  In Appendix 3 with respect to all Semi-Scheduled units collectively; and
2)  In Appendix 5, with respect to all remaining coal units (as one measure of 'dependability').
A brief snippet from that analysis…
(B)  Friday 18th August 2023
This article is a quick one, at a little cryptic as well, in that:
1)  It focuses just on Friday 18th August 2023 and
2)  Contains just this graphical trend of 'Dispatch Error' through all 288 Dispatch Intervals in the day: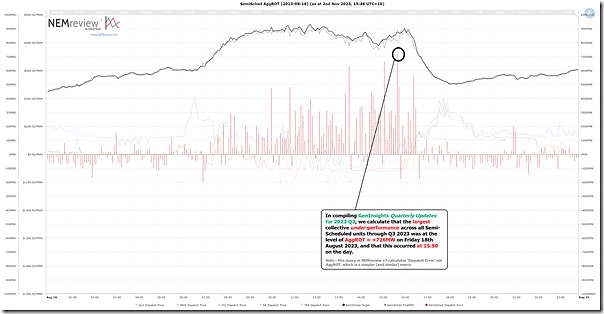 This trend produced in NEMreview v7 … and, for those with their own licence, they can access their own copy of this query here.
More details about this incident in this report …