A short article for Friday evening following a few SMS alerts triggered by our software* highlighting the AEMO publishing Market Notice 110559 at 19:49 (NEM time) this evening:
'——————————————————————-
MARKET NOTICE
——————————————————————-
From :              AEMO
To   :              NEMITWEB1
Creation Date :     27/10/2023     19:49:02
——————————————————————-
Notice ID               :         110559
Notice Type ID          :         RESERVE NOTICE
Notice Type Description :         LRC/LOR1/LOR2/LOR3
Issue Date              :         27/10/2023
External Reference      :         Actual Lack Of Reserve Level 2 (LOR2) in the SA region – 27/10/2023
——————————————————————-
Reason :
AEMO ELECTRICITY MARKET NOTICE
Actual Lack Of Reserve Level 2 (LOR2) in the SA region – 27/10/2023
An Actual LOR2 condition has been declared under clause 4.8.4(b) of the National Electricity Rules for the SA region from 1930 hrs.
The Actual LOR2 condition is not forecast in Pre Dispatch
The capacity reserve required is 480 MW
The minimum reserve available is 465 MW
AEMO is seeking an immediate market response.
An insufficient market response may require AEMO to implement a AEMO intervention event.
Manager NEM Real Time Operations
——————————————————————-
END OF REPORT
——————————————————————-'
Here's a snapshot from NEMwatch for the 20:20 dispatch interval: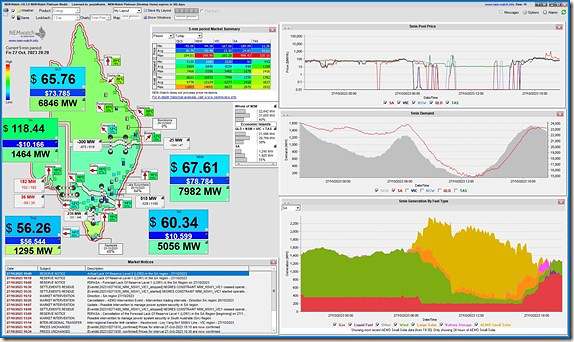 Note that this condition was cancelled as per Market Notice 110560 published at 20:20:02 (so lasting slightly over 30 minutes) … i.e. shortly after the snapshot above was taken.
(A)  Immediate trigger
We understand that the immediate trigger for the unexpected 'Actual LOR2' notice from the AEMO may well have been some reduction in availability in some Scheduled capacity (thermal or battery) and/or import capability from VIC.
With two copies of the 'Forecast Convergence' widget of ez2view time-travelled back to 20:05 we can see one of these factors: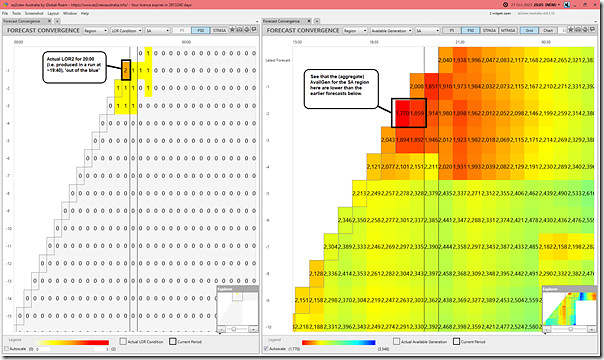 Feeding into the surprise MN declaration at 19:49 of 'Actual LOR2' for the half-hour period ending 20:00 (published a bit earlier in the EMMS) was the lower-than-expected Available Generation figures for the SA region as highlighted.  There was also a small drop in exports from VIC as well (not shown here).
(B)  Conditions precedent
However, it's useful to also highlight two significant underlying conditions that contributed significantly to the tight supply-demand balance:
1)  Low VRE output in the SA region, with solar production gone to bed coincident with low wind output; and also
2)  Very low import capability from VIC into SA (flow limited to 38MW westward over the Heywood interconnector)
… not shown here, but quick reference to ez2view reveals:
(a)   the limitation due to the 'V::S_SETB_TBSE_2' Constraint Equation …
(b)  which is part of the 'S-TBSE' Constraint Set …
(c)  which reflects the outage of 'One South East-Tailem Bend 275kV line (One Black Range series cap I/S)' which runs overnight through until Saturday morning and then several other periods in coming weeks.
Nothing else at this point.